Daily Archives for
November 4, 2017
Bernadette McCabe, University of Southern Queensland and Craig Baillie, University of Southern Queensland
Mention agriculture to many Australians and it conjures up images of mobs of cattle in the dusty outback, or harvesters gobbling up expanses of golden wheat. In reality, much of our high-value agriculture is near the coast, and close to capital cities. Think of the Adelaide Hills, the Lockyer Valley west of Brisbane, Victoria's Gippsland region and Goulburn Valley, and Sydney's Hawkesbury Valley.
These centres are where a lot of our agricultural processing happens – near big, eco-conscious populations ready to put their hands in their pockets for quality products.
---
Read more: Why consumers need help to shift to sustainable diets
---
But besides feeding us, farming can also potentially help us with the move towards cleaner energy. While it's unclear how agriculture will factor into the federal government's proposed National Energy Guarantee, it's obvious that the farming sector can do plenty to reduce Australia's emissions. An Industry Roadmap released this week by the Carbon Market Institute forecasts that by 2030 carbon farming will save the equivalent of 360-480 tonnes of carbon emissions, generate between A$10.8 billion and A$24 billion in revenue, and create 10,500-21,000 jobs.
One extremely promising area is turning agricultural waste and by-products into energy. This reduces emissions, makes farmers less vulnerable to variable energy prices, and adds value for consumers.
Using waste for energy
In Queensland and northern New South Wales, some sugar mills are making electricity by burning bagasse (sugarcane waste) as a biomass energy source. Other plants in Victoria, like Warrnambool Butter & Cheese, are using whey to produce biogas, thus reducing their spending on natural gas.
Other kinds of waste from viticulture and horticulture are also potentially useful. Even the trash produced when cotton lint fibres are removed from the seed is a largely untapped source of environmentally friendly energy.
---
Read more: Explainer: why we should be turning waste into fuel
---
The agricultural sector should be aiming to close the loop: to reclassify waste as a resource. Turning trash into treasure is a step towards energy independence, an idea that is gaining momentum overseas. An energy-independent farm seeks to cater for its own energy needs, creating a self-sustaining environment that buffers against fluctuating energy prices.
Australian farms should largely be able to achieve this. The trend towards renewable energy sources, and equipment that can run on biofuels, demonstrates an appetite for sensible, sustainable technology.
Biodiesel, wind and solar energy, and electricity and gas generated from biogas are being implemented globally. From an international perspective, farmers' consideration for using or increasing renewable energy seems to be independent of the size of their operations but rather stem from their desire for farms to be energy-independent.
---
Read more: Biogas: smells like a solution to our energy and waste problems
---
La Bellotta farm in Italy, a mixed-energy farm, is a prime example. It's using a concept tractor powered by methane generated from on-farm waste.
Closer to home, Westpork, WA's largest pork producer, is about to add wind power and battery storage to its existing solar arrays, and possibly biogas too, as part of a plan to go 100% renewable energy and slash production costs.
The right policy settings
Agriculture was responsible for about 16% of Australia's greenhouse gas emissions in 2013, trending down to 13% in 2015.
The National Farmers Federation is looking to the Government's 2017 Review of Climate Policy to deliver policy settings that will enable the sector to remain competitive and grow production at the same time as meeting international obligations.
We particularly need policy to encourage investment in agriculture research. Climate-smart practices and technologies can simultaneously reduce emissions and improve productivity and profitability.
Meanwhile, improving the design of carbon-offset markets (like the federal government's Emissions Reduction Fund) to make them more accessible to farmers could unlock the full carbon potential of Australian farms.
---
Read more: Farming in 2050: storing carbon could help meet Australia's climate goals
---
A recent report from Powering Agriculture, produced with international backing, showed that while food production across the world is increasing, the energy required for each unit of food is falling.
With Australia's relatively small population, huge area and extreme temperatures, it's hard to compare apples with apples, but the adoption of renewable energy in Australian agriculture is helping to make us look like more efficient food producers too.
Mixing renewable energy sources gives farmers a plausible path to becoming energy independent. Bioenergy, such as biogas, gives flexibility to intermittent power like solar and wind, while reducing waste and creating a home source of biofertiliser.
When you boil it down to basic science, food and fibre are just stored energy. Beyond the animals and crops farmers bring to market, the Australian agricultural sector produces massive amounts of energy – they just need the tools to monetise it.
---

The topic of Farm Energy Independence will be discussed at the upcoming TropAg Symposium.
Bernadette McCabe, Associate Professor and Principal Scientist, University of Southern Queensland and Craig Baillie, Director (National Centre for Engineering in Agriculture), University of Southern Queensland
This article was originally published on The Conversation. Read the original article.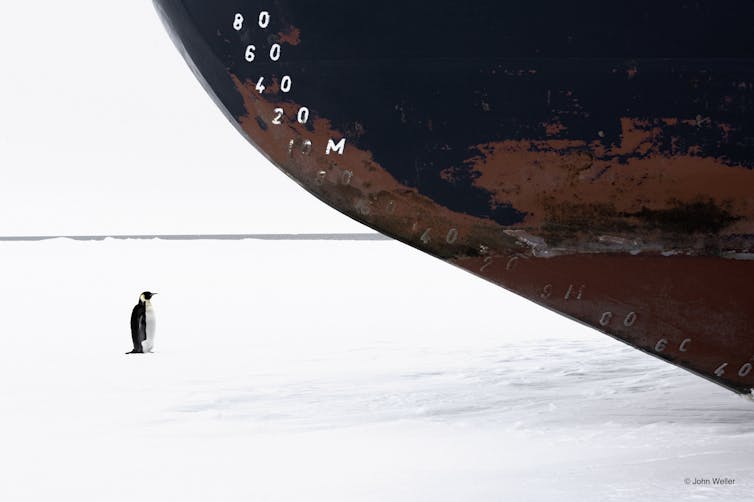 Cassandra Brooks, University of Colorado
Last week, representatives from 24 countries plus the European Union met in Hobart to discuss plans for a vast marine protected area (MPA) off the coast of East Antarctica.
The proposed area, spanning almost 1 million square km, is crucial for a vast array of marine life. Scientists, conservationists and governments have been pushing for the protection of this area for upwards of seven years.
Why, then, has the Commission for the Conservation of Antarctic Marine Living Resources (CCAMLR) failed to deliver, despite having agreed similar protections for other areas of the Southern Ocean?
Competing national incentives among member states, and complex international relations extending far beyond the negotiations themselves, have stymied consensus as states negotiate power and fishing access in this icy commons at the bottom of the world.
---
Read more: Why Antarctica depends on Australia and China's alliance
---
CCAMLR committed to establishing a network of marine parks in the Southern Ocean in 2002 and has enjoyed success. In 2009 it established the world's first international MPA, covering 94,000 square km south of the South Orkney Islands. Then, in 2016, the Commission made headlines when it successfully negotiated the world's largest marine park, covering 1.55 million square km in the Ross Sea.
This raised hopes for a similar breakthrough for East Antarctica at this year's meeting. But those hopes were put on hold for another year.
Vast protections
According to plans first proposed to CCAMLR in 2012 by Australia, France and the EU, the East Antarctic marine park was designed as a representative system of seven marine protected areas, covering 1.8 million square km that would capture key ecosystem processes.
By 2017 the seven zones had been scaled back to three, covering just under 1 million square km – largely to accommodate some member states' economic interests and political concerns.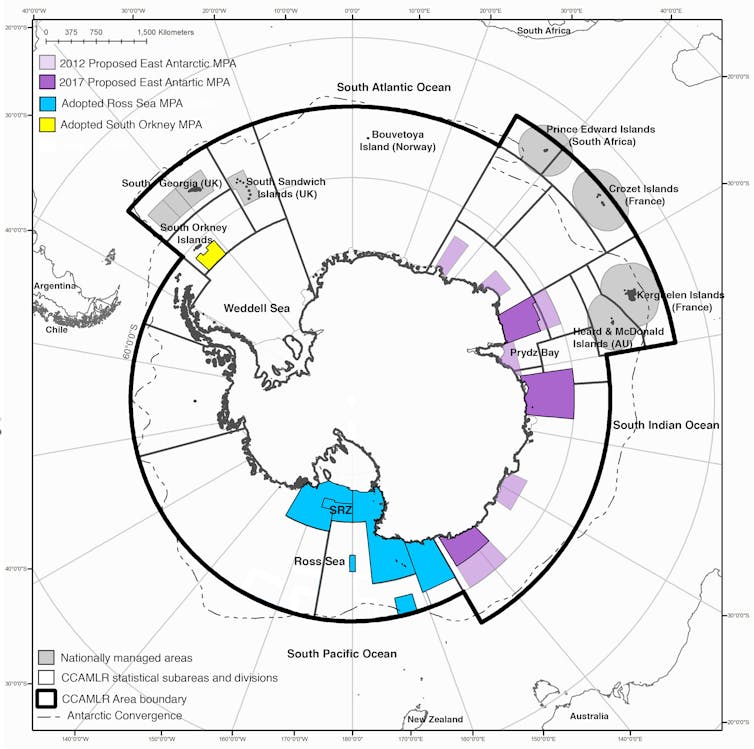 Coming into 2017, proponents had worked to strengthen the East Antarctic MPA proposal, achieving the support of all states except Russia and China.
This obstruction is not novel. These two states have been the most vocal opponents of MPAs throughout the history of the negotiations, citing a variety of concerns including fishing interests, sufficiency of science, conservation need, and political accusations.
Fishing interests
Fishing interests have been a crucial factor in the negotiations, not just for China and Russia but also for the bulk of fishing states, which make up the majority of the Commission.
One of the reasons the South Orkney Islands reserve was adopted swiftly in 2009 was because it did not interfere with current or future fishing interests. Following this precedent, the Ross Sea marine reserve was designed largely around the lucrative fishing grounds for toothfish, and China only agreed to the plans after a krill-fishing zone was added in 2015 – despite the fact that neither China nor any other member state currently fishes for krill in the Ross Sea.
Small toothfish fisheries are scattered throughout the East Antarctic, including within the proposed MPA. However, this proposal has a multiple-use design, and none of the areas are explicitly closed to fishing. Yet some of Russia's and China's opposition concerned potential limitations to fishing. Why?
As a commons where sovereignty is suspended under the Antarctic Treaty, the Southern Ocean continues to be a contested space. Fishing can be used as a means to occupy space in this global commons, meeting geopolitical as well economic goals by asserting power and securing future access.
In recent years China has used the debate over MPAs to challenge the intentions of the very CCAMLR Convention as one inherently offering members a right to fish rather than a responsibility to conserve. A new Chinese krill fishing effort in the East Antarctic that initiated last year may be worth more in terms of geopolitics than it is in terms of money.
Finding opportunities to break the deadlock
How can the deadlock be broken? Perhaps negotiators can learn from the success of the Ross Sea marine park plan where high-level diplomacy created a political window of opportunity. China's support was secured in 2015, after presidential-level bilateral meetings with the United States.
---
Read more: How China came in from the cold to help set up Antarctica's vast new marine park
---
That left Russia as the only nation not to support the plan – a bad look, given that it was preparing to chair the 2016 meeting, and President Vladimir Putin had declared 2017 a special Year of Ecology. Russia had the opportunity and incentives to demonstrate leadership.
But also importantly, the US Secretary of State John Kerry was personally invested in the outcome, and throughout 2016 he had been liaising with his counterparts in Russia. Pressure was building both inside and outside the meeting room. After securing concessions to increase the amount of toothfish fishing in certain zones, Russia eventually approved the plans.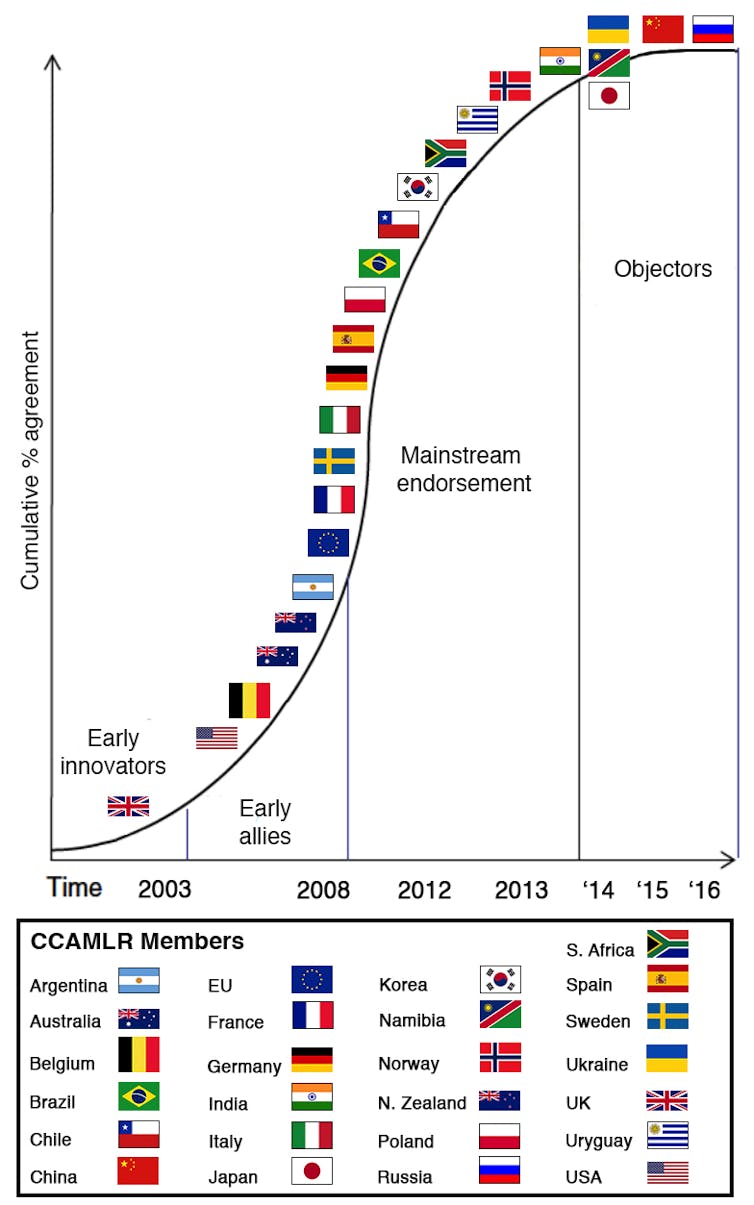 In managing one of the great oceanic commons, despite political plays, CCAMLR has demonstrated leadership in adopting marine protected areas. The Southern Ocean now harbours the world's largest marine park in the Ross Sea. Despite the latest setback a proposal for the East Antarctic remains on the table as well as plans for other marine parks in the Weddell Sea and off the Antarctic Peninsula.

Securing international agreements takes patience and it is often unclear in the moment how a political window of opportunity opens. It may still take some time to align national incentives and generate international diplomacy for the East Antarctic MPA and the others to come. The Commission's 25 members ultimately need to find the political will to see it through.
Cassandra Brooks, Assistant Professor Environmental Studies, University of Colorado
This article was originally published on The Conversation. Read the original article.