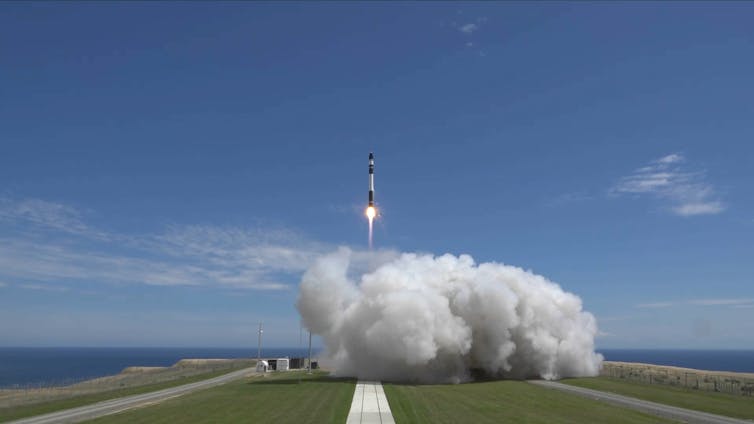 Brad E Tucker, Australian National University
A Blood Moon, a trip to the Moon and back for two explorers, a space station crashing to Earth and the launch of a new mission to find planets around other stars: these are just some of the exciting things to watch in space in 2018.
Elon Musk's Space X also plans to launch one of the new Falcon Heavy rockets, the largest since the manned Moon landings.
---


Read more:
The next Full Moon brings a lunar eclipse, but is it a Super Blood Blue Moon as well? That depends…


---
The Blood Moon comes from the lunar eclipse on Wednesday night, which is also being claimed as a Blue Super Full Moon (or is it?)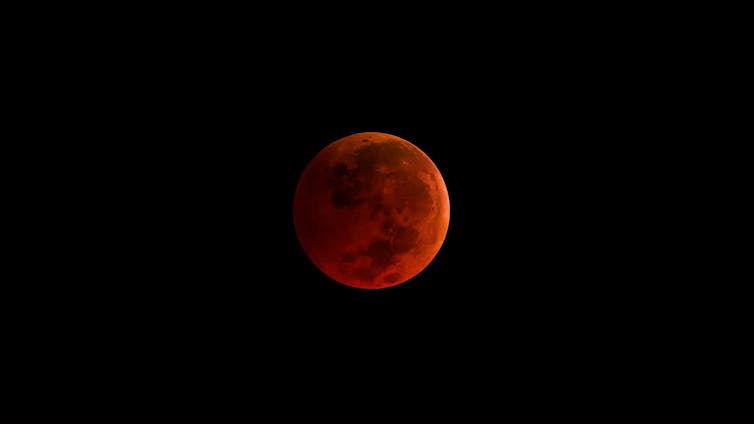 All of Australia, plus most of Asia and the Pacific region, will be treated to this spectacular lunar event on January 31. If you miss it, don't worry, you'll get another total lunar eclipse on the night of July 27 and early morning hours of July 28.
Unlike a Solar eclipse, you do not need any special equipment to see a lunar eclipse and it is safe to look at with your eyes.
Speaking of solar eclipses, Tasmania and southern parts of Victoria and South Australia will be treated to a partial Solar Eclipse on July 13.
Goodbye Kepler, thanks for the Exoplanets!
The Kepler Space telescope was launched nearly nine years ago and has changed our view of the cosmos and our place in it, but its mission is coming to an end this year.
Kepler has confirmed around 2,500 exoplanets (planets orbiting other stars), with thousands more potential planets. It discovered the first Earth-like planet in a habitable zone , an area where water could exist as a liquid.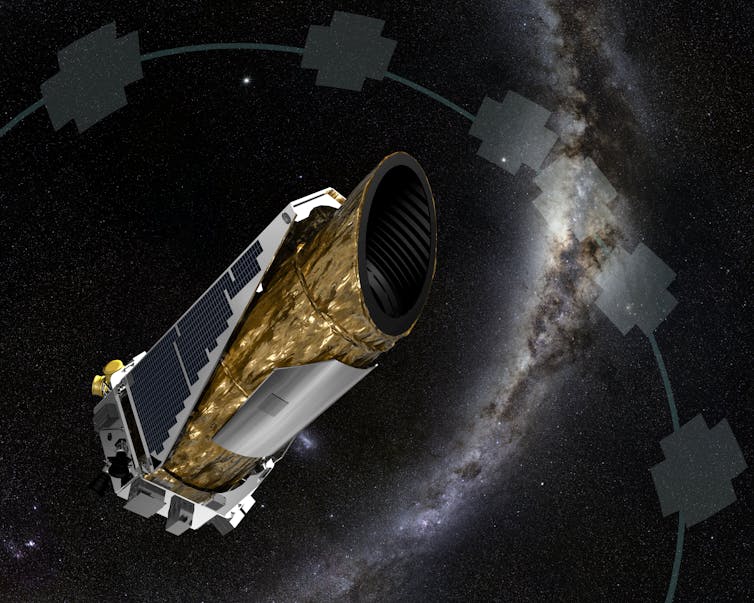 Kepler also showed that rocky, potentially Earth-like and/or habitable planets are common with potentially tens of billions (yes, billions with a b) existing in our galaxy alone.
After a failure of two reaction wheels (the things that help it point) in 2013, a new mission, K2, was conceived. It was able to keep stable by using a combination of short thruster firings and using the Sun to steer it like a sail.
---


Read more:
Google's artificial intelligence finds two new exoplanets missed by human eyes


---
Kepler continued its exoplanet-finding quest, along with discoveries such as shockwaves from exploding stars and even picking up sound waves deep in the heart of stars (a technique called asteroseismology).
But this extra thruster firing is causing Kepler to use up its fuel, and it is due to run out sometime this year, which will cause NASA to put it into hibernation.
//platform.twitter.com/widgets.js
Where one missions ends, a new one begins. The Transiting Exoplanet Survey Satellite (TESS), is set to be launched between March and June, aboard a SpaceX Falcon 9 rocket. If the stars align, we might even have overlap between these two exoplanet-discovering machines.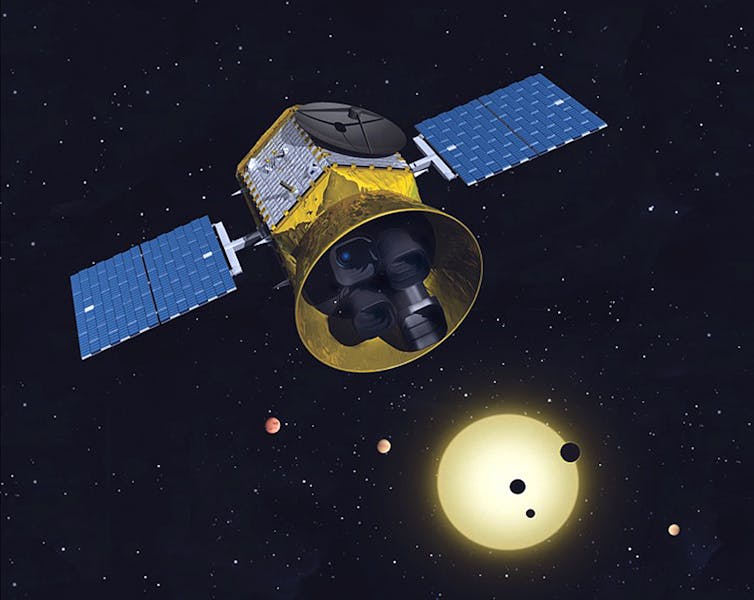 Rockets, rockets and more rockets
The privatisation of space continued this year with the US-based Rocket Labs having its first successful launch, from a site across the Tasman in New Zealand.
SpaceX also had its first static test of the new Falcon 9 Heavy, the largest rocket since the Saturn V that took US astronauts to the Moon.
//platform.twitter.com/widgets.js
The Falcon 9 Heavy is scheduled for a first launch in early February where it will carry one of Musk's Tesla Roadsters. We may even see an appearance of the company's Dragon 2 that will carry humans into space this year. SpaceX has already announced that two people have paid to go on a tour around the Moon.
It's not just private companies exploring space, with China aiming for 40 launches in 2018 alone.
Exploring the small things in our Solar System
The Moon is on the radar for both India and China. India's Chandrayaan-2 is set to land on the Moon in March, while China's Chang'e 4 will be its second lunar rover, set to land on the far side of the Moon at the end of 2018. First it will have to launch a special communication satellite, slated for June, to a position called L2, or a special point related to the Earth-Moon system that will allow for communications with Earth and the far side of the Moon.
While it is a bit early for New Year's Eve 2018, NASA already has big plans. New Horizons, the probe that flew by Pluto in 2015 is set to swing past its second icy world, 2014 MU 69, on December 31. Little is known about 2014 MU 69, which is around 6.5 billion km from the Sun, other than the fact that it might be two objects instead of one and that it needs a better name.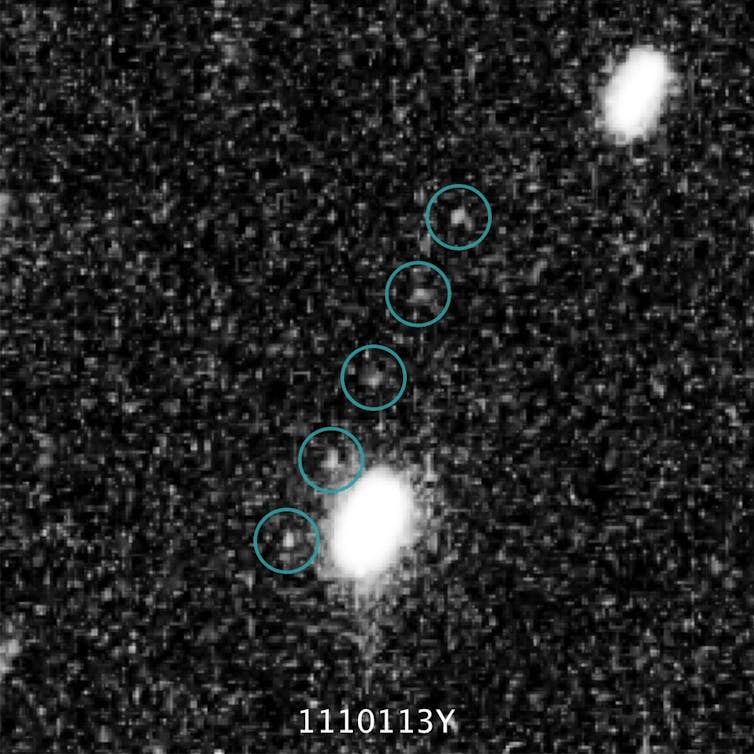 Asteroids are not forgotten in all of this space exploration. Japan's Hayabusa-2 is set to arrive at asteroid 162173 Ryugu. It's a new version of Hayabusa, which surveyed the asteroid 25143 Itokawa and took samples before returning back to Earth, landing near Woomera, South Australia in 2010.
Likewise, NASA's OSIRIS-REx will arrive at the asteroid Bennu where it will extend an arm to drill down into the asteroid, and return with samples, in what is the next step towards an asteroid mining future.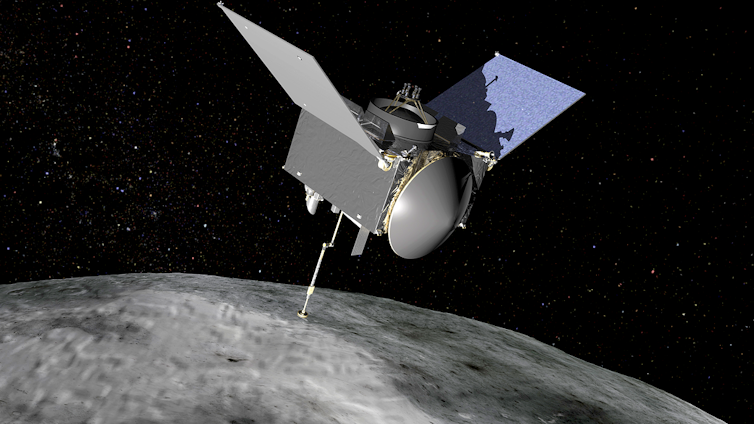 A falling space station
If you were around in 1979 and happened to be in Western Australia, you might have a unique souvenir – part of the US space station Skylab, which re-entered and crashed outside Esperance, WA.
If you've seen the 2013 movie Gravity (and a spoiler alert for those who haven't!) you might remember the final scene in which Sandra Bullock's character returns home by hijacking Tiangong-1, the Chinese space station. She returns safely, but the same can't be said for Tiangong-1.
Well in March, we are set for a clash of sci-fi against reality when Tiangong-1 comes back down to Earth.
---


Read more:
Looking up a century ago, a vision of the future of space exploration


---
You can track its progress but in short, somewhere between +43 and -43 latitude (or half the Earth), it will re-enter and break apart. Currently, the likely potential (land) areas are around Central and South America, Northern Africa and the Mediterranean, and indeed Western Australia.
Like Skylab, there are likely to be large pieces that survive re-entry. Hopefully you are lucky to be in a position to see it with your eyes, but not so close that it lands on your house, as it's unlikely to be covered by your insurance policy.

So that's a summary of some of the things we're expecting to happen this year. But as with all science, I'm just as excited for those discoveries that we do not know about that will happen in 2018.
Brad E Tucker, Astronomer and outreach officer, Australian National University
This article was originally published on The Conversation. Read the original article.