Daily Archives for
January 26, 2018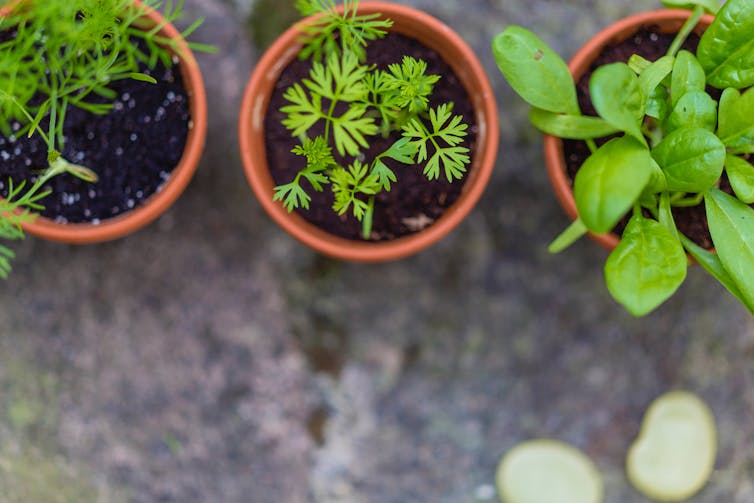 Peter Collignon, Australian National University
Gardening is generally a healthy and pleasurable hobby or occupation. However, any activity carries some risk – and gardening is no exception.
Potting mix is known to carry harmful bacteria and fungi. And there have been reports of deaths from diseases, such as the Legionnaires' disease (a lung infection), that have been attributed to bacteria in potting mix.
Many bacteria and fungi that can cause infections in people live in soil and water. So it's not surprising that potting mix can also have in it bacteria and fungi that may on occasion cause harm to people, and in rare cases even kill them. But it's important to note that, overall, the risk is very low.
---


Read more:
The science is in: gardening is good for you


---
Fertilising more than plants
Potting mix is usually a mixture of inorganic and organic material. It's also often at a higher temperature compared to soil because of where and how it's stored, so it retains heat for longer. Bacteria and fungi generally grow better and reach higher numbers when they are in moist and warm environments.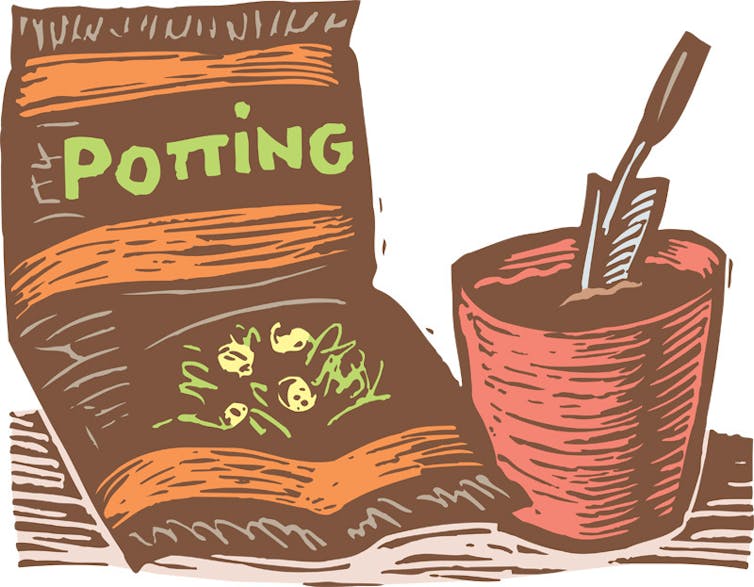 If bacteria or fungi are already present in low numbers, they can quickly grow to very high numbers in optimal conditions. This includes many bacteria in soil that can cause problems in people – such as strains of nocardia (causes nocardiosis, an infection of the lungs or whole body), legionella (causes Legionnaires' disease), and clostridium (causes tetanus).
Numerous fungi can also be present in soil and potting mix. In certain areas of the world, soil contains fungi that can invade if inhaled and cause disease. These include the lung infection histoplasmosis, which is caused by a fungus that lives mainly in parts of the United States, but also in some parts of Central and South America, Africa, Asia, and Australia.
Protecting ourselves
The risk to most people of becoming infected with any of these bacterial or fungal diseases is very low. Disease is more likely to be a risk when the micro-organisms are present in very high numbers.
Bacteria or fungi also need to be introduced into our bodies to cause disease. This usually happens through inhalation, where the organisms go into the lungs. It can also occur through the skin, such as with the chronic fungal infection sporotrichosis, also known as "rose gardener's disease". If, for any reason, micro-organisms are present in high numbers, then the exposure and risk will be higher.
There are many things we can do to protect ourselves from introducing bacteria or fungi into our bodies. The most essential is basic hygiene.
If people smoke, eat or drink without first washing their hands, they are at an increased risk of legionella infection from potting mix. This implies direct inhalation isn't the only way for the bacteria to enter the body, but that oral intake of micro-organisms via contaminated hands is also a risk.
Another added protection measure is wearing gloves. This doesn't mean you should then not wash your hands before eating. A physical barrier in addition to washing hands obviously provides better protection.
---


Read more:
(At least) five reasons you should wear gardening gloves


---
Masks can be worn in high-risk situations, such as when opening a bag of potting mix. Directing the bag away from the gardener when opened, and being in a well-ventilated area, will decrease any inhalation risk.
Signs of infection
People who have a lower immunity, such as those with diseases such as HIV or lymphoma, are more at risk of catching something from potting mix. So it's even more important they use extra appropriate precautions, including wearing masks when in higher-risk situations.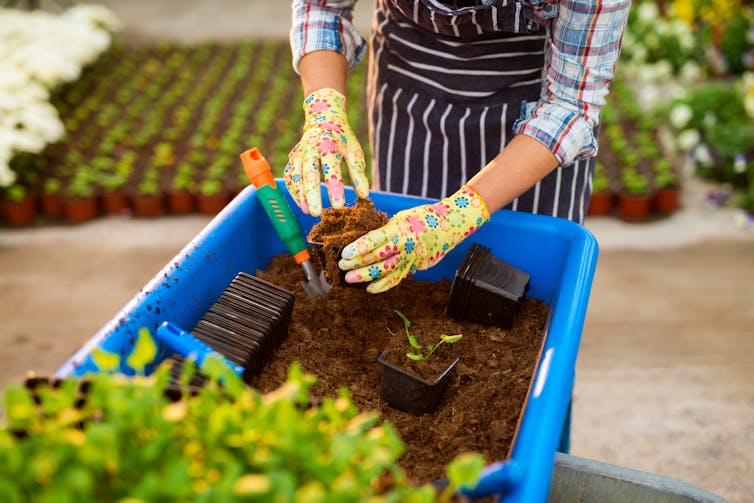 The symptoms or signs of infection acquired from soil or potting mix depend on where the infection is and what micro-organism is causing it. With potting mix, the main worry is legionella longbeachae. This generally causes a lung infection such as pneumonia.
Symptoms can initially be fever, aches and pains, which are fairly general of illness. But as the infection involves more of the respiratory tract, cough, shortness of breath and/or pain on breathing may develop.
Treatment
While potting-mix-linked legionella infections are uncommon, cases have occurred in countries including Australia, Japan and the US.
So, if people develop symptoms that are ongoing and have had recent exposure to potting mix within the incubation period (two to ten days after exposure), they need to seek medical help and make it clear to that person that they were worried about potting mix being involved.
It's important to note the potting mix connection because antibiotics needed to kill legionella are different to standard penicillin-like antibiotics often used to treat pneumonia acquired in the community.
---


Read more:
Are common garden chemicals a health risk?


---

Overall, though, we need to keep these risks in perspective. Millions of people garden and all will be exposed to soil and/or potting mix. Very few of these infections occur in Australia and elsewhere. Fairly simple provisions such as washing hands, wearing gloves and – where necessary – wearing a mask will ensure rates of infection remain low.
Peter Collignon, Professor, infectious diseases and microbiology, Australian National University
This article was originally published on The Conversation. Read the original article.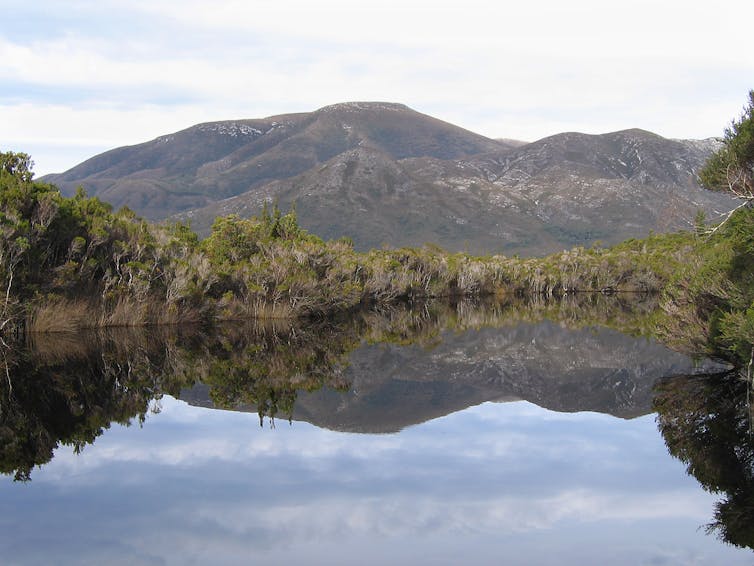 Janna Thompson, La Trobe University
Let us imagine that humanity has almost died out and only a few people remain. Out of resentment or despair, the survivors cater to their destructive urges by destroying as much of the natural world as they can. They poison rivers and lakes, drop napalm on forests, set off a few nuclear warheads. They are at ease with their conscience because no one will ever be in the position to use or appreciate the nature they are destroying.
They are harming no one. But surely what they are doing is wrong.
---


Read more:
Explainer: wilderness, and why it matters


---
The Australian environmental philosopher Richard Sylvan used this story to try to persuade us that nature has a value that is independent of our needs and desires, even our existence.
The predicament he imagines is a fiction. But the ethical problem is very real. Experts tell us that human activity is causing the world's wilderness areas to disappear at an alarming rate. In 100 years there may be no wilderness left.
Those who deplore this development usually focus on the negative implications for human well-being: increasing environmental dysfunction, loss of species diversity and of the unknown benefits that wilderness areas might contain.
But Sylvan's thought experiment – involving the last people alive, and therefore removing the consideration of humans' future well-being – shows us that much more is at stake. It is morally wrong to destroy ecosystems because they have value in their own right.
Questions of value
Some philosophers deny that something can have value if no one is around to value it. They think that ethical values exist only in our minds. Like most philosophical propositions, this position is debatable. Sylvan and many others believe that value is as much a part of the world as matter and energy.
But let us assume that those who deny the independent existence of values are right. How then can we condemn the destructive activities of the last people or deplore the loss of wilderness and species for any other reason than loss of something useful to humans?
The kind of experiences that something provides can be a reason for regarding it as valuable for what it is, and not merely for its utility. Those who appreciate wilderness areas are inclined to believe that they have this kind of value. Henry David Thoreau wrote in Walden: "We need to witness our own limits transgressed, and some life posturing freely where we never wander."
The Great Barrier Reef "is the closest most people will come to Eden", said the poet Judith Wright, who helped to lead a protest movement in the 1960s and 1970s against the plans of the Bjelke-Petersen Queensland government to drill for oil on the reef.
Thoreau and Wright value wilderness not merely because it the source of enjoyment and recreational pleasure, but also because it can teach us something profound – either through its astonishing beauty or by putting our own human lives in perspective. In this way, wild nature is valuable for much the same reasons that many people value great works of art.
If the last people had set about destroying all the artworks in all the great museums of the world, we would call them vandals. Objects of great spiritual or aesthetic value deserve respect and should be treated accordingly. To destroy them is wrong, regardless of whether anyone will be here to appreciate them in the future.
Like nowhere else on Earth
Wright and her fellow protesters aimed to make Australians realise that they possessed something remarkable that existed nowhere else on the face of the planet. They wanted Australians to recognise the Great Barrier Reef as a national treasure. They were successful. It was given World Heritage status in 1981 and was listed as national heritage in 2007.
The Great Barrier Reef is also recognised as the heritage of more than 70 Aboriginal and Torres Strait Islander groups. Much of what Westerners think of as wilderness is in fact the ancestral territory of indigenous people – the land that they have cared for and treasured for many generations.
Recognising a wilderness area as heritage gives us another reason for thinking that its value transcends utility.
Heritage consists of objects, practices and sites that connect people with a past that is significant to them because of what their predecessors did, suffered or valued. Our heritage helps to define us as a community. To identify something as heritage is to accept a responsibility to protect it and to pass it on to further generations.
---


Read more:
Earth's wildernesses are disappearing, and not enough of them are World Heritage-listed


---
We have many reasons to recognise wilderness areas like the Great Barrier Reef as heritage. They are special and unique. They play a role in a history of how people learned to understand and appreciate their land. They provide a link between the culture of Aboriginal people – their attachment to their land – and the increasing willingness of non-Aboriginal Australians to value their beauty and irreplaceability.
The last people cannot pass on their heritage to future generations. But valuing something as heritage makes it an object of concern and respect. If people cherish and feel connected to wild environments and the creatures that live in them, they should want them to thrive long after we are gone.
We, who do not share the predicament of the last people, have a duty to pass on our heritage to future generations. This gives us an even stronger moral reason to ensure the survival of our remaining wilderness areas.
Janna Thompson, Professor of Philosophy, La Trobe University
This article was originally published on The Conversation. Read the original article.