Daily Archives for
March 30, 2018
Abbas El-Zein, University of Sydney
If any of us still has the slightest doubt that we are facing an ecological crisis on an unprecedented scale, then a new report on land degradation, released this week by the Intergovernmental Science-Policy Platform on Biodiversity and Ecosystem Services (IPBES), provides yet another piece of evidence.
Land degradation can take many forms, but always entails a serious disruption of a healthy balance between five key ecosystem functions. These are: food production; fibre provision; microclimate regulation; water retention; and carbon storage.
Its impacts can be far-reaching, including loss of soil fertility, destruction of species habitat and biodiversity, soil erosion, and excessive nutrient runoff into lakes.
---


Read more:
The immense challenge of desertification in sub-Saharan Africa


---
Land degradation also has serious knock-on effects for humans, such as malnutrition, disease, forced migration, cultural damage, and even war.
At its worst, land degradation can result in the desertification or abandonment of land (or both). Protracted drought and loss of fertile land may have been contributing factors in the wars in Sudan and Syria.
According to the new report, 43% of world populations live in regions affected by land degradation. By 2050, the report estimates, 4 billion people will be living in drylands. These are defined by the United Nations as land with an "aridity ratio" of less than 0.65, meaning that the amount of water lost far outweighs the amount received in precipitation.
Such areas are highly vulnerable to food and water insecurity, especially in sub-Saharan Africa and the Middle East.
A global threat
It would be wrong to infer that land degradation is purely a problem for developing countries. Overall, land is generally more degraded in the developed world – as shown, for example, by greater declines in soil organic carbon content, a measure of soil health. However, in richer nations the rate of degradation has slowed, and people in these regions are generally less vulnerable to its effects.
It is in sub-Saharan Africa, Asia and South and Central America that the problem is growing most rapidly. But climate change, especially where droughts and forest fires are becoming more frequent, can cause land degradation even in affluent places such as California and Australia.
What's more, a decline in the overall availability of agricultural land is bound to affect food prices globally. By 2050, the report states, humans will have transformed almost every part of the planet, apart from uninhabitable stretches such as deserts, mountains, tundra and polar regions.
Perhaps most chillingly, the report predicts that the combined effects of land degradation and climate change will have displaced between 50 million and 700 million people by 2050, potentially triggering conflict over disputed land.
Some of this migration will inevitably be across international borders – how much is impossible to tell. While the impacts on migrants are almost always devastating, the ripple effects, as we have seen recently with the Syrian war, can spread far and wide, affecting electoral outcomes, border controls and social security systems throughout the world.
Globalised causes
The two most significant direct causes of land degradation are the conversion of native vegetation into crop and grazing lands, and unsustainable land-management practices. Other factors include the effects of climate change and loss of land to urbanisation, infrastructure and mining.
However, the underlying driver of all these changes is rising per-capita demand from growing populations for protein, fibre and bioenergy. This in turn leads to more demand for land and further encroachment into areas with marginal soils.
Market deregulation, which has been a global trend since the 1980s, can lead to the destruction of sustainable land management practices in favour of monocultures, and can encourage a race to the bottom as far as environmental protection is concerned. The vast geographical distance between demand for consumer goods and the land needed to produce them – between, in other words, the cause of land degradation and its effect – makes it much harder to address the problem politically.
Sadly, the timid history of attempts to create global governance regimes over the past century – from human rights, to conflict prevention, arms control, social protections and environmental treaties – has seen more failures than successes.
On the positive side, success stories in land management are well documented: agroforestry, conservation agriculture, soil fertility management, regeneration and water conservation. In fact, the new report states that the economic case for land restoration is strong, with benefits averaging ten times the costs, even when looking at very different types of lands and communities of flora and fauna. A common feature of many of these success stories is major involvement by indigenous populations and local farmers.
And yet these achievements remain far short of the scope of the problem. Significant obstacles remain – including, according to the report, increasing demand for land, lack of awareness of the extent of land degradation, fragmented decision-making within and between countries, and increased costs of restoration as time goes by.
On the other hand, the report's authors emphasise that a host of existing multilateral agreements, including conventions on desertification, climate change, biodiversity and wetlands, provide a strong platform for combating land degradation. However, whether these agreements will be successful in overcoming the obstacles mentioned above remains to be seen.
---


Read more:
If the world's soils keep drying out that's bad news for microbes (and people)


---
What can we do as citizens, especially those of us who live in cities and have little direct interaction with the land? The most obvious action is to eat less meat and, more generally, to inform ourselves about the sources and impacts of the food we buy – including its packaging, fuel and transport.
But the problem is not just about individual choices, important as these are. Underlying systemic causes need to be addressed, including deregulated international trading systems, lack of protection for local communities powerless to resist global market forces, ideologies of unfettered growth and perverse incentives for more consumption.

Arguably, what is needed is a broadening of the active scope of national politics, from an almost exclusive concern with short-term economic well-being to the making of global futures. Next time you meet your local representative, ask them what they are doing to protect the interests of your children and grandchildren. Or, even better, inform yourself, talk to others about it, form your own opinion about what should be done, then try to make it happen.
Abbas El-Zein, Professor of Environmental Engineering, University of Sydney
This article was originally published on The Conversation. Read the original article.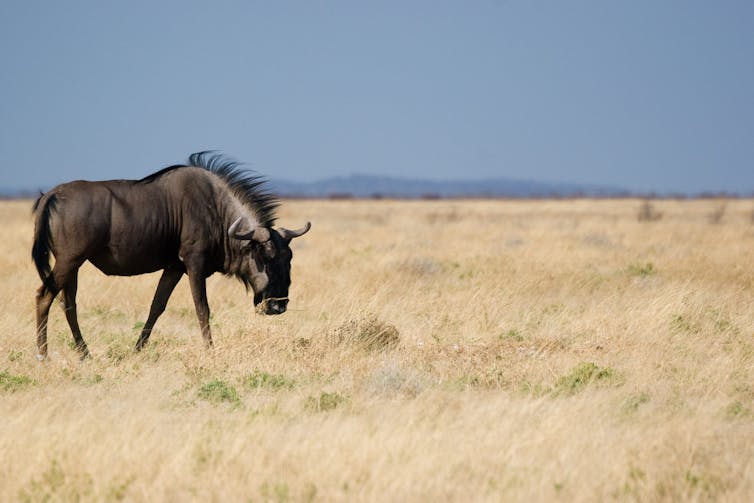 Penny van Oosterzee, James Cook University
Until I went to southern Africa last year, I couldn't imagine an African savanna without its awe-inspiring migrations. But Africa's plains are increasingly empty of wildlife. My subsequent investigation showed that fences are marching across the savannas instead.
An audit of 24 large mammal species, which used to migrate regularly, showed that many migrations are already extinct. Fences stopped animals in their tracks, often within sight of the food and water that would sustain them. These fences had severed historically massive migrations. Millions of wild animals – wildebeest, zebra, hartebeest, springbok and many others – have likely died of thirst or hunger since the 1950s.
It's a huge problem, yet it has received little attention. In Kenya, fences form clusters and virtual battle lines, threatening the collapse of the entire Greater-Mara ecosystem. A recent global study of 57 species of moving mammals shows that the future of the planet's most spectacular natural events is on the cusp.
---


Read more:
Why smart agricultural development is needed in Africa's savannas


---
A land divided
Botswana is one of the last great places on earth for free-ranging wildlife. Here, fences erected to protect European beef producers from foot-and-mouth disease (FMD) slice the country into 17 "islands".
Fencing is expensive – especially fencing strong enough to keep out migrating animals – and it favours only a small proportion of cattle owners, locking local livestock farmers out of the export industry. To make matters worse, this comes as wildlife-based tourism is overtaking livestock as a proportion of GDP in countries like Botswana.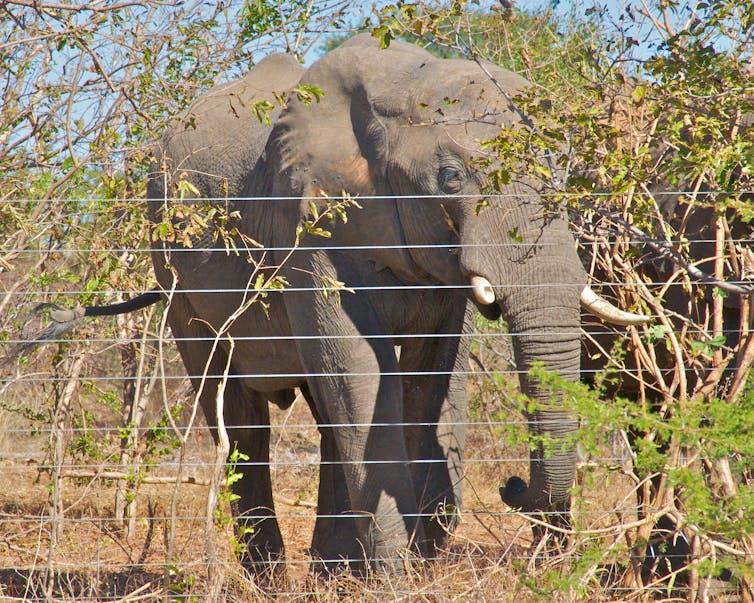 With colonial-era subsidies of the fencing system gone, what's left is a lose-lose system that hinders local farmers, tourism and sustainability. Many savanna landscapes are now conflict zones between local people and wildlife.
Against this bleak backdrop, a rare good news story has emerged, driven by myth-busting science and patient advocacy. It turns out that wildlife does not play a significant role in the transmission foot-and-mouth disease, apart from the African buffalo; ironically it is more likely to be spread by cattle. Many areas, like the Kalahari, have no cattle or buffalo – so the fences in those areas serve no disease control purpose.
Careful scientific sleuthing is showing that migrations restart when these fences are removed. The longest animal migration ever recorded, of zebras across Botswana, resumed a few years ago after just a portion of fence was removed.
Process over place
Perhaps the most important breakthrough has been a relatively new scientific approach called One Health. One Health is a problem-solving strategy that tackles issues at the interface of wildlife, domestic animal and human health. A monumental effort by veterinarians and other scientists, working with communities and animal health organisations, has teased out a solution. Instead of looking at livestock's geographic origin, it looks at the meat production process itself – from farm to fork – through a food safety lens.
This approach was initially developed for astronauts in the 1960s to avoid illness from contaminated food. It is now used throughout the food industry, from growing vegetables, to canning fruit and processing meat. For beef, it means that even in foot-and-mouth zones, a combination of vaccination, veterinary surveillance, and standardised meat preparation ensures disease-free, wildlife-friendly beef.
But it is one thing to have the solution, and quite another to convince policy makers to implement it. The focus of the One Health team soon turned to policy and advocacy. After years of research and dialogue between sectors that rarely sat at the same table, in 2012 the Southern African Development Community (SADC) issued The Phakalane Declaration on Adoption of Non-Geographic Approaches for Management of Foot and Mouth Disease.
Put simply, these new "non-geographic approaches" are not reliant on fencing.
Policy into practice
This consensus statement from southern African animal health experts was a shot heard 'round the world. A genuine policy breakthrough finally came in 2015, in Paris, where the World Animal Health Organisation (OIE) rewrote the Terrestrial Animal Health Code to allow for international trade of fresh meat from countries or zones with foot-and-mouth disease.
Since then, Ngamiland, home to world-renowned wildlife and the recently World Heritage-listed Okavango Delta, committed late last year to reassessing its fences with wildlife-friendly beef and wildlife concerns in mind.
Botswana is also at the centre of the Kavango Zambezi Transfrontier Conservation Area which spans parts of Angola, Botswana, Namibia, Zambia and Zimbabwe, and is home to the world's largest remaining population of elephants. The Animal and Human Health for the Environment And Development (AHEAD) program, based at Cornell University, have been working with local partners to resolve FMD-related conflicts in the largest peace park in Africa. Meanwhile, non-fence solutions were at the forefront of a recent multi-country summit in late 2016.
---


Read more:
It's time to stand tall for imperilled giraffes


---
The new meat processing-focused approach seems like common sense but, after generations of conflict, it is bold and brave. Botswana, leading the charge, is now on the cusp of redeeming itself in the eyes of conservationists after 70 years of fence-related wildlife deaths.
Now, not only can this new way forward allow wildlife to rebound, but a regional economy benefiting from both wildlife and livestock can do the same – if policy-makers can indeed move – beyond fences.
Penny van Oosterzee, Adjunct Associate Professor James Cook University and University Fellow Charles Darwin University, James Cook University
This article was originally published on The Conversation. Read the original article.