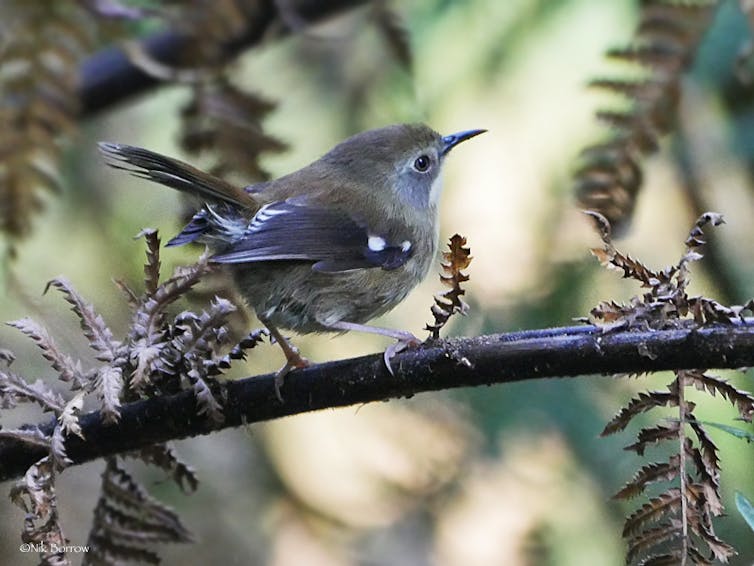 Matthew H Webb, Australian National University; David M Watson, Charles Sturt University, and Dejan Stojanovic, Australian National University
The King Island Scrubtit and the King Island Brown Thornbill have the dubious distinction of being considered the first and third most likely birds to go extinct in the next 20 years.
Yet the only reason we know the status of the scrubtit and the thornbill is the diligent efforts of volunteers.
---


Read more:
Just ten MPs represent more than 600 threatened species in their electorates


---
For 15 years, the Threatened Species Committee has quietly summarised the plight of Australia's most endangered birds, feeding the information to government, including the most recent report on those species most likely to go extinct in the coming two decades.
Experts in conservation management, specialist bird researchers, dedicated birders, and passionate local landholders all give their time freely to monitor endangered species. This is not outsourcing by the government: this is unpaid work by dedicated Australians stepping up.
King Island crisis
For these two King Island species, the most current information came from surveys conducted by specialist ornithologists, who funded the surveys themselves. In surveys completed this year, a handful of scrubtit were found in just three locations. The thornbill wasn't found at all.
Follow-up surveys at these sites throughout King Island were carried out as part of the Wings on King initiative, with local landholders and visiting birders teaming up to tally records.
Like most of southern Australia, the native vegetation of King Island has been extensively cleared. This clearing is ongoing, and slated changes to Tasmanian planning laws would allow farmers to remove up to 40 hectares per year.
A key driver of this process is the influx of beef producers to the island, attracted by King Island's rich soils and reliable rainfalls. Large operators are moving from Queensland and buying up prime grazing land, changing the way the land is used.
Many of these changes are bad news for local wildlife. Shelterbelts and remnant forests are making way for grass to feed ever more beef cattle.
This is alarming enough for the scrubtits, for which we at least have some baseline population data and knowledge of habitat requirements. It may be even worse for the thornbill – but we can't be sure because we know so little about its habitat requirements or key locations.
Fire is another major threat. Uncontrolled bushfires razed almost a quarter of the island in 2007, decimating the Melaleuca Swamp forest at Nook Swamp, the last stronghold for the scrubtits. Only fragments of the swamp remain. This fire also exacerbated acid sulfate soils in unburned habitats, compromising regeneration in the wetland.
Shedding staff
Yet despite these mounting challenges, the federal Department of Environment is shedding vital staff. Just last month the loss of 60 positions from the biodiversity division was announced, representing a third of the people charged with overseeing monitoring of our threatened species.
Tasmania, despite being home to more than 600 threatened species, has a threatened species section of effectively two full-time positions (one of which is not currently filled). They have an annual budget of about A$5,000, or roughly A$7.14 per species).
This abrogation of biodiversity monitoring and basic conservation management is not new. State and federal departments have been losing capacity for decades.
The embedded research units within these agencies are all but gone, and any long-term monitoring is conducted either with external funds or through dedicated individuals nearing retirement. Entire national parks have been handed over to NGOs to manage, like Pilliga and Mallee Cliffs National Parks in New South Wales. NGOs now manage an estate many times larger than our national parks.
Federal funding has shrunk dramatically, with researchers increasingly reliant on philanthropic trusts, mining offsets, and crowdfunding campaigns to cover the costs of last-ditch interventions.
Another way
You don't have to look very far to find alternatives. New Zealand has just announced a major increase in investment in endangered species funding, $181.6 million in additional funds for conservation initiatives over the next four years.
New Zealand has long been an international leader in conservation management, eradicating feral animals from entire islands to safeguard wildlife. It is ramping up efforts under the Predator Free New Zealand initiative, which aims to eradicate all introduced predators by 2050 in what has been described as "the most ambitious conservation project anywhere in the world".
In contrast, the deputy director of the Threatened Species Recovery Hub recently pointed out that a third of Australia's most threatened species aren't monitored at all.
---


Read more:
Protecting endangered species: 6 essential reads


---

Eleventh-hour funding will be too late for King Island's thornbill. It hasn't been seen since a keen-eyed photographer happened across a single bird in 2016. Despite the valiant efforts of volunteers, inspirational videos, and direct representations and grant applications, it has an estimated 6% chance of surviving the next 20 years.
Matthew H Webb, Dr Matt Webb, Australian National University; David M Watson, Professor in Ecology, Charles Sturt University, and Dejan Stojanovic, Postdoctoral Fellow, Australian National University
This article was originally published on The Conversation. Read the original article.