Daily Archives for
August 12, 2018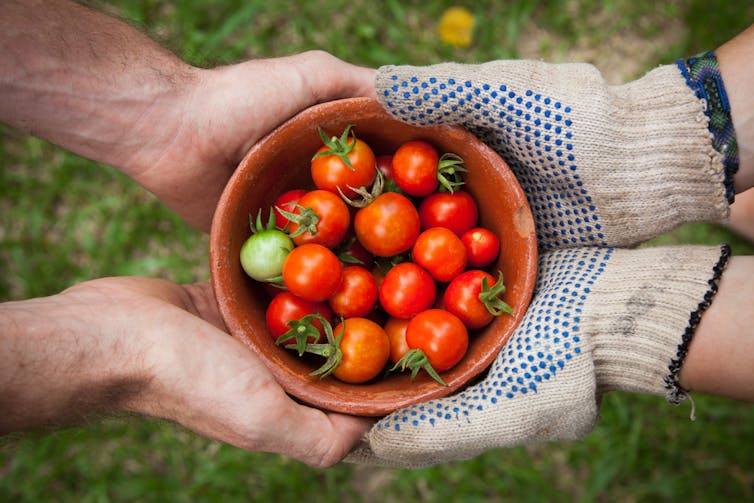 Tonia Gray, Western Sydney University; Danielle Tracey, Western Sydney University; Kumara Ward, Western Sydney University, and Son Truong, Western Sydney University
Studies indicate spending time in nature brings physical, mental and social benefits. These include stress reduction, improved mood, accelerated healing, attention restoration, productivity and heightened imagination and creativity.
Increased urbanisation has made it more difficult to connect with nature. And members of lower socioeconomic and minority ethnic groups, people over 65 and those living with disability are less likely to visit green spaces. This could be due to inaccessible facilities and safety fears.
A gardening program for disadvantaged groups, running in New South Wales since 1999, has aimed to overcome the inequity in access to green spaces. Called Community Greening, the program has reached almost 100,000 participants and established 627 community and youth-led gardens across the state.
---


Read more:
The science is in: gardening is good for you


---
Our independent evaluation explored the program's impact on new participants and communities in social housing by tracking six new garden sites in 2017. Around 85% of participants told us the program had a positive effect on their health and 91% said it benefited their community. And 73% said they were exercising more and 61% were eating better. One participant said engaging in the program even helped them quit smoking.
These insights have advanced our understanding of how community gardening improves the mental and physical health of Australians living in social housing communities in our cities.
Our study
Trends towards urbanisation and loss of green space have sparked concerns about population health and well-being. This has led to a growing body of research on the impact of community gardens on children and adults.
The Community Greening program is supported by the Royal Botanic Garden Sydney in partnership with Housing New South Wales. Anecdotal feedback gathered by the botanic garden over the past two decades has shown gardening improves well-being and cohesion, fosters a sense of belonging, reduces stress and enhances life skills.
Based on this understanding, Community Greening aims to:
improve physical and mental health
reduce anti-social behaviour
build community cohesion
tackle economic disadvantage
promote understanding of native food plants
conserve the environment
provide skills training to enable future employment opportunities
share expert knowledge of the garden.
Our research investigated these outcomes in participants, and whether they changed during the course of the program. We collected data using questionnaires over seven months (before and after participation). We also conducted focus group interviews with participants and open-ended questionnaires with staff working at the community sites.
---


Read more:
Social housing protects against homelessness – but other benefits are less clear


---
Of the 23 people who completed both questionnaires before and afterwards, 14 were female and nine were male. They had an average age of 59, ranging from 29-83. Fifteen participants were born in Australia while the rest came from Fiji, Iran, Poland, New Zealand, Philippines, Chile, Afghanistan and Mauritius. One participant identified as an Aboriginal and/or Torres Strait Islander and five people (22%) reported English was not their first language.
Initially, 27% reported they had never gardened prior to the program. At the post-test questionnaire, the frequency of attendance improved for many of them. Over 40% gardened once a week and 22% every day.
Gardening benefits
Overall, we found participants felt a sense of agency, community pride and achievement. The gardening program helped encourage change and community development. Some were happy to learn a new hobby.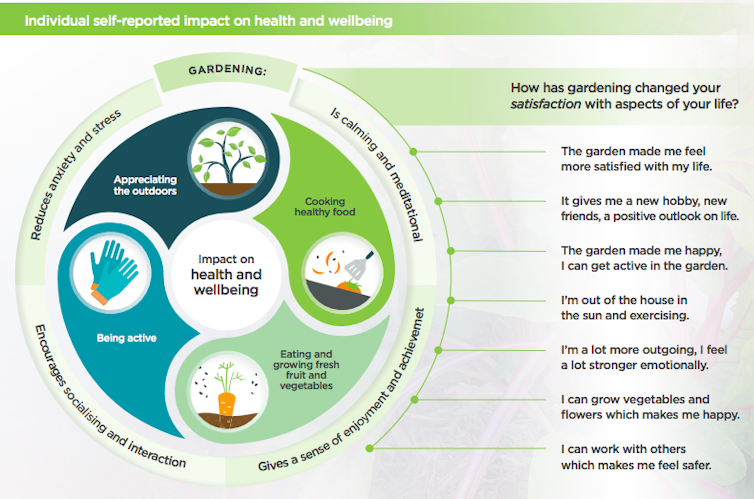 Gardening also served as an opportunity to socialise with neighbours. In previous years within some social housing communities, it was commonplace for residents to simply stay inside their units without interacting with anyone.
Many participants said they saw a marked improvement in their health and well-being. One participant remarked:
I suffer with a lot of health problems, and a lot of times I've been sitting at home, been depressed and not been happy about my illness, and since I've become more involved with the garden it helped me to not worry about my health so much like I used to and it actually improved my eating habits. It has changed my life positively. I don't have time to feel sorry for myself anymore…
Some described the gardening experience as calming and cathartic – especially those who suffered from depression and anxiety. Some spoke of the positive aspect of having something to do each day and their feelings of achievement.
Another participant said:
Going outside gives me not only physical exercise, but it provides a certain amount of joy in that you're seeing the benefit of your hard work coming through in healthy plants. Whether it's vegetables or a conifer, you're seeing it grow and you're seeing the benefit…
Additional improvements in social health included a genuine enthusiasm for working in a team, with increased co-operation and social cohesion between staff and tenants. The housing managers and social workers work alongside tenants helping to foster trust, co-operation, social collaboration and healthy relationships.

More importantly, this research has provided validation that Community Greening has aligned with contemporary social-housing priorities. These include supporting health and well-being, nurturing a sense of community, enhancing safety and developing a sense of place.
Tonia Gray, Associate Professor, Centre for Educational Research, Western Sydney University; Danielle Tracey, Associate Professor, Adult and Postgraduate Education, Western Sydney University; Kumara Ward, Lecturer, Early Childhood Education, Western Sydney University, and Son Truong, Senior Lecturer, Secondary Education, Western Sydney University
This article was originally published on The Conversation. Read the original article.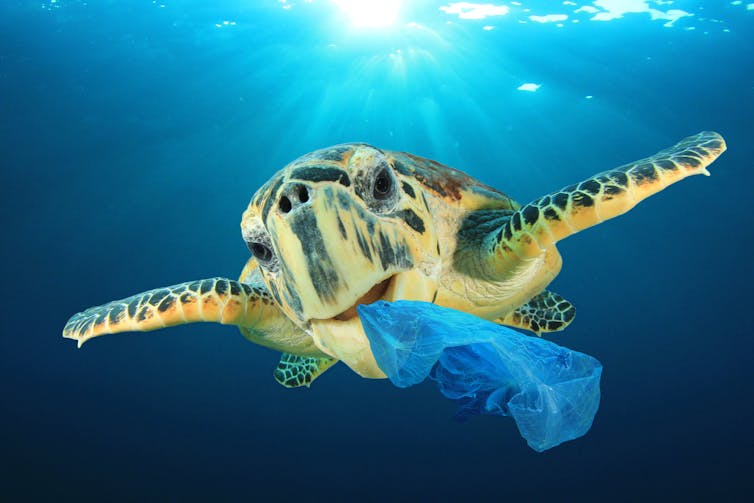 Britta Denise Hardesty, CSIRO and Qamar Schuyler, CSIRO
This is an article from Curious Kids, a series for children. The Conversation is asking kids to send in questions they'd like an expert to answer. All questions are welcome – serious, weird or wacky! You might also like the podcast Imagine This, a co-production between ABC KIDS listen and The Conversation, based on Curious Kids.
---
My name is Sanuki and I'm 8 years old. I live in Melbourne. My question is how do plastic bags harm our environment and sea life? – Sanuki, age 8, Melbourne.
---
Good question, Sanuki!
Plastic bags harm marine (and land) environments in a few ways.
Turtles (and other animals) may mistake plastic bags for food. Turtles like to eat jellyfish, and we think turtles eat the plastic bags because they resemble jellyfish.
When turtles eat plastic, it can block their intestinal system (their guts). Therefore, they can no longer eat properly, which can kill them. The plastics in their tummy may also leak chemicals into the turtle. We don't know whether this causes long term problems for the turtle, but it's probably not good for them.
---


Read more:
Australian waters polluted by harmful tiny plastics


---
How plastic impacts the ecosystems
Plastic bags can also smother corals and other seabed communities. When plastic bags end up in our oceans, animals (including seals, dolphins and seabirds) can get tangled up in them. An animal with a plastic bag around its neck will have trouble moving through the water, catching its prey or feeding, and escaping predators.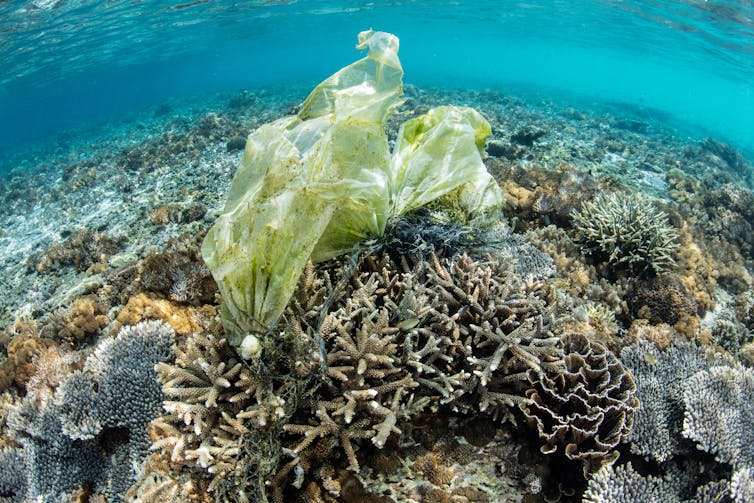 On land, plastic bags are an eyesore. They get stuck in trees, along fence lines, or as litter at our parks and beaches.
Many people don't realise that plastic bags can also cause flooding. Previously in Ghana (in West Africa), plastic bags blocked storm water drains during a big rainstorm. This caused flooding so bad that people were killed.
Making plastic requires a lot of energy and work
Plastic bags can even be harmful before they are used. It takes a lot of resources and energy to create a plastic bag. A key ingredient is oil. As a fossil fuel, oil must be extracted from the ground. Do we want to use fossil fuel resources to make a product that is only used once (we call this a "single use plastic")?
Many millions of barrels of oil are used to make plastic bags every year. A lot of energy is also used to make and transport plastic bags. It is better for the environment if we reduce our energy use.
---


Read more:
This South Pacific island of rubbish shows why we need to quit our plastic habit


---
The push towards plastic-free
Lately, lots of people recognise the impacts that plastic bags have, and they are working on alternatives. Many local and state governments have passed plastic bag bans here in Australia, which helps stop the use of single use plastic bags.
In fact, New South Wales is the only state in Australia where you can still get thin, single use plastic bags at the grocery store.
So, remind your parents to bring their reusable cloth bags whenever you go shopping. You just might save a turtle.
---
Hello, curious kids! Have you got a question you'd like an expert to answer? Ask an adult to send your question to us. They can:
* Email your question to curiouskids@theconversation.edu.au

* Tell us on Twitter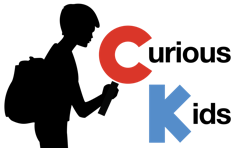 Please tell us your name, age and which city you live in. You can send an audio recording of your question too, if you want. Send as many questions as you like! We won't be able to answer every question but we will do our best.
Britta Denise Hardesty, Principal Research Scientist, Oceans and Atmosphere Flagship, CSIRO and Qamar Schuyler, Research Scientist, Oceans and Atmospheres, CSIRO
This article was originally published on The Conversation. Read the original article.