Daily Archives for
August 13, 2018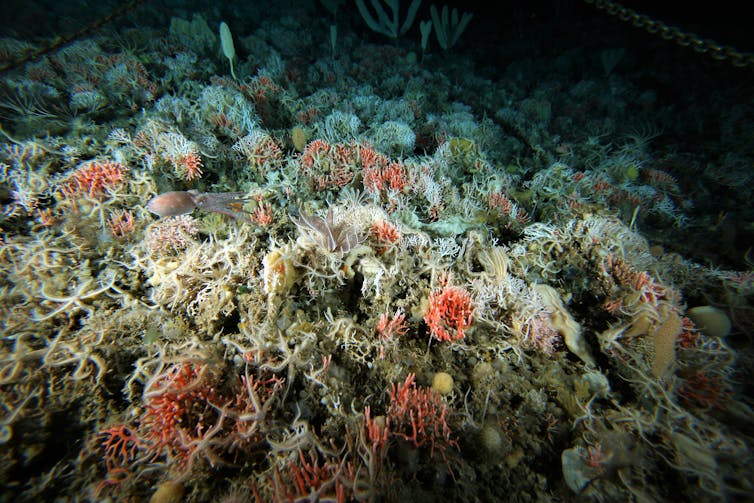 Jan Jansen, University of Tasmania; Craig Johnson, University of Tasmania, and Nicole Hill, University of Tasmania
What sort of life do you associate with Antarctica? Penguins? Seals? Whales?
Actually, life in Antarctic waters is much broader than this, and surprisingly diverse. Hidden under the cover of sea-ice for most of the year, and living in cold water near the seafloor, are thousands of unique and colourful species.
Our research has generated new techniques to map where these species live, and predict how this might change in the future.
Biodiversity is nature's most valuable resource, and mapping how it is distributed is a crucial step in conserving life and ecosystems in Antarctica.
---


Read more:
Explainer: what is biodiversity and why does it matter?


---
Surprises on the seafloor
The ocean surrounding the Antarctic continent is an unusual place. Here, water temperatures reach below freezing-point, and the ocean is covered in ice for most of the year.
While commonly known for its massive icebergs and iconic penguins, Antarctica's best-kept secret lies on the seafloor far below the ocean surface. In this remote and isolated environment, a unique and diverse community of animals has evolved, half of which aren't found anywhere else on the planet.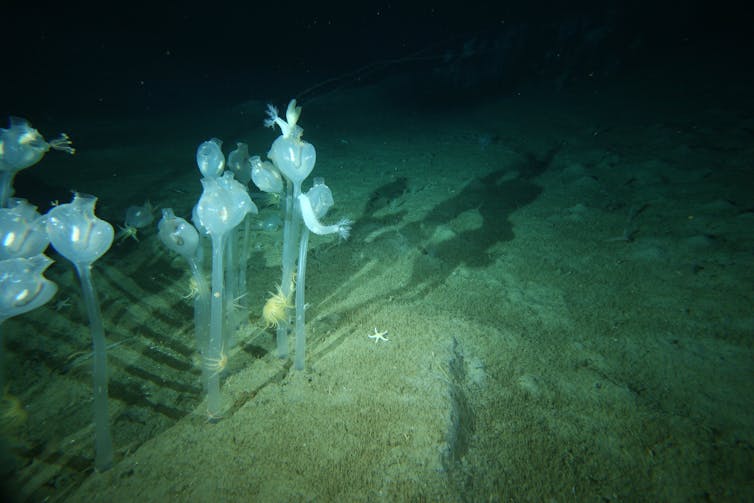 Colourful corals and sponges cover the seafloor, where rocks provide hard substrate for attachment. These creatures filter the water for microscopic algae that sink from the ocean surface during the highly productive summer season between December and March.
In turn, these habitat-forming animals provide the structure for all sorts of mobile animals, such as featherstars, seastars, crustaceans, sea spiders and giant isopods (marine equivalents of "slaters" or "woodlice").
The Antarctic seafloor is also home to a unique group of fish that have evolved proteins to stop their blood from freezing.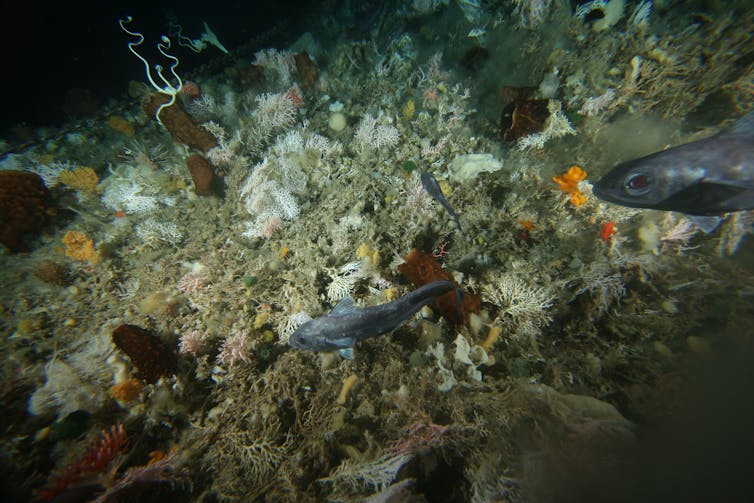 Mapping biodiversity is hard
Biodiversity is a term that describes the variety of all life forms on Earth. The unprecedented rate of biodiversity loss is one of the biggest challenges of our time. And despite its remoteness, Antarctica's biodiversity is not protected from human impact through climate change, pollution and fisheries.
---


Read more:
It's funny to name species after celebrities, but there's a serious side too


---
Although scientists have broadly known about Antarctica's unique marine biodiversity for some time, we still lack knowledge of where each species lives and where important hotspots of biodiversity are located. This is an issue because it hinders us from understanding how the ecosystem functions – and makes it hard to assess potential threats.
Why don't we know more about the distribution of Antarctic marine species? Primarily, because sampling at the seafloor a few thousand metres below the surface is difficult and expensive, and the Antarctic continental shelf is vast and remote. It usually takes the Australian Icebreaker Aurora Australis ten days to reach the icy continent.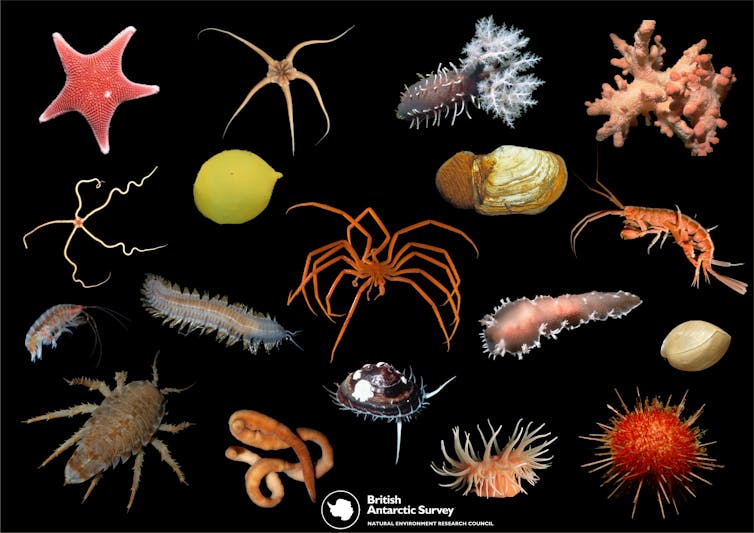 To make the most of the sparse and patchy biological data that we do have, in our research we take advantage of the fact that species usually have a set of preferred environmental conditions. We use the species' relationship with their environment to build statistical models that predict where species are most likely to occur.
This allows us to map their distribution in places where we have no biological samples and only environmental data. Critically, until now important environmental factors that influence the distribution of seafloor species have been missing.
---


Read more:
Antarctica has lost 3 trillion tonnes of ice in 25 years. Time is running out for the frozen continent


---
Using predictions to make a map
In a recent study, we were able to predictively map how much food from the ocean-surface was available for consumption by corals, sponges and other suspension feeders at the seafloor.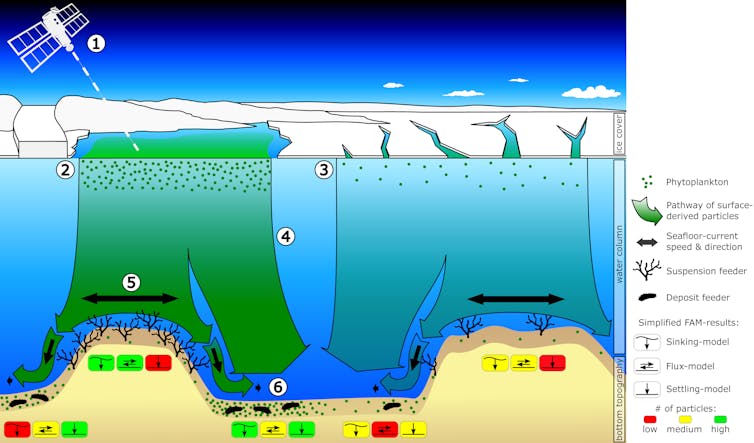 Although biological samples are still scarce, this allowed us to map the distribution of seafloor biodiversity in a region in East Antarctica with high accuracy.
Further, estimates of how and where the supply of food increased after the tip of a massive glacier broke off and changed ocean conditions in the region allowed us to predict where abundances of habitat forming fauna such as corals and sponges will increase in the future.
Antarctica is one of the few regions where the total biomass of seafloor animals is likely to increase in the future. Retreating ice-shelves increase the amount of suitable habitat available and allow more food to reach the seafloor.
For the first time in history, we now have the information, computational power and research capacity to map the distribution of life on the entire continental shelf around Antarctica, identify previously unknown hotspots of biodiversity, and assess how the unique biodiversity of the Antarctic will change into the future.
---




Read more:
How a trip to Antarctica became a real-life experiment in decision-making


---
Jan Jansen, Quantitative Marine Ecologist, University of Tasmania; Craig Johnson, Professor, University of Tasmania, and Nicole Hill, Research fellow, University of Tasmania
This article was originally published on The Conversation. Read the original article.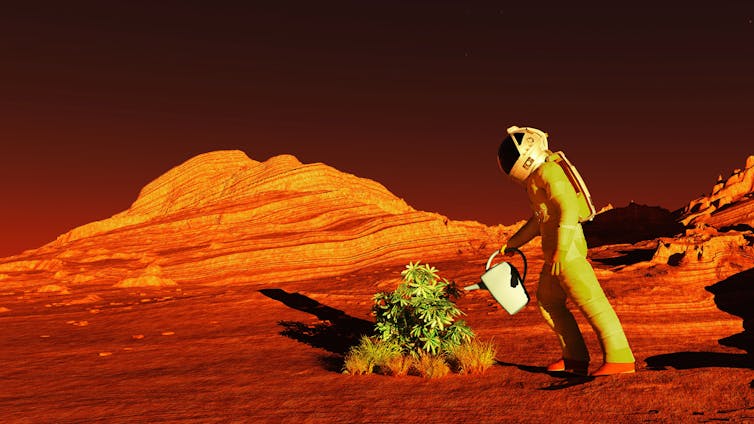 Briardo Llorente, Macquarie University
Preparations are already underway for missions that will land humans on Mars in a decade or so. But what would people eat if these missions eventually lead to the permanent colonisation of the red planet?
Once (if) humans do make it to Mars, a major challenge for any colony will be to generate a stable supply of food. The enormous costs of launching and resupplying resources from Earth will make that impractical.
Humans on Mars will need to move away from complete reliance on shipped cargo, and achieve a high level of self-sufficient and sustainable agriculture.
---


Read more:
Discovered: a huge liquid water lake beneath the southern pole of Mars


---
The recent discovery of liquid water on Mars – which adds new information to the question of whether we will find life on the planet – does raise the possibility of using such supplies to help grow food.
But water is only one of many things we will need if we're to grow enough food on Mars.
What sort of food?
Previous work has suggested the use of microbes as a source of food on Mars. The use of hydroponic greenhouses and controlled environmental systems, similar to one being tested onboard the International Space Station to grow crops, is another option.
This month, in the journal Genes, we provide a new perspective based on the use of advanced synthetic biology to improve the potential performance of plant life on Mars.
Synthetic biology is a fast-growing field. It combines principles from engineering, DNA science, and computer science (among many other disciplines) to impart new and improved functions to living organisms.
Not only can we read DNA, but we can also design biological systems, test them, and even engineer whole organisms. Yeast is just one example of an industrial workhorse microbe whose whole genome is currently being re-engineered by an international consortium.
The technology has progressed so far that precision genetic engineering and automation can now be merged into automated robotic facilities, known as biofoundries.
These biofoundries can test millions of DNA designs in parallel to find the organisms with the qualities that we are looking for.
Mars: Earth-like but not Earth
Although Mars is the most Earth-like of our neighbouring planets, Mars and Earth differ in many ways.
---


Read more:
Dear diary: the Sun never set on the Arctic Mars simulation


---
The gravity on Mars is around a third of that on Earth. Mars receives about half of the sunlight we get on Earth, but much higher levels of harmful ultraviolet (UV) and cosmic rays. The surface temperature of Mars is about -60℃ and it has a thin atmosphere primarily made of carbon dioxide.
Unlike Earth's soil, which is humid and rich in nutrients and microorganisms that support plant growth, Mars is covered with regolith. This is an arid material that contains perchlorate chemicals that are toxic to humans.
Also – despite the latest sub-surface lake find – water on Mars mostly exists in the form of ice, and the low atmospheric pressure of the planet makes liquid water boil at around 5℃.
Plants on Earth have evolved for hundreds of millions of years and are adapted to terrestrial conditions, but they will not grow well on Mars.
This means that substantial resources that would be scarce and priceless for humans on Mars, like liquid water and energy, would need to be allocated to achieve efficient farming by artificially creating optimal plant growth conditions.
Adapting plants to Mars
A more rational alternative is to use synthetic biology to develop crops specifically for Mars. This formidable challenge can be tackled and fast-tracked by building a plant-focused Mars biofoundry.
Such an automated facility would be capable of expediting the engineering of biological designs and testing of their performance under simulated Martian conditions.
With adequate funding and active international collaboration, such an advanced facility could improve many of the traits required for making crops thrive on Mars within a decade.
This includes improving photosynthesis and photoprotection (to help protect plants from sunlight and UV rays), as well as drought and cold tolerance in plants, and engineering high-yield functional crops. We also need to modify microbes to detoxify and improve the Martian soil quality.
These are all challenges that are within the capability of modern synthetic biology.
Benefits for Earth
Developing the next generation of crops required for sustaining humans on Mars would also have great benefits for people on Earth.
---


Read more:
Before we colonise Mars, let's look to our problems on Earth


---
The growing global population is increasing the demand for food. To meet this demand we must increase agricultural productivity, but we have to do so without negatively impacting our environment.
The best way to achieve these goals would be to improve the crops that are already widely used. Setting up facilities such as the proposed Mars Biofoundry would bring immense benefit to the turnaround time of plant research with implications for food security and environmental protection.

So ultimately, the main beneficiary of efforts to develop crops for Mars would be Earth.
Briardo Llorente, CSIRO Synthetic Biology Future Science Fellow, Macquarie University
This article was originally published on The Conversation. Read the original article.