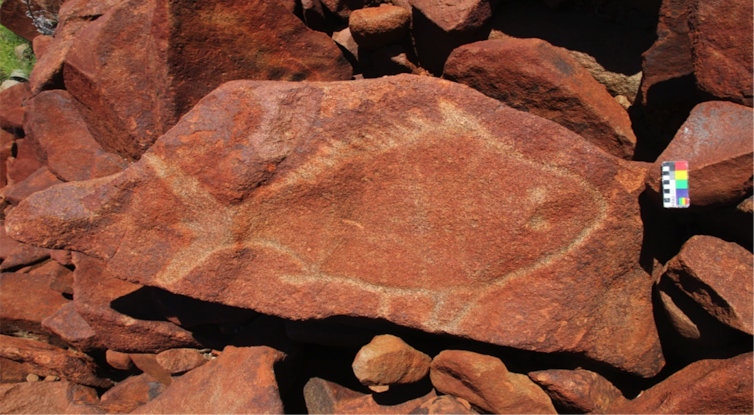 Jo McDonald, University of Western Australia
The West Australian government has committed to pursuing a World Heritage listing for the rock art of Murujuga. Murujuga is the Aboriginal name for the Dampier Archipelago and the Burrup Peninsula in north west WA and is home to at least a million individual works of art.
Australia has some of the world's richest and most diverse rock art. While rock art is found all around the globe, Australia is relatively unique because here there are still cultural connections between rock art and the people who created it.
At present, Australia has only three cultural World Heritage sites (of which only one – Kakadu – is listed for rock art). In contrast, France has over 30 World Heritage-listed rock art sites.
I and my colleague Peter Veth have argued that Murujuga rock art meets three criteria for outstanding universal value: because of the creative genius and skill of the artwork; the extraordinarily old and continuous engraving tradition; and the combined cultural landscapes of the area, including quarries, living sites, and shell middens.
These illustrate significant transitions in human history in the face of major changes in sea level and surrounding environment.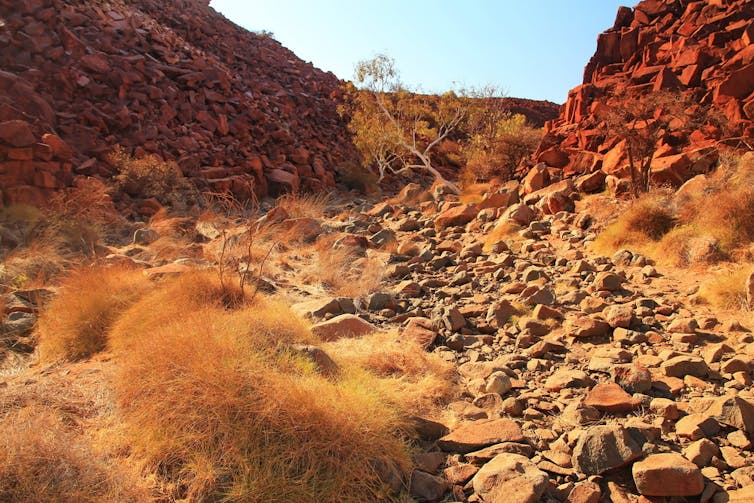 Animals no longer found
When people first started using this landscape 50,000 years ago, it was located around 100 km from the coast. It was wetter and warmer than it is now – and the archaeological record of the coastal plain at this time demonstrates an entire group of animals no longer found in this part of Australia. Murujuga's artists painted some of these animals, such as crocodiles.
Then, during the last ice age (between 30,000 and 18,000 years ago), the coastline was even further away (160 km). People were were living in the Murujuga Ranges at this time. There are a number of paintings of animals that are now extinct, such as thylacines and a fat-tailed species of kangaroo, which testify to the changing environment.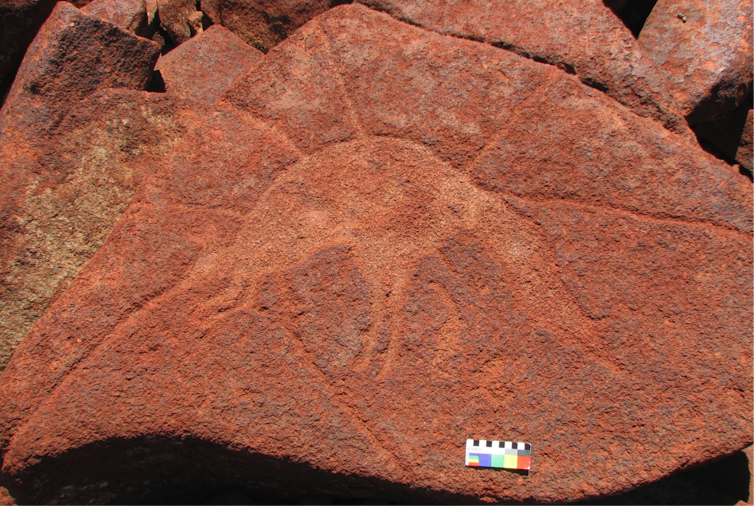 Then, as the ice caps melted and the sea level rose, people became more concentrated on the new coastal landscape. Recent studies across the archipelago have demonstrated the scientific significance of the outer and inner islands of this cultural land and seascape.
Dugong, turtles and fish
Around 8,000 years ago, people began to construct houses. Art production at this time was in full swing. The most recent rock art includes dugong, turtles, fish as well as the small rock wallabies and quolls that now live on the islands.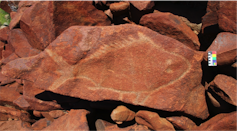 As well as houses there are myriad stone arrangements, standing stones and terraces. This is a monumental hunter-gatherer-fisherperson landscape, which rivals the period in Europe when people were constructing stone monuments such as Stonehenge (except in Europe this occurred thousands of years later).
The artworks in Murujuga were made on the rocks using stone tools. Together they show how people have been living in the region for thousands of years, first as hunter-gatherers, and later with a focus on fishing.
Contemporary traditons
This rock art is still associated with contemporary traditions, ideas, and belief systems of traditional custodians. It is the widely-held belief that many Murujuga engravings represent and embody ancestral beings (Marga), while some of the standing stones are thalu sites, critical for the regeneration of key species such as a range of fish, birds and kangaroo, and even sandflies.
Five local Aboriginal groups hold native title in lands next to the archipelago – the Ngarluma, Yindjibarndi, Yaburara, Mardudhunera and Wong-gg-tt-too. Together, they are represented by Murujuga Aboriginal Corporation, which jointly manages Murujuga National Park with the WA state government. The peninsula and the islands are also listed as having National Heritage values. This listing excludes parts of the peninsula that have been previously damaged by industry.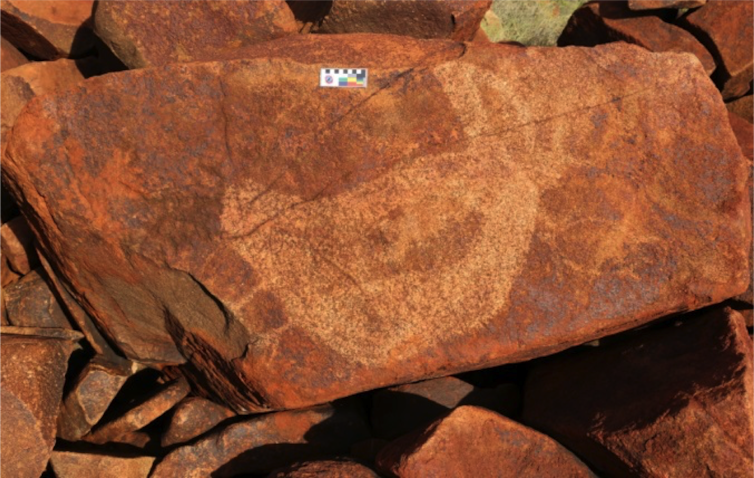 ---


Read more:
Where art meets industry: protecting the spectacular rock art of the Burrup Peninsula


---
National Heritage listing paves the way for Murujuga to become a World Heritage site. Recently, traditional custodians and others came together for a summit in Karratha and concluded resoundingly that World Heritage listing would be appropriate for Murujuga, and that it would help protect this extraordinary place.
Author Tim Winton also joined the push for World Heritage status.
Yesterday's announcement is a significant moment for WA – which doesn't have any Aboriginal cultural sites listed as World Heritage. And for the traditional custodians, it is the next step in their quest for recognition and greater protection of this place's special significance.
<!– Below is The Conversation's page counter
tag. Please DO NOT REMOVE. –>


Placing Murujuga on the Tentative List is the beginning of the formal process to achieve World Heritage status. This will still take several years, but as the CEO of the Murujuga Aboriginal Corporation, Peter Jeffries, said yesterday, the traditional owners are now driving the process.
Jo McDonald, Director, Centre for Rock Art Research + Management, University of Western Australia
This article was originally published on The Conversation. Read the original article.