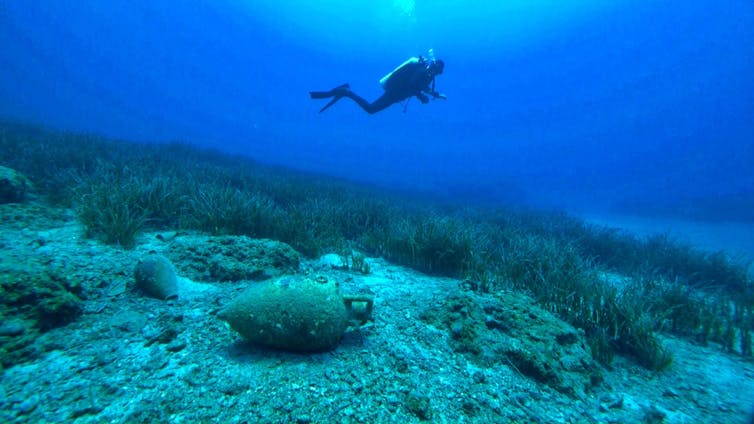 Oscar Serrano, Edith Cowan University; Carlos Duarte, King Abdullah University of Science and Technology; David John Gregory, National Museum of Denmark; Dorte Krause-Jensen, Aarhus University, and Eugenia Apostolaki, Hellenic Centre for Marine Research
For more than 6,000 years, seagrass meadows in Australia's coastal waters have been acting as security vaults for priceless cultural heritage.
They've locked away thousands of shipwrecks in conditions perfect for preserving the fragile, centuries-old timbers of early European and Asian explorers, and could even hold secrets of seafaring by Aboriginal Australians.
Seagrass meadows accumulate marine sediments beneath their leaves, slowly burying and safeguarding wrecks in conditions that museum curators can only dream of. It's a process that takes centuries, as mats of seagrass and sediments cover the wrecks and all their buried treasure.
Seagrass sedimentary deposits also hold archives of wider environmental change over millennia and are important sinks for atmospheric carbon dioxide, known as Blue Carbon.
But human development, climate change and storms are threatening fragile seagrass meadows around the world, and that risks the loss of the important cultural heritage they protect as well as some of the world's most productive marine ecosystems.
---


Read more:
Dugong and sea turtle poo sheds new light on the Great Barrier Reef's seagrass meadows


---
Our research, carried out by an international team of scientists in Australia, Denmark, Saudi Arabia and Greece, shows that seagrass meadows, hidden beneath our oceans, gradually build up the seafloor over millennia by trapping sediments and particles and depositing those materials as they grow.
The organic and chemical structure of seagrass sedimentary deposits is key to its ability to protect shipwrecks and submerged prehistoric landscapes. These structures are extraordinarily resistant to decay, creating thick sediment deposits that seal oxygen away from archaeological sites, preventing ships' timbers and other materials from rotting away.
Seagrass meadows are under environmental stress due to climate change, storms and human activity. Recent disturbances and losses have exposed shipwrecks and archaeological artefacts that were previously preserved beneath the sediment. Once the protective cover of seagrass is gone, the ships and other sites begin to break down. If you lose seagrass, you lose cultural heritage.
Seagrass meadow losses in the Mediterranean have exposed Phoenician, Greek and Roman ships and cargo, many of which are thousands of years old. Unless these effects can be stemmed, the frequency of exposures is likely to increase. This has already put European archaeologists and marine scientists in a race against the clock.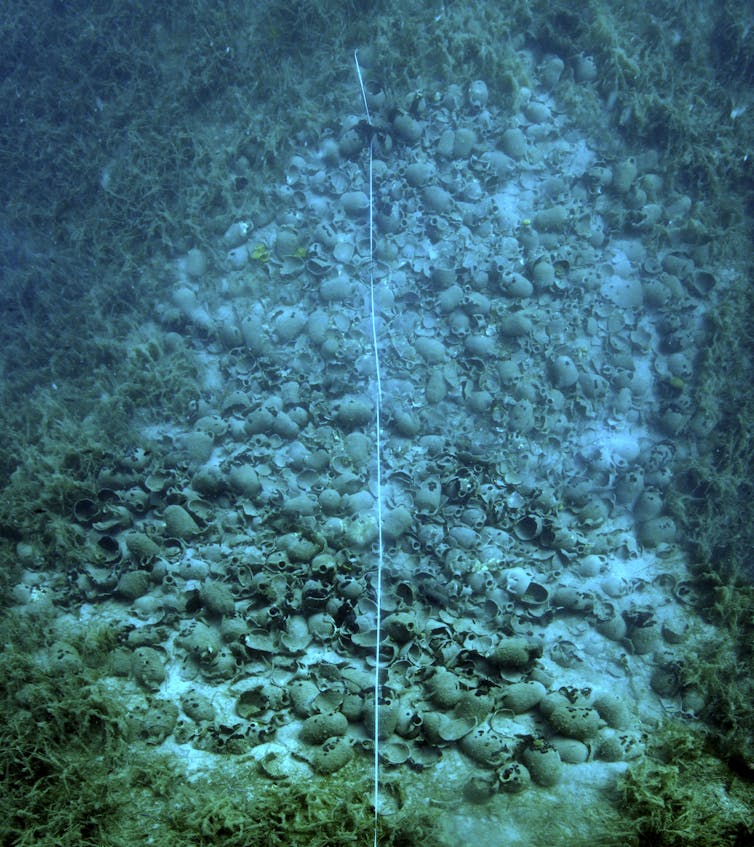 Around 7,000 shipwrecks are thought to lie in Australia's coastal waters. Seagrass disturbance led to the unearthing in 1973 of the James Matthews, a former slave ship that sank in 1841 in Cockburn Sound, Western Australia, and the Sydney Cove, which ran aground off Tasmania's Preservation Island in 1797, forcing survivors to walk 700km to Sydney.
Artefacts and pieces of the James Matthews' hull have been recovered and studied at the WA Museum. Meanwhile, the recovery of beer bottles from the Sydney Cove has led, remarkably, to 220-year-old brewing yeast being cultivated and used to create a new beer – fittingly enough called The Wreck.
Revealing wrecks
We and our colleagues are aiming to match shipwreck data with seagrass meadow maps. From there, we hope new acoustic techniques for below-seabed imaging will allow exploration of underwater sites without disturbing the overlying seagrass meadows. Controlled archaeological excavation could then be undertaken to excavate, document and preserve sites and artefacts.
We also believe there's significant potential to find archaeological heritage of early Indigenous Australians buried and preserved in seagrass meadows. Sea level around Australia rose around 6,000 years ago, potentialy submerging ancient indigenous settlements located in coastal areas, which may now be covered by seagrass.
The danger of not putting these protections in place is evidenced by treasure-hunters off the Florida coast, who have adopted a destructive technique called "mailboxing" to search for gold in Spanish galleons. This involves punching holes into sediment to find and then pillage wrecks, an action that damages seagrass meadows and archaeological remains.
---


Read more:
We desperately need to store more carbon – seagrass could be the answer


---
The accumulated sediments in seagrass meadows could also help build a record of environmental conditions, including fingerprints of human culture. These archives can be used to reconstruct prehistoric changes in land use and agriculture, mining and metallurgical activities, impacts of human activities on coastal ecosystems, and changes associated with colonisation events by different cultures. Think of it as a coastal equivalent to polar ice cores. Seagrass records could even help us understand, predict and manage the effects of current environmental changes.
But to do all this, we first need to realise what a truly valuable resource seagrass is. Granted, it doesn't look spectacular, but it can do some pretty spectacular things – from sucking carbon out of the skies, to underpinning entire ecosystems, and even guarding buried treasure.

Oscar Serrano, Doctor of Global Change, Edith Cowan University; Carlos Duarte, Adjunct professor, King Abdullah University of Science and Technology; David John Gregory, Senior Researcher, National Museum of Denmark; Dorte Krause-Jensen, Senior Researcher, Marine Ecology, Aarhus University, and Eugenia Apostolaki, Researcher, Institute of Oceanography, Hellenic Centre for Marine Research
This article is republished from The Conversation under a Creative Commons license. Read the original article.