Daily Archives for
November 17, 2018
Ian Rutherfurd, University of Melbourne
On the eve of the recent National Drought Summit, prime minister Scott Morrison and deputy prime minister Michael McCormack visited Mulloon Creek near Canberra, shown recently on the ABC's Australian Story. They were there to see a creek that was still flowing, and green with vegetation, despite seven months of drought.
Mulloon Creek was the legacy of a long collaboration between prominent agriculturalist Peter Andrews, and Tony Coote, the owner of the property who died in August. For decades they have implemented Andrews' "natural sequence farming" system at Mulloon Creek.
---


Read more:
Government to set up new multi-billion Future Drought Fund


---
Central to the system is slowing flow in the creek with "leaky weirs". These force water back into the bed and banks of the creek, which rehydrates the floodplain. This rehydrated floodplain is then said to be more productive and sustainable.
McCormack, who is also the minister for infrastructure, transport and regional development, was impressed and declared the success of Mulloon as a "model for everyone … this needs to be replicated right around our nation". The ABC program suggested this form of farming could reduce the impact of drought across Australia. So, what is the evidence?
The promise of natural sequence farming
There are plenty of anecdotes but little published science around the effectiveness of natural sequence farming. What there is describes some modest floodplain rehydration, little change to stream flows, some trapping of sediment and some improvements in soil condition. These results are encouraging but not miraculous.
How much each of the different components of natural sequence farming contributes is not always clear, and the economic arguments for widespread adoption are modest. At present, there is not the standard of evidence to support this farming method as a panacea for drought relief, as proposed by the deputy prime minister.
---


Read more:
Helping farmers in distress doesn't help them be the best: the drought relief dilemma


---
But if the evidence does emerge, why wouldn't farmers simply adopt the methods as part of a sensible business model? Don't all farmers want to do better in drought?
In the ABC show, and elsewhere, supporters of natural sequence farming argue that it is hard for farmers to adopt the methods because government regulations restrict use of willows, blackberries and other weeds, that they claim, are particularly effective in restoring streams.
Governments are correct to be wary of this call to use weeds, and some research suggests that native plants can do a similar job. This restriction on use of weeds might be galling for proponents of natural sequence farming but it should not be a fundamental impediment to adoption.
A more important frustration for natural sequence farming practitioners is how widely the approach can be applied. In Australian Story, John Ryan, a rural journalist, says:
I am sick of politicians, farmers groups, and government departments telling me that Peter Andrews only works where you've got little creeks in a mountain valley … I've seen it work on flat-lands, steep lands, anywhere.
Natural sequence farming arose in the attempt to restore upland valleys and creeks in southern NSW that were once environmentally valuable chains of ponds or swampy meadows. But these waterways have become deeply incised, degraded, and disconnected from their floodplains. Not only does this incision produce a great deal of sediment pollution, but it produces many agricultural problems.
---


Read more:
Spring is coming, and there's little drought relief in sight


---
In reality, small and medium-sized stream systems across much of Australia have deepened after European settlement. If the leaky weirs of natural sequence farming are effective, then they could be applied across many gullied and incised streams across the country.
We've already been doing it
The good news is that landholders and governments have already been using aspects of natural sequence farming in those very gullies for decades to control erosion.
Since the 1970s, across the world, one useful method for controlling erosion has been grade-control structures. They were once made of concrete but are now usually made of dumped rock (called rock-chutes), and also logs.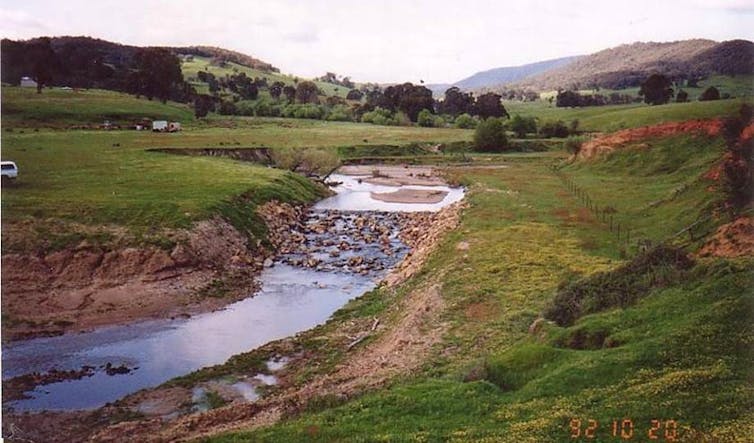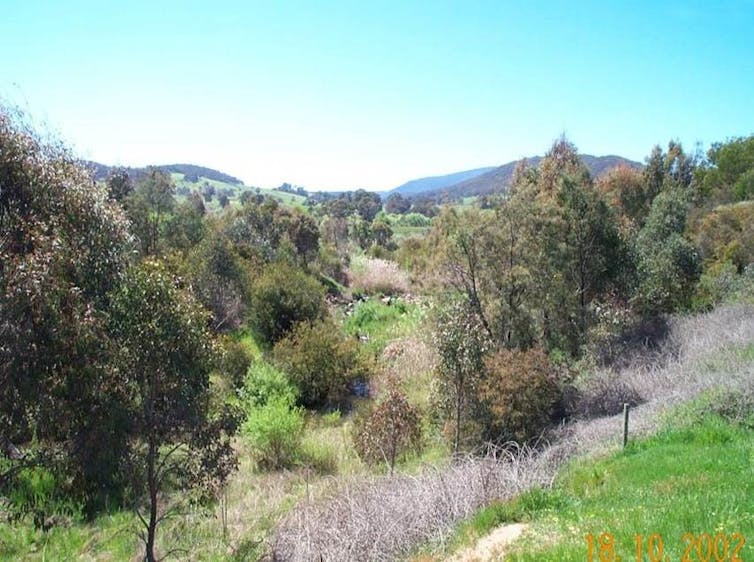 These structures reduce the speed of water flow, trap sediment, encourage vegetation, and stop gullies from deepening. These are all goals of natural sequence farming using leaky weirs.
There are thousands of such structures, supported by government initiatives, across the Australian landscape acting as an unrecognised experiment in rehydration and drought protection.
---


Read more:
We must strengthen, not weaken, environmental protections during drought – or face irreversible loss


---
Perhaps governments should already have evaluated these structures, but the rehydration potential of these works has not been recognised in the past. It is time that this public investment was scientifically evaluated.
We may find that natural sequence farming and the routine government construction of grade-control structures have similar effects on farmland and the environment.
But whatever the outcome, gully management is not likely to mark the end of drought in the Australian landscape.

Ian Rutherfurd, Associate Professor in Geography, University of Melbourne
This article is republished from The Conversation under a Creative Commons license. Read the original article.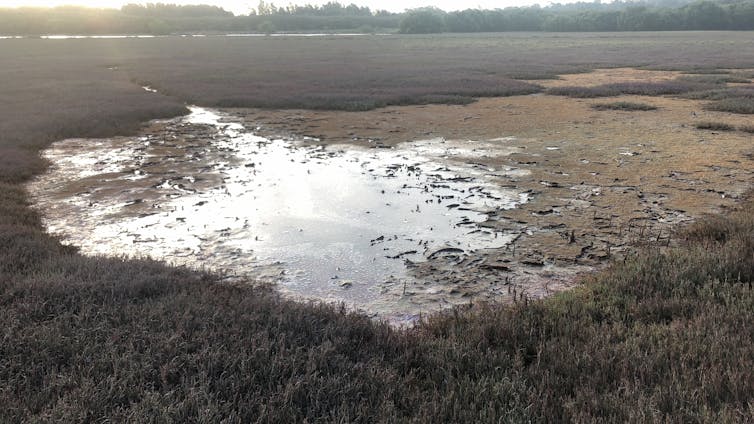 Cameron Webb, University of Sydney
Once the warm weather arrives, you know mosquitoes won't be far behind. Spring heatwaves associated with the impending arrival of El Niño to the east coast of Australia may mean we'll get an early taste of summer, but what about mosquitoes? Does a long, hot summer mean fewer annoying buzzing and biting beasts bothering us whenever we spend time outdoors?
Where do mosquitoes come from?
Mosquitoes are complex animals. Like all insects, they thrive in warm weather, but they need more than just heat, they need water.
Mosquitoes lay their eggs on or around water. Without it, they cannot complete their life cycle. Mosquito "wrigglers" hatch out from eggs and spend a week or so swimming about before emerging and flying off in search of blood. Depending on where the water is, whether it is wetlands, puddles or water-filled containers, different kinds of mosquitoes will be present.
There are hundreds of different mosquitoes in Australia. Some like salty water, some like fresh. Some need pristine conditions while some will tolerate filthy water trapped at the bottom of a septic tank.
Because mosquitoes rely on water, rainfall plays a critical role in determining how many mosquitoes will be buzzing about this summer.
---


Read more:
Health Check: why mosquitoes seem to bite some people more


---
A hot, dry summer must mean fewer mosquitoes?
The likelihood that an El Niño will bring drier and warmer conditions to eastern Australia this summer is increasing. The latest predictions from the Bureau of Meteorology are that there is a 70% chance an El Nino will occur this year, about three times more than usual.
At first, this may seem like good news for those averse to mosquito bites, but don't pack away the repellent just yet.
While floods bring mosquitoes, and often outbreaks of mosquito-borne disease, drought will knock out almost all mosquitoes. It is true that the ongoing dry conditions across inland areas of Australia will ensure mosquito populations remain low, but that doesn't mean mosquitoes will disappear completely.
---


Read more:
The worst year for mosquitoes ever? Here's how we find out


---
Water doesn't just come from rain
While a lack of rain will keep many wetlands dry, that isn't the case for our coastal wetlands. Some of the worst pest mosquitoes in Australia are found in our mangroves, saltmarshes and sedgelands.
Mosquitoes, like the saltmarsh mosquito, Aedes vigilax, love wetlands regularly flooded by high tides. The eggs of this mosquito, laid in moist wetland mud, survive long periods of dry conditions. Once covered by tides, these hatch, complete development within a week, and emerge in extraordinary numbers to fly kilometres away into nearby communities to bite and spread disease-causing pathogens such as Ross River virus.
Not only have these mosquitoes found a way to survive without rain, they thrive in hot and dry conditions. Without substantial rainfall, the pools and ponds in the wetlands dry completely, killing off any fish or other aquatic predators, ensuring perfect conditions once the next series of tides comes flooding in. The arrival of El Niño may be bad news for lots of wetland wildlife, but it isn't all bad news for mosquitoes.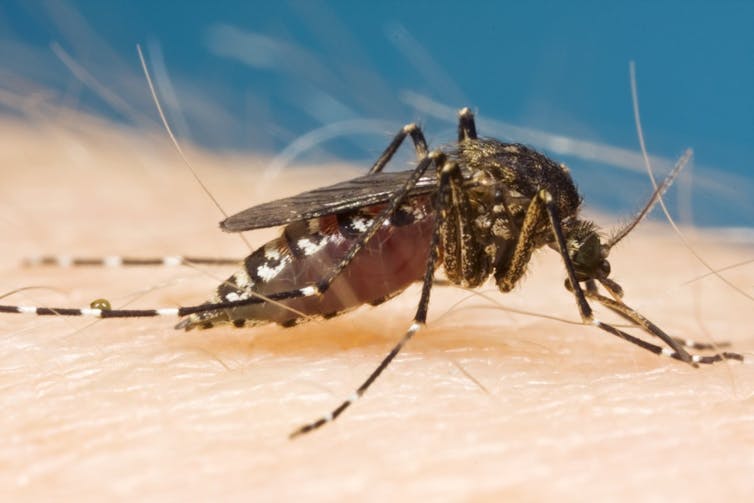 Bringing mosquitoes home
Much has been made of the impact of heatwaves on human health. It may also inadvertently increase health risks in metropolitan regions of Australia. A shortage of water increases the need to conserve and store water around the backyard. Unfortunately, that also means creating a home for mosquitoes.
One of the most widespread mosquitoes in the country, a mosquito that has probably bitten almost every Australian, is the backyard mosquito Aedes notoscriptus. This mosquito is found in water-filled containers around the backyard, from drains and roof gutters to rainwater tanks and bird baths. While you'd think hot and dry conditions will impact this mosquito, think about the extra effort we're taking to store water around the home. If your rainwater tank isn't properly screened or you're keeping uncovered bins and buckets around the backyard filled with water, you'll be providing a home for mosquitoes.
The debate about the impact of a changing climate on mosquitoes and mosquito-borne disease often focuses on the spread of tropical diseases into warming temperate regions. The truth is it may be the way humans respond to a changing climate through water-saving measures around the home that could increase mosquito impacts in urban areas. This also may bring a risk of exotic mosquitoes to our suburbs, which could transmit more serious mosquito-borne pathogens such as dengue, chikungunya and Zika viruses.
While some parts of Australia will have fewer annoying mozzies this summer, don't be complacent about taking steps to avoid mosquito bites. Choose and use the right insect repellents and reduce opportunities for mosquitoes to move into your backyard by covering up water-holding containers.

Cameron Webb, Clinical Lecturer and Principal Hospital Scientist, University of Sydney
This article is republished from The Conversation under a Creative Commons license. Read the original article.