Daily Archives for
November 20, 2018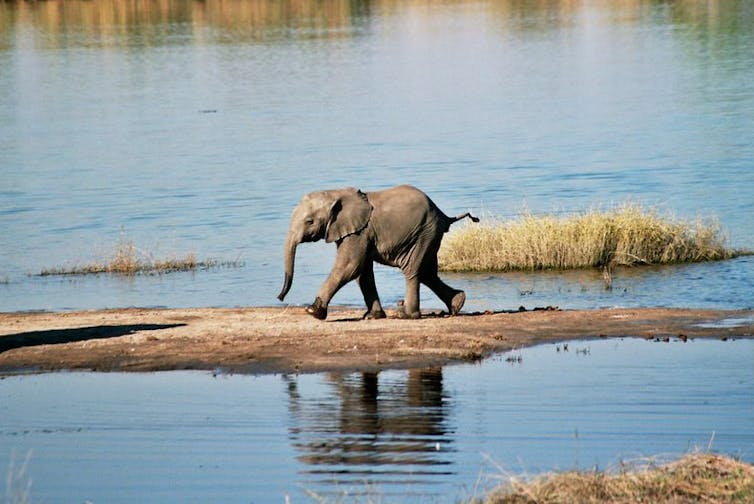 Michael Vardon, Australian National University; Carl Obst, University of Melbourne, and David Lindenmayer, Australian National University
Ensuring the economic health of nations is one of the biggest tasks expected of governments. The elephant in the room has long been the health of the environment, on which the health of the economy (and everything else) ultimately depends.
Most countries still rely on gross domestic product as the lead measure of their economic health. But this does not account for the loss of environmental condition. There is a growing recognition of the environmental damage that human activity causes, our dependence on a functioning environment, and the need for new approaches to measure and manage the world.
We hope this new idea can be advanced internationally at the two-week meeting of the Convention on Biological Diversity, which began this week in Sharm El-Sheikh, Egypt.
---


Read more:
Why we need environmental accounts alongside national accounts


---
Integrating the environment into national accounts has long been suggested as a way to improve information and has been tried in several countries.
In Botswana, where elephants are included in the nation's environmental accounts, spending on wildlife conservation is now seen as an investment, rather than a cost. This example shows how integrating environmental assets into economic data can help provide a new policy framing for conservation. But worldwide, this type of "expanded accounting" has had limited impact on policy decisions so far.
On target
The Convention on Biological Diversity includes what are known as the Aichi Targets. Target 2 states:
By 2020, at the latest, biodiversity values have been integrated into national and local development and poverty reduction strategies and planning processes and are being incorporated into national accounting, as appropriate, and reporting systems. (emphasis added)
This provides a clear starting point for conservationists and economists to work together. So far, little has been done on the valuation of biodiversity, and the work that has been done so far has not progressed very far on the question of how to integrate environmental and economic values into national accounting.
On one hand, putting monetary values on biodiversity has been decried as the commodification of nature. But we argue that without using appropriately defined monetary values, the environment will always be vulnerable to economic forces. If Aichi Target 2 is to be met by 2020, we clearly need an agreed concept of biodiversity value, and a shared approach to recognising it.
---


Read more:
It pays to invest in biodiversity


---
Crucially, as well as calculating the environment's contribution to the economy, we also need to assess the requirements for maintaining and enhancing biodiversity. To return to the example of Botswana's elephants, this means recognising that elephants need land and water (Botswana's wildlife consumes 10% of all its water, with elephants accounting for most use). As tourism-related industries generated roughly US$2 billion in 2013 (Botswana's second-largest sector by revenue, with mining the first), the allocation of water and land to wildlife is clearly a prudent investment decision.
This approach can also reveal the impacts and trade-offs resulting from different land uses on environmental values. In Victoria's Central Highlands, for example, the cessation of native logging would reduce revenue from timber production, but would also help support a range of rare and endangered species, including Leadbeater's Possum. It would also benefit a range of other industries like agriculture, as well as the people in cities like Melbourne.
---


Read more:
Logging must stop in Melbourne's biggest water supply catchment


---
Keeping the books up to date
Like any accounting system, these estimates of the economic value of the environment would need to be updated, ideally annually, if they are to remain relevant in underpinning governments' decisions. This would also entail regular data collection on the species and ecosystems themselves.
Unfortunately, however, consistent long-term nationwide monitoring of biodiversity at the species or ecosystem level is rarely done. And while remote-sensing offers some promise for landscape-scale monitoring of major ecosystem types (such as tropical savannahs, temperate forests, wetlands), there is generally no substitute for boots on the ground.
This month's summit in Egypt offers an opportunity for countries to reaffirm their recognition of the benefits that biodiversity provides to people and the economy. It also provides a chance to go further, to agree that integrated accounting will help us understand and appreciate the trade-offs between the environment and economy.
Recognising and accounting for the elephant in the room would be a great achievement – not to mention a sound investment in the future.
---
The authors would like to acknowledge the contribution of Heather Keith to this article.

Michael Vardon, Associate Professor at the Fenner School, Australian National University; Carl Obst, Honorary Research Fellow, Melbourne Sustainable Society Institute, University of Melbourne, and David Lindenmayer, Professor, The Fenner School of Environment and Society, Australian National University
This article is republished from The Conversation under a Creative Commons license. Read the original article.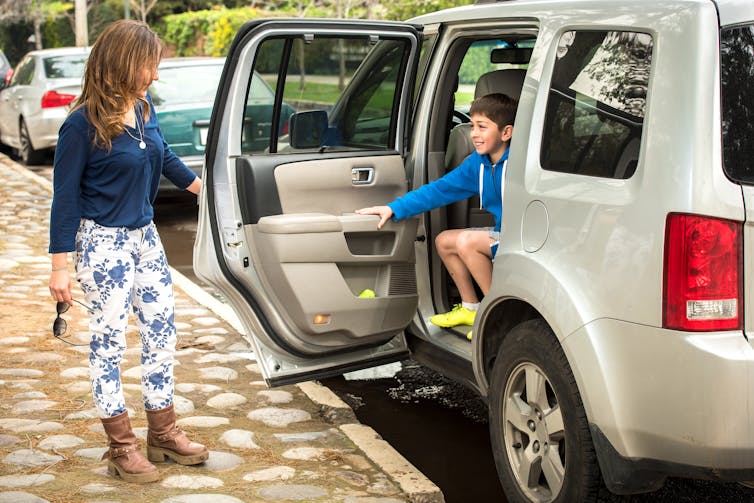 Hulya Gilbert, University of South Australia; Andrew Allan, University of South Australia; Carolyn Whitzman, University of Melbourne, and Johannes Pieters, University of South Australia
Children today spend more time in cars than previous generations. They also spend less time playing on the streets and in unstructured and unsupervised activity outdoors. The lack of opportunities for physical activity and the loss of freedom to explore their local neighbourhood is bad news for children's physical, social and mental well-being.
---


Read more:
City-by-city analysis shows our capitals aren't liveable for many residents


---
Though equally important, the environmental cost of these trends is not well understood. As rapid urbanisation extends across the globe, transport planning continues to be challenging. Transport is one of the biggest sources of greenhouse gas emissions. And 46% of transport-related emissions come from private vehicles.
We know surprisingly little, however, about the detailed reasons for individual private car use. An international study highlights that households with children have higher rates of car ownership and use. In Australia, official statistics on transport pay a great deal of attention to the "journey to work", but car travel that can be attributed to child-related activities has not been fully explored.
Research on children's travel patterns tends to focus on the "journey to school". While school trips are important, this provides only a narrow image of children's actual travel patterns. They also make many trips to non-school destinations and extracurricular activities such as sport, music and dance classes.
We recently reviewed local government policies related to sustainable mobility and child-and-youth-friendly cities. Our review found little consideration of children and young people in transport planning policies across Australia. This is despite the fact that the decline in their walking and cycling rates was widely recognised.
---


Read more:
Australian cities are far from being meccas for walking and cycling


---
Why are walking and cycling rates decreasing?
Several factors contribute to lower rates of walking and cycling among children and their limited use of public transport. These range from urban form to social and economic conditions.
Australian suburbs typically have low density and segregated land uses, which privilege the car over other travel modes. This situation is worse in outer suburbs which have limited public transport and poor provision for walking and cycling. These outer suburbs are also more likely to have lower socio-economic status and a larger proportion of families with children.
All together, these suburban conditions add to the social disadvantage resulting from limited access to services and activities that are critical for families with children. This further encourages private car use.
---


Read more:
Designing suburbs to cut car use closes gaps in health and wealth


---
Changing social structures mean families usually are on tight schedules. These changes include increases in employment for women and in the number of both single-parent families and families where both parents are in paid work. Because the car is relatively cheap and easy to use for individual mobility in Australian cities, it is generally the uncontested way to manage these schedules.
In addition, the increased individualisation as a common characteristic of Western societies usually means parents are expected to provide strict supervision of children's movements. In the conditions described above, the most practical way to do this is usually to drive them in a car.
Of course this increases the number of cars on our streets, particularly around schools and other common destinations for children. This then perpetuates parents' concerns about traffic safety, leading in turn to even more private car use.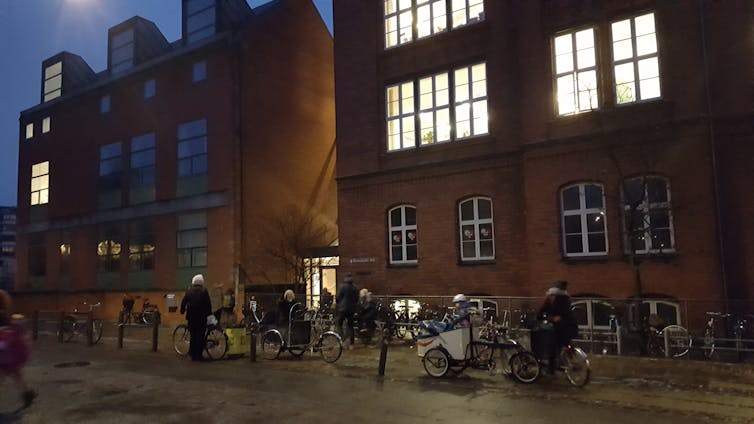 ---


Read more:
Young people want walkable neighbourhoods, but safety is a worry


---
Child-centred sustainable mobility
What is perhaps most striking about the trend towards chauffeuring children is that these facts are seemingly becoming accepted as unavoidable outcomes of modern society. They are largely ignored in transport planning.
We have argued that children have a pivotal role in sustainable mobility. Greater attention to the mobility needs of families with children will produce many social and environmental benefits.
The importance of children's role in sustainable mobility can be grouped under two themes.
First, children's needs in today's lifestyles mean they have an active role in contributing to increased private car use. The daily lives of families with children offer a good example of the context in which carbon-intensive travel patterns occur. If their mobility needs can be met more sustainably (even partially) we are likely to achieve significant carbon savings.
Second, and perhaps more importantly, children have a role as catalysts for behavioural change towards sustainable cities. This is because childhood is a key stage for establishing sustainable travel habits as opposed to "trying to modify already ingrained habits later in life".
A better understanding of children's travel patterns would provide a solid foundation for sustainable mobility policies. Planning and transport policies that are responsive to children's specific needs are likely to have more effective and longer-lasting outcomes, with many related benefits for social sustainability and public health.

Hulya Gilbert, PhD Candidate, University of South Australia; Andrew Allan, Senior Lecturer in Urban and Regional Planning, University of South Australia; Carolyn Whitzman, Professor of Urban Planning, University of Melbourne, and Johannes Pieters, Lecturer, Regional and Urban Planning Discipline, University of South Australia
This article is republished from The Conversation under a Creative Commons license. Read the original article.