Daily Archives for
March 24, 2019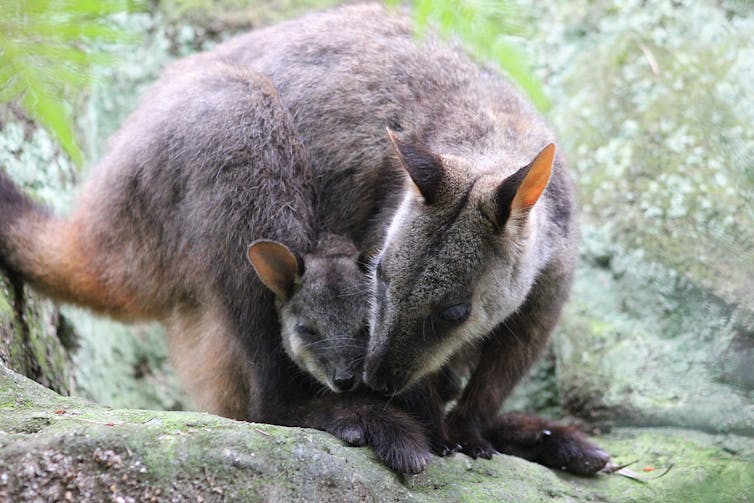 Geoffrey Wescott, Deakin University
Victoria is struggling with biodiversity conservation, according to a State of the Environment report tabled in parliament this week. While the scorecard is bleak – not one of the state's key biodiversity indicators ranks as "good" – the report itself gives some hope.
For the first time the Commissioner for Environmental Sustainability, who prepared the report, offers proactive recommendations to the Victorian government for improving its performance, and has linked these goals to international sustainability targets. It's an comprehensive and ambitious effort, and offers some good lessons to the rest of Australia.
---


Read more:
Australia among the world's worst on biodiversity conservation


---
Alarming results
Victoria is the most densely populated state in Australia, the most cleared of native vegetation, and has the smallest percentage of public land.
The State of the Environment report uses a traffic light method to summarise the status, trend and data quality of 170 indicators spread over 12 scientific assessment areas (everything from general air and water quality to specific environments such as marine and coasts, plus issues such as waste and energy).
The indicators paint a picture that does not look good for biodiversity. None of these indicators are rated "good"; seven are "fair", 21 "poor", and seven "unknown". In terms of trends, just one is improving, seven are stable, and 18 are deteriorating (nine are unclear).
National park declarations have slowed substantially on land in recent years – the first Andrews government (2014-18) was the first Victorian government in a quarter of a century not to increase national parks. Not a single additional marine area has been protected since 2002.
In contrast, conservation on private land is fair and trending upward according to the report card (probably largely due to the efforts of Trust for Nature). A substantial cash injection for the trust from Victoria's rolling fund would likely see outsized results, although this is not a specific recommendation in the report.
The reports offers two critical recommendations for improving biodiversity:
increase private land conservation and invest in local government capability to enforce existing protective guidelines, and

appoint a Chief Biodiversity Scientist to counsel the Secretary and Environment Minister to improve the impact of biodiversity research.
Creating a Chief Biodiversity Scientist is a good starting point for an area that has received decreasing effort, over the past decade in particular. However, it must be only the first step in raising the lowly position of biodiversity conservation, not only in the environment department but across the entire government.
Beyond passive reporting
This years report moves beyond simply relaying data in two ways: first, with 20 specific recommendations to the government, and secondly by using the United Nation's framework of environmental accounting to tie the report to the global Sustainable Development Goals.
The report claims this is the first attempt to apply the UN's Sustainable Development Goals to a sub-national environmental report. Given the number of federated nations around the world (the United States, Brazil and Canada, for a start), putting the spotlight on state or provincial environmental responsibilities is a significant and laudable step.
In the more immediate future, the report gives the Victorian government 20 recommendations linked to the Sustainable Development Goals, across a range of categories: Traditional Owner leadership, climate change, air and water quality, land, forests, fire, marine and coastal environments, water resources, waste and resource recovery, energy, transport, and "megatrends".
The 20 recommendations are solidly based on the findings across the 12 assessment areas. These show that only 11% of status indicators are "good", whereas 32% are "poor", with the trend demonstrating only 10% are improving, 30% stable and 30% deteriorating.
---


Read more:
Why biodiversity is key to our survival


---
While the State of the Environment report naturally focuses on Victoria, there are plenty of lessons and ideas here for the rest of the country.
Now the onus is firmly on the self-proclaimed "most progressive government in Australia" to act.

Geoffrey Wescott, Honorary Research Fellow, School of Life and Environmental Sciences, Deakin University
This article is republished from The Conversation under a Creative Commons license. Read the original article.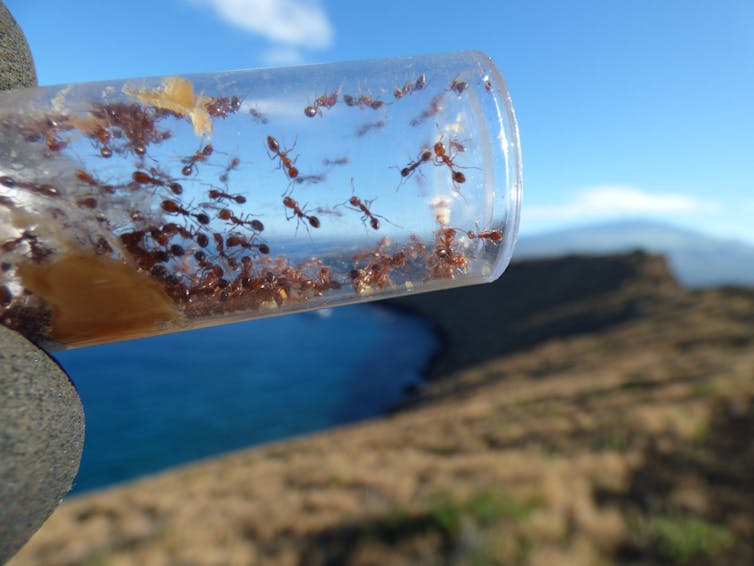 Pauline Lenancker, James Cook University and Lori Lach, James Cook University
Tropical fire ants (Solenopsis geminata), originally from central and South America, are a highly aggressive, invasive ecological pest. Our new research has shed light on how they successfully establish new colonies.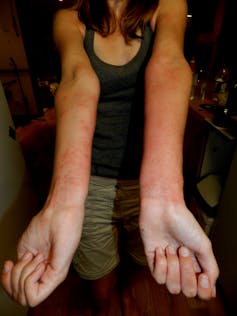 While we don't know exactly how widespread tropical fire ants are in Australia, they are well established around Darwin and Katherine, as well as on Christmas Island and Ashmore Reef. Disturbing one of their nests will result in many workers inflicting painful stings on the intruder, and can trigger an allergic reaction in some people.
When invasive ants move to a new region, the pioneers may be one or a few colonies. Because these pioneers are isolated, they often inbreed, which causes genetic problems in their offspring. But our new research, published in Scientific Reports, reveals how tropical fire ants use cannibalism to survive and spread, despite their low genetic diversity.
---


Read more:
Eradicating fire ants is still possible, but we have to choose now


---
Sons and daughters
Founding new colonies is how fire ants spread. Queens fly off to start their own colonies just after they have mated. It is a perilous journey – they need to avoid predators and find a good spot to start laying eggs. If queens do not quickly rear daughters that can forage, called workers, they will starve to death.
Queens can lay two different types of eggs: fertilised eggs, which will develop into workers, and unfertilised eggs, which will develop into males. Therefore, female workers have two copies of each gene (diploid), while males have a single copy of each gene (haploid). However, when an ant queen and her mate are closely related, a flaw in the sex determination system of ants causes half of the fertilised eggs to develop into diploid males instead of workers.
The role of males is only to mate with queens – they do not forage, and they die after they have mated. Queens founding a colony have no interest in producing males, because males will not feed them. What's more, diploid males are often sterile, and their larvae are larger than worker larvae. Therefore, queens can waste precious resources feeding fat useless sons instead of workers.
We wanted to find out how common diploid males are in field colonies, and how queens could successfully start colonies despite them. Understanding how tropical fire ants spread, we hope, can help us stop them expanding their range.
Abandoned and eaten
Our field sampling of tropical fire ant colonies around Darwin revealed eight out of ten colonies produced diploid males.
We collected 1,187 queens that had just mated, and assigned them to start colonies on their own or with other queens.
We observed that in 34% of colonies producing diploid males, diploid male larvae were placed in the colony trash pile by the queens instead of being kept with the worker larvae. It is usual for ants to keep dead individuals away from the rest of the colony, but when we looked at some of these abandoned larvae under a microscope, we realised they were still alive.
---


Read more:
Curious Kids: do ants have blood?


---
Queens not only abandoned their sterile sons, they ate them. Three-quarters of the 109 sterile male larvae disappeared from the colonies within 12 days of when we first observed them. Because the queens were the only adult ants present in the colony, this means the queens were eating their diploid males or feeding them to their worker larvae.
This cannibalistic behaviour allowed the queens to redirect nutrients towards themselves or productive members of their colony. Diploid male larvae require more food than worker larvae to develop, so we expected queens from diploid male producing colonies to lose more weight than queens from colonies that only produced workers, but we found that was not the case. Queens with diploid males lost less weight or as much weight as queens from regular colonies, probably because they ate their sterile sons.
We also found queens who worked together in groups to start a colony reared more workers. Therefore, queens in groups would likely have a better chance of survival even if they produced sterile males. But in 6% of colonies, queens did not tolerate having housemates and dismembered other queens.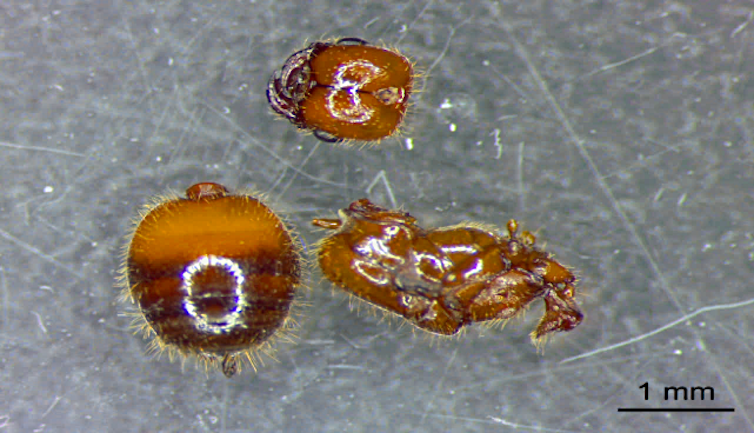 For tropical fire ants, cannibalising sterile sons and cooperative brood rearing among queens are two behavioural mechanisms for avoiding inbreeding costs. A third possible mechanism for the queens is to "sleep around".
Promiscuity would increase the chance of mating with a genetically different male, and reduce the likelihood of producing diploid sons.
Queens only mate right before starting their colony and store the sperm in an organ called the spermatheca. We genetically analysed sperm from the spermatheca of 40 queens, but found no evidence queens had mated with more than one male.
Tropical fire ants are currently established on Ashmore Reef, a protected Australian Marine Park which is an important breeding site for seabirds and turtles. The invasive ant threatens this sanctuary by attacking seabird and turtle hatchlings. Accidental spreading of tropical fire ants to suitable habitats in the Northern Territory, Queensland and Western Australia would threaten invaluable ecosystems as well as our health and lifestyles.
---


Read more:
How we wiped out the invasive African big-headed ant from Lord Howe Island


---
The current eradication program for the closely related red imported fire ant (Solenopsis invicta) in Queensland has been granted A$411 million over ten years, and failure to eradicate red imported fire ants could cost Australia A$1.65 billion per year in damaged crops, livestock harmed and people treated. The more we learn about invasive ant biology, the closer we are to new methods of preventing their spread.

Pauline Lenancker, PhD student in biology and ecology, James Cook University and Lori Lach, Associate Professor, James Cook University
This article is republished from The Conversation under a Creative Commons license. Read the original article.