Daily Archives for
July 3, 2019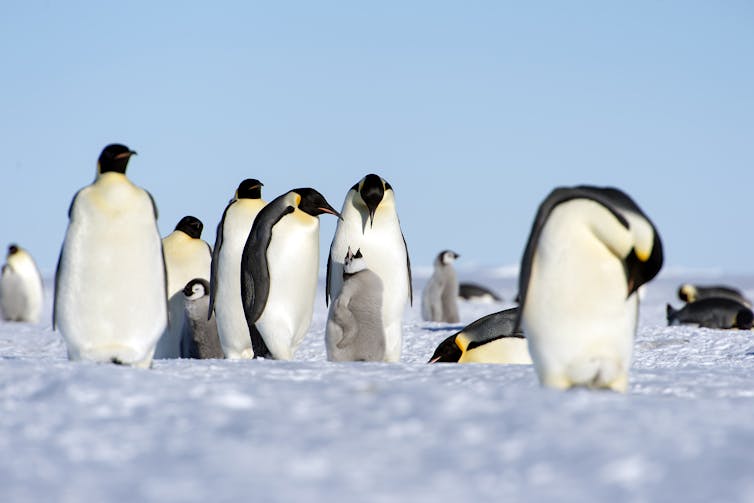 Jane Younger, University of Bath
Curious Kids is a series for children. If you have a question you'd like an expert to answer, send it to curiouskids@theconversation.edu.au You might also like the podcast Imagine This, a co-production between ABC KIDS listen and The Conversation, based on Curious Kids.
---
How can penguins and polar bears stay warm in the freezing cold waters of Antarctica? – Riley, age 8, Clarksville, Tennessee USA.
---
Thanks for your question, Riley. The first thing I should probably say is that while a lot of people think polar bears and penguins live together, in fact they live at opposite ends of the Earth. Polar bears live in the northern hemisphere and penguins live in the southern hemisphere.
I'm a penguin researcher so I'm going to explain here how penguins can stay warm in Antarctica.
There are four species of penguins that live in Antarctica: emperors, gentoos, chinstraps, and Adélies.
All these penguins have special adaptations to keep them warm, but emperor penguins might be the most extreme birds in the world. These amazing animals dive up to 500 metres
below the surface of the ocean to catch their prey, withstanding crushing pressures and water temperatures as low as -1.8℃.
But their most incredible feat takes place not in the ocean, but on the sea ice above it.
Surviving on the ice
Emperor penguin chicks must hatch in spring so they can be ready to go to sea during the warmest time of year. For this timing to work, emperors gather in large groups on sea ice to begin their breeding in April, lay their eggs in May, and then the males protect the eggs for four months throughout the harsh Antarctic winter.
It's dark, windy, and cold. Air temperatures regularly fall below -30℃, and occasionally drop to -60℃ during blizzards. These temperatures could easily kill a human in minutes. But emperor penguins endure it, to give their chicks the best start in life.

A body 'too big' for its head
Emperor penguins have four layers of overlapping feathers that provide excellent protection from wind, and thick layers of fat that trap heat inside the body.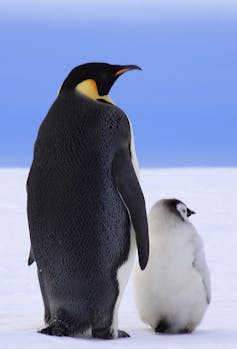 Have you ever noticed that an emperor penguin's body looks too big for its head and feet? This is another adaptation to keep them warm.
The first place that you feel cold is your hands and feet, because these parts are furthest from your main body and so lose heat easily.
This is the same for penguins, so they have evolved a small beak, small flippers, and small legs and feet, so that less heat can be lost from these areas.
They also have specially arranged veins and arteries in these body parts, which helps recycle their body warmth. For example, in their nasal passages (inside their noses), blood vessels are arranged so they can regain most of the heat that would be lost by breathing.
---


Read more:
Curious Kids: Why do sea otters clap?


---
Huddle time
Male emperor penguins gather close together in big groups called "huddles" to minimise how much of their body surface is exposed to cold air while they are incubating eggs.
This can cut heat loss in half and keep penguins' core temperature at about 37℃ even while the air outside the huddle is below -30℃.
The biggest huddles ever observed had about 5,000 penguins! Penguins take turns to be on the outer edge of the huddle, protecting those on the inside from the wind.
Incredibly, during this four-month period of egg incubation the male penguins don't eat anything and must rely on their existing fat stores. This long fast would be impossible unless they worked together.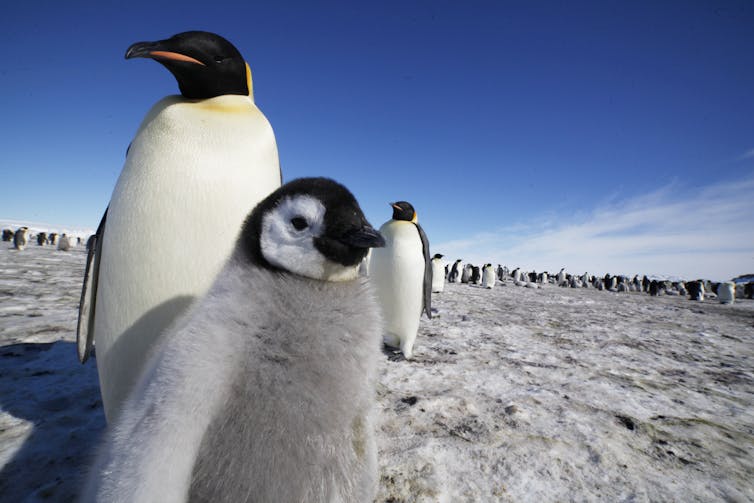 Changing habitats
Emperor penguins are uniquely adapted to their Antarctic home. As temperatures rise and sea ice disappears, emperors will face new challenges. If it becomes too warm they will get heat-stressed, and if the sea ice vanishes they will have nowhere to breed. Sadly, these incredible animals may face extinction in the future. The best thing we can do for emperor penguins is to take action on climate change now.
---


Read more:
Curious Kids: is water blue or is it just reflecting off the sky?


---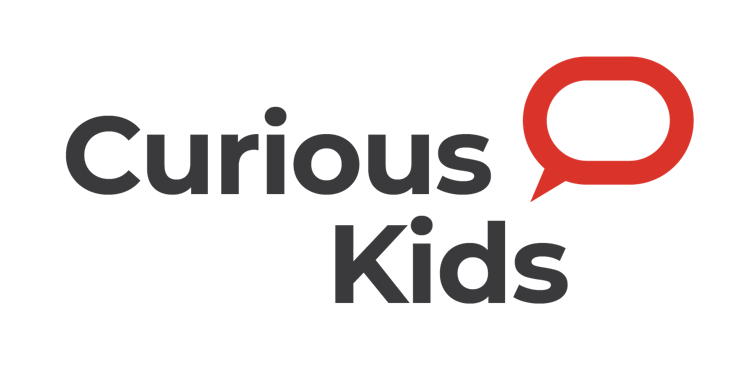 Hello, curious kids! Have you got a question you'd like an expert to answer? Ask an adult to send your question to curiouskids@theconversation.edu.au Please tell us your name, age and which city you live in. We won't be able to answer every question but we will do our best.

Jane Younger, Research Fellow, University of Bath
This article is republished from The Conversation under a Creative Commons license. Read the original article.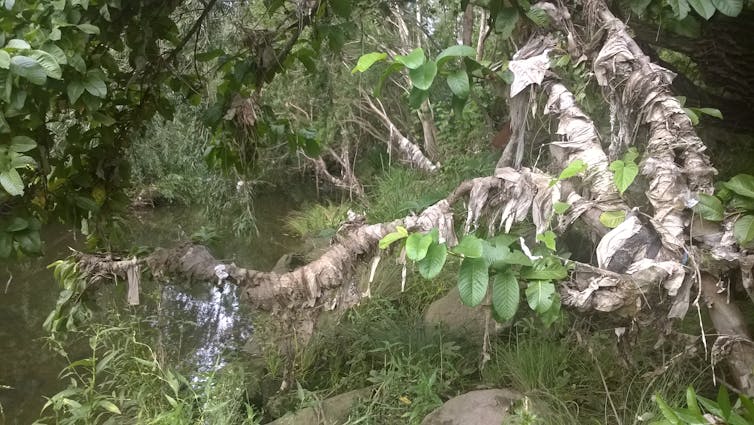 Ian Wright, Western Sydney University
On Friday the Australian Federal Court found in favour of Kimberly-Clark's "flushable wipes" in a legal action brought by the Australian Competition and Consumer Commission (ACCC).
There was insufficient evidence to convince Justice Gleeson that Kimberly-Clark's wipes were primarily responsible for significant blockages and were therefore unsuitable for flushing down the toilet.
This was a very different outcome to a 2018 court case, also in the Federal Court, in which White King Flushable Wipes were fined A$700,000 for misleading claims.
---


Read more:
Don't believe the label: 'flushable wipes' clog our sewers


---
The water industry has responded with disappointment to the latest ruling. Sydney Water claims 75% of sewer blockages involve wet wipes. Part of the problem is that, once flushed, wipes are anonymous and the blame for blockages cannot be laid at a specific company's door.
This case highlights the need to determine what "flushable" really means. Does it mean you can physically flush it down a toilet? Or that it will biodegrade without major issue in the sewerage system, in the manner of toilet paper?
Flushable problems
ACCC Chairman Rod Sims explained that the commission pursued the case against Kimberly-Clark because of increasing reports from Australian water authorities of "non-suitable products being flushed down the toilet and contributing to blockages and other operational issues".
Consumer groups such as Choice have also expressed concern about the impact of these products for years. Choice has produced a video that demonstrates how poorly some wipe products disperse in water, compared with toilet paper.
The water industry is frustrated with frequent sewer blockages, many of which are caused by materials people should not have flushed down the toilet. The industry slogan is that only the "three Ps" – pee, poo, and (toilet) paper – should be flushed down the toilet.
What is all the fuss about?
Blocked sewers are deeply unpleasant for everyone involved: professionals who have to unblock them, local residents, and the animals and plants that live nearby.
This is also linked to another chronic problem in sewers: fats. These mainly come from cooking fats and oils that coagulate in sewers. They have combined to create horrific "fatbergs", often photographed with disgusted fascination.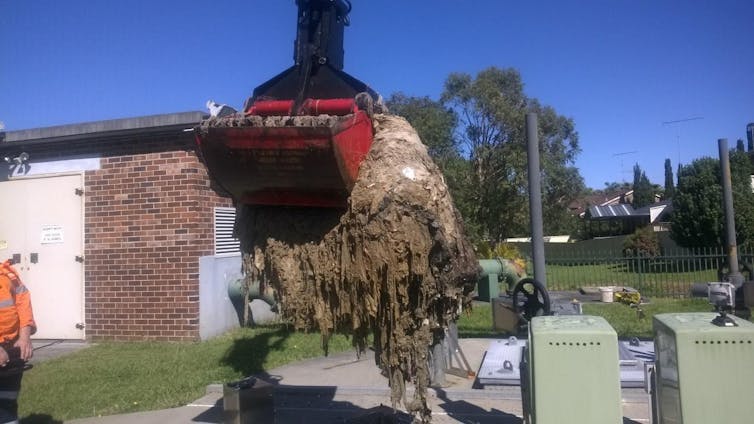 Much less common are the images showing the discharge of liquid sewage due to the blockages. In my previous career as a scientist in the water industry, I visited hundreds of such scenes.
They are smelly and unsightly, but of more concern is the public health hazard they pose. Raw sewage is dangerous due to its abundance of disease-causing organisms. Overflows can happen anywhere, often in very public places.
Sewers are underground, and often beside waterways. This means they might be blocked and leak raw sewage for weeks before it is noticed.
Tree roots and drought
Drought and trees are also contributing to the problem wipes pose. Currently much of southeastern Australia is in drought. Many trees in our cities are desperate for water, and their roots invade sewers.
Wipes and similar materials are readily entwined in tree roots. Wipes have a well-known tendency to become entangled and accumulate gradually to build a blockage.
Whose standard do you believe?
The industry body Water Services Australia is currently working on an Australian industry standard for testing "flushability". This is expected later in the year.
---


Read more:
Microplastic pollution and wet wipe 'reefs' are changing the River Thames ecosystem


---
On the other hand, many wipes companies claim their products do break down when flushed – although Kleenex, for example, advises not flushing more than two wipes at a time. These wipes comply with an existing industry standard for "flushability", although this standard was developed by two trade associations that represent wipe manufacturers.
The development and application of a comprehensive Australian standard is urgently needed to address this problem.

Ian Wright, Senior Lecturer in Environmental Science, Western Sydney University
This article is republished from The Conversation under a Creative Commons license. Read the original article.