Daily Archives for
July 14, 2019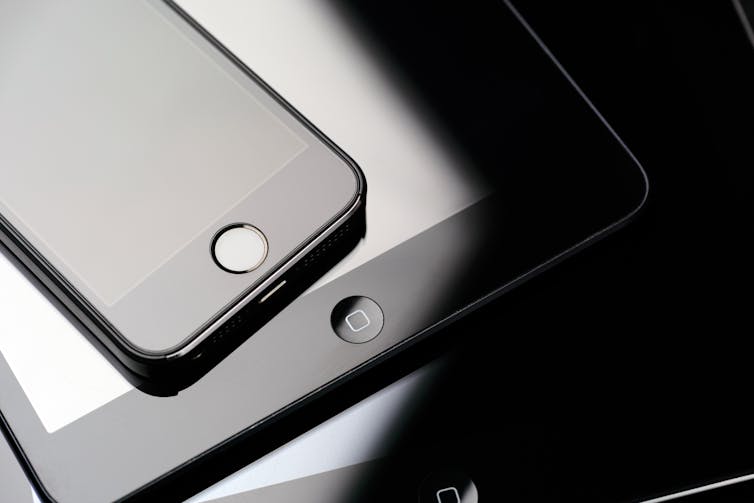 Tom Lee, University of Technology Sydney; Alexandra Crosby, University of Technology Sydney; Clare Cooper, University of Technology Sydney; Jesse Adams Stein, University of Technology Sydney, and Katherine Scardifield, University of Technology Sydney
This article is part of our occasional long read series Zoom Out, where authors explore key ideas in science and technology in the broader context of society and humanity.
---
"Design" has been one of the big words of the twentieth century. To say that an object has been designed implies a level of specialness. "Designer items" are invested with a particular kind of expertise that is likely to make them pleasing to use, stylish, or – less common in late-capitalist society – well made.
Due to this positive association, design has become an "elevator word", to borrow a phrase used by philosopher of science Ian Hacking. Like the words "facts", "truth", "knowledge", "reality", "genuine" and "robust", the word design is used to raise the level of discourse.
"Repair" hasn't had such a glossy recent history. We don't have universities or TAFEs offering degrees in repair, churning out increasingly large numbers of repairers. Repair exists in the shadow of design, in unfashionable, unofficial pockets. And, until recently, repair mostly passed unremarked.
British literary scholar Steven Connor points to the ambiguous status of repair in his analysis of "fixing". Connor discusses fixing and fixers in the context of related figures, such as the tinker, bodger and mender, all of which share outsider status.
---


Read more:
Why can't we fix our own electronic devices?


---
One might be forgiven for thinking "design" and "repair" were opposing forces. The former word has become so bound up with notions of newness, improvement, performance and innovation that it emphatically signals its difference from the seamful, restorative connotations of repair.
If repair is hessian and twine, design is sleek uniformity. Repair is about upkeep. Design is about updating. Repair is ongoing and cyclical. Design is about creative "genius" and finish. To design is, supposedly, to conceive and complete, to repair is to make do.
But perhaps design and repair are not, or ought not to be, as divergent as such a setting of the scene suggests. Thinking metaphorically of repair as design, and design as repair, can offer new and useful perspectives on both of these important spheres of cultural activity.
Repair and design have a lot in common
As a surface sheen that soothes us, design distracts us from any uncomfortable reminders of the disastrous excesses of global capitalist consumption and waste. The acquisition of new "designs" becomes addictive, a quick hit of a fresh design assures us that life is progressing.
As each new object is designed into existence and used over time, it is accompanied by an inevitable need for repair that evolves in parallel. Repair, where possible, cleans up the mess left by design.
Design and repair are different though related approaches to the common problem of entropy. Repair might seem only to be about returning an object to its previous state, whether for functional or decorative purposes. But maintaining that state is a hard fought affair, no less invested by collective or personal value.
The act of repair is also a determinate of worth. Whether at an individual or collective scale, choosing to repair this, and discard or neglect that, shares much in common with the process of selection, which informs the design of objects, images, garments or spaces.
Apple is revered for its design
Apple's outgoing Chief Design Officer Jonathan Ive's influence at Apple is among the most popularised examples of "successful design", to which other designers and design students have long aspired. With Ive's departure from Apple this year, we have an opportunity to take a long view of his legacy.
Since the distinctive bubble iMac in 1998, Ive shifted computing away from the beige, boxy uniformity of the IBM PC era, aligning computing with "high design" and investing it with deep popular appeal.
Even prior to Ive's influence – take for example the 1977 Apple II – Apple's industrial design has played a fundamental role in transforming computers from machines for tinkerers, into desirable objects of self-actualisation, blending leisure and labour with incomparable ease.
The iPhone is one among a suite of Apple products that have changed cultural expectations around consumer electronics, and other smart phone manufacturers have followed suit.
---


Read more:
Understanding the real innovation behind the iPhone


---
The ubiquity of iPhones makes it increasingly difficult to appreciate their strangeness. Not only do they appear sealed beyond consumer access, they almost induce a forgetting of seals altogether. The glistening surface expresses an idea of inviolability which is completely at odds with the high likelihood of wear and tear.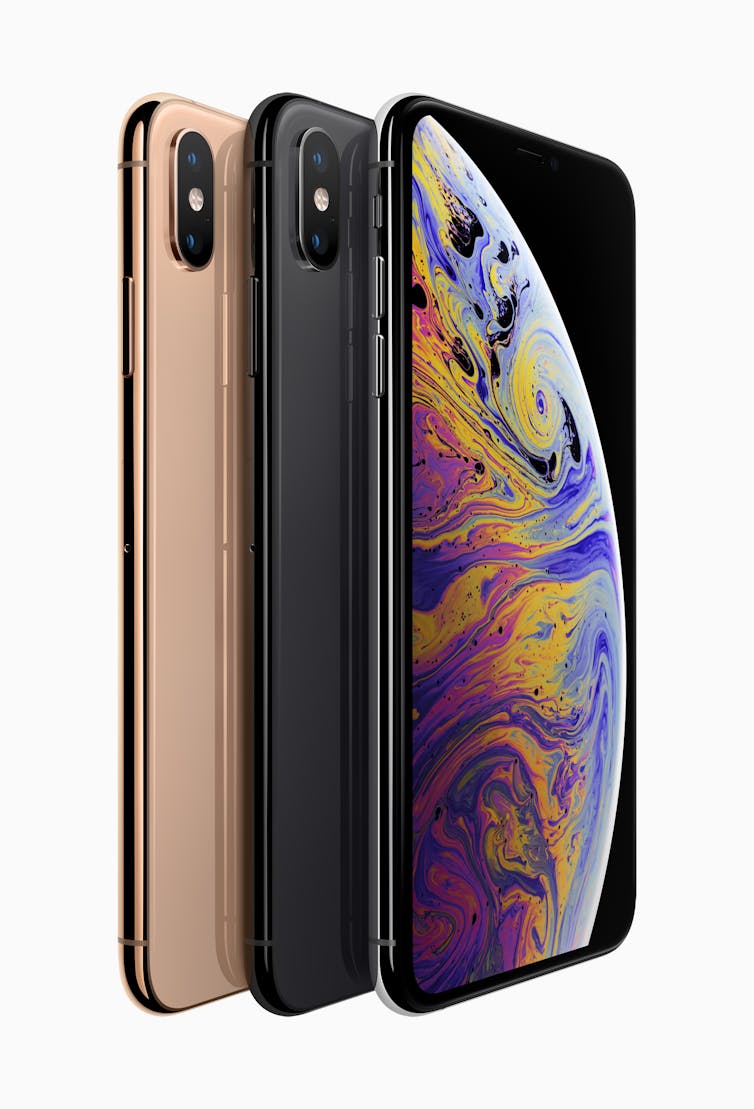 The iPhone is perhaps the ultimate example of a "black box", an object that exhibits a pronounced distinction between its interior mechanics, which determine its functionality, and its exterior appearance. It gives nothing away, merely reflecting back at us through its "black mirror", to borrow the title of Charlie Brooker's dystopian television series.
The design of the iPhone – among other similar devices – forecloses against repair, both through its physical form, and also through the obsolescence built into its software and systems design, which defensively pits individuals against the power of a giant multinational company.
'Right to repair' is gaining ground
Apple deliberately discourages its customers using independent repair services. It has a track record of punishing people who have opted for independent repairs, rather than going through Apple (at much greater expense). This is an example of the company's attempt to keep its customers in an ongoing cycle of constant consumption.
This has put Apple – along with the agricultural equipment company John Deere – in the crosshairs of the growing Right to Repair movement in the United States. Right to Repair is centred on a drive to reform legislation in 20 US states, targeting manufacturers' "unfair and deceptive policies that make it difficult, expensive, or impossible for you to repair the things you own".
The movement could perhaps be criticised for focusing too much on libertarian individualism. Other groups advocate more community-focused repair strategies, such as the global proliferation of Repair Cafes, and Sweden's groundbreaking secondhand mall, ReTuna Recycling Galleria.
Either way, there is agreement that something must be done to reduce the staggering amounts of e-waste we produce. In Australia alone, 485,000 tonnes of e-waste was generated in 2016/2017, and the annual rates are increasing.
This legacy of digital technology's "anti-repairability" has been accepted as inevitable for some time, but the tide is turning. For example, the Victorian government has banned e-waste from landfill from July 1.
Designing for the future
Considering the increasing importance of responsible production and consumption, it is easily imaginable that, in a not too distant future, designers and design historians might point to the iPhone as naive, regressive and destructive. An example of design with thoroughly dated priorities, like the buildings in the Gothic revival style that provoked the ire of modernist architects.
Obscuring the wastage of valuable resources through sleek design could be decried as an outrageous excess, rather than celebrated for its "simiplicity". With the benefit of hindsight, we might finally see that the iPhone was the opposite of minimalism.
---


Read more:
Mending hearts: how a 'repair economy' creates a kinder, more caring community


---
Perhaps the revered objects of this imagined future will be launched by an entrepreneur who spruiks features and services associated with repair, rather than pacing the stage, championing an object because of its slimness, sleekness and speed. Hackability, ease of access, modularity, spare parts and durability might be touted as a product's best features.
Alternatively, if the use of an object is decoupled from individual ownership, the responsibility for repair and waste might fall back on the producer. Perhaps "repair bins" will become a taken for granted feature of the urban landscape like curbside recycling bins are today.
To compel the pragmatists among us, such wishful thinking needs to remain mindful of the power multinationals have demonstrated in thwarting dreams of open access. Repair-oriented practices still face vast challenges when it is seemingly so convenient to waste. But to use one of the words of the day, aspirations need to be articulated if we, collectively, want to have the chance of living the dream.

Tom Lee, Senior Lecturer, School of Design, University of Technology Sydney; Alexandra Crosby, Senior Lecturer, Design, University of Technology Sydney; Clare Cooper, Lecturer, University of Technology Sydney; Jesse Adams Stein, Chancellor's Postdoctoral Research Fellow, School of Design, University of Technology Sydney, and Katherine Scardifield, Lecturer, University of Technology Sydney
This article is republished from The Conversation under a Creative Commons license. Read the original article.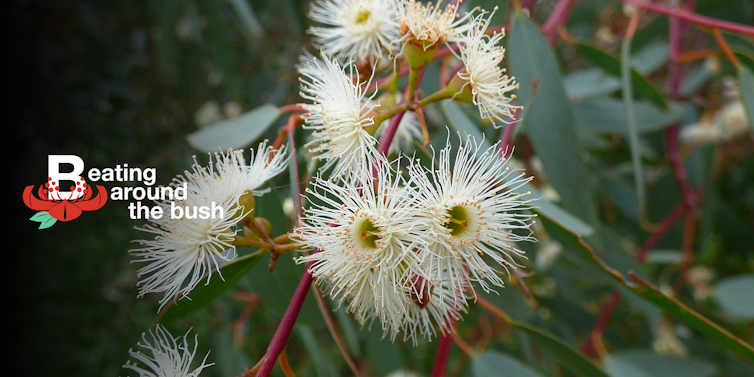 River red gums' iconic silhouette is found across Australia.
The Conversation/Wikimedia Commons, CC BY-SA

Gregory Moore, University of Melbourne
Sign up to the Beating Around the Bush newsletter here, and suggest a plant we should cover at batb@theconversation.edu.au.
---
River red gums, Eucalyptus camaldulensis, are among the most iconic of Australia's eucalypts. They are the most widely distributed of all the eucalypts. They grow along rivers, creeks, waterways and flood plains where many Australians like to picnic, so most of us get to know and love them.
---


Read more:
This centuries-old river red gum is a local legend – here's why it's worth fighting for


---
Formerly known as Eucalyptus rostrata, the species was one of the first eucalypts encountered in parts of Australia by European settlers. Curiously, the name camaldulensis comes from the Italian monastery of Camaldoli near Naples, where a specimen grown from seed in a private garden was given the name Eucalyptus camaldulensis in 1832. No one knows how the seed got to be there!
---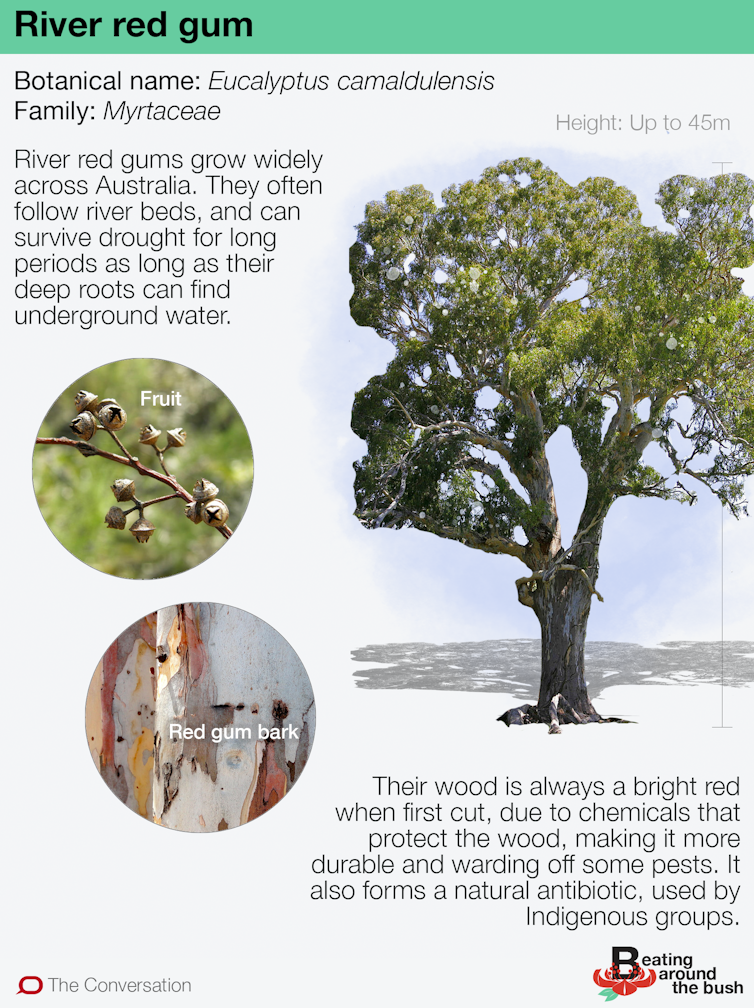 ---
River red gums can be very large spreading trees with huge trunks more than 5 metres around. In parts of Australia, such as along the Murray River, they can be very erect trees reaching more than 45m tall.
Most specimens have smooth bark with a mottling of multiple colours ranging from creams to orange and red, but there may be a skirt of fibrous grey bark for the first few metres of the base. They are called river red gums because they grow along rivers and their wood when freshly exposed is a bright red; almost blood-coloured.
River red gums have been used by Indigenous people for canoes, bowls, shields, and other utensils. The wood is red is because it contains very high levels of chemicals such as polyphenols, which are a natural antiobiotic when combined with air.
These chemicals not only protect the living tree from disease and some pest attacks, but make the timber very durable. These chemicals meant river red gums were used for medicinal purposes by Indigenous people. The wood has been widely used for railway sleepers, fence posts, and piers and wharfs where durability and water resistance are desirable. They have been widely planted overseas and in some countries pose a serious weed problem.
The trees can have very long lives, and may reach 1,000 years of age. They grow very rapidly when conditions are favourable and so become large trees quite quickly. But as they get older it is very difficult to age them without damaging the tree and putting it at risk of disease and decay. So their ages are estimated, as no one wants to be responsible for killing a grand old tree just to confirm its age!
Older specimens almost always develop large hollows, which can take centuries to form. The hollows provide refuges for birds, mammals and reptiles. The nesting sites are often raucously defended by brightly coloured parrots. The trees and the nectar from their small white flowers are also very important for honey production – a large tree in full flower over the warmer months can attract so many bees that the whole tree can be heard humming from many metres away; it's a wonder the tree doesn't take off.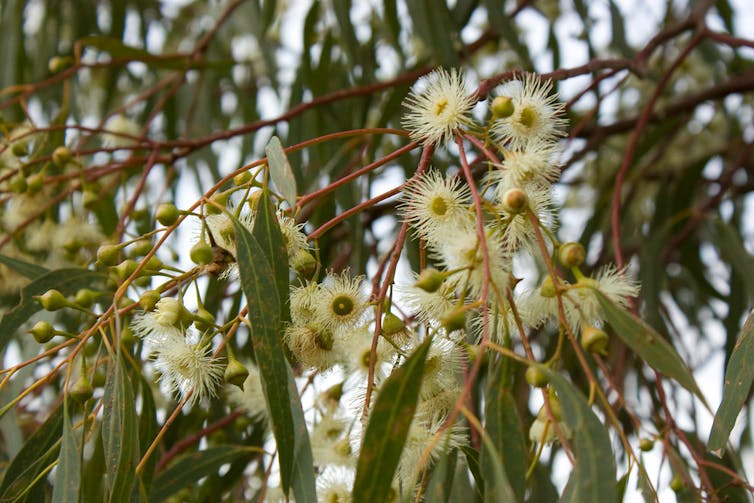 At certain times of the year, often during summer, river reds can be very heavily grazed by insects to the point where their leaves are skeletonised. The trees look as though they are about to die, but they are very resilient and a few months later most are back to a full and healthy canopy. Another insect, the psyllid, also feeds on and skeletonises the leaves. It has a sweet, waxy covering called a lerp that protects the vulnerable insect nymphs beneath. Some Indigenous groups scrape off the lerps, roll them into a ball, and eat them like a lolly.
Surviving floods and driving rain
Any tree that can live for a millennium must be adaptable, so like some other eucalypt species, river red gums can shed up to two-thirds of their foliage when soils dry out during a drought, which reduces water demand and prevents the trees from wilting. This shedding often causes people to complain about the trees when they grow in towns and cities, but when the rains come a few months later they rapidly produce new leaves and are soon once again in full canopy.
---


Read more:
The glowing ghost mushroom looks like it comes from a fungal netherworld


---
River red gums can tolerate immersion in flood waters for up to nine months. They do this by having extensive roots, some of which contain a spongy, air-filled tissue called aerenchyma that allows for the accumulation and transport of much-needed oxygen in waterlogged soils. This adaptation to stressed soils also means river red gums can do quite well in disturbed urban soils when the urban sprawl impinges on their natural domain.
River red gums readily seed after flooding events and great numbers of young trees may germinate. However, relatively few survive to maturity due to competition from other red gums, other trees, and weeds. They may also struggle to survive in some places due to a lack of water.
Because river reds occur in some of the driest and harshest parts of the Australian mainland, you might think they are very efficient users of water. However, nothing could be further from the truth. The trees can have very deep, spreading and searching root systems, which tap into subterranean water, even if the water is many metres from the trunk. They are luxury water users with very little capacity for water use control. If water becomes really limiting, they simply wilt.
Territorial trees
E. camaldulensis produces a water-soluble chemical that is washed from its leaves by rain. These chemicals inhibit the growth of other plants, including river red gum seedlings, under the canopy. This phenomenon is called allelopathy, and along with a dense canopy inhibits plant growth under the trees. These chemicals are washed from the soil by flood water, which makes way for the germination of seedlings after floods. This is a wonderful mechanism that ensures seedlings do not germinate when conditions are dry and where they would compete with the parent tree for limited water, but germination is facilitated when there is plenty of water and soils are wet.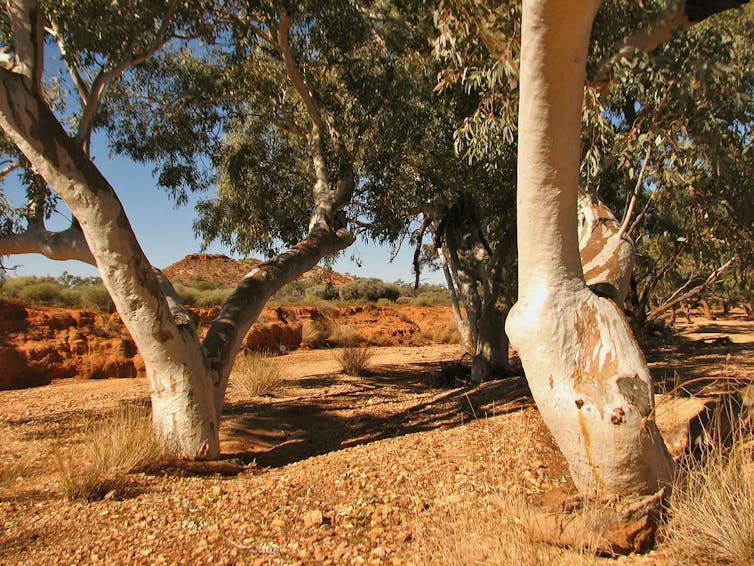 Some people think river red gums are dangerous because they shed large limbs without warning on calm, still, summer days. There is no doubt this does happen, but there is no clear evidence they shed limbs more often than other species.
The problem is complex, because they tend to grow everywhere people want to go. They provide shade along waterways on a hot, dry continent. In going to places where the trees grow, people tend to compact the soil with their vehicles and footpaths, which can be causes of limb shedding. The compaction of the soil affects soil moisture and aeration, which can lead to limb shedding.
---


Read more:
Warrigal greens are tasty, salty, and covered in tiny balloon-like hairs


---
In other contexts such as farms where limbs are shed, many old river red gums are growing in highly disturbed or changed ecosystems. Furthermore, many of these remnant specimens are often stressed and getting older and so more prone to shedding.
River red gums trace the watercourses of mainland Australia, and are easily seen from aeroplanes as you cross the continent. They connect the continental fringes with its arid heart. Their lives can span many human generations and it is nice to think that the majestic old trees that pull at our heartstrings have done the same to previous generations and, if we and they are lucky, will continue to do so for generations of Australians yet to come.
---

Sign up to Beating Around the Bush, a series that profiles native plants: part gardening column, part dispatches from country, entirely Australian.

Gregory Moore, Doctor of Botany, University of Melbourne
This article is republished from The Conversation under a Creative Commons license. Read the original article.