Daily Archives for
October 15, 2019
Piero Moraro, Charles Sturt University
Scores of arrests have been made across Australia as the Extinction Rebellion enters its fifth day of protests.
The activists are desperately trying to force the Australian government to take serious and effective action against climate change. And their brand of civil disobedience has caused major inconveniences, from hanging off bridges to locking themselves to gates, vehicles or cement blocks.
But while inconvenient, their protests are still non-violent. This is an important point to stress, as the members of state and federal government peddle the view that they are criminals and anarchists.
In fact, as the movement grows stronger, so do the governments' attempt to stop it. It shows the Extinction Rebellion's demands are actually being heard, but at the same time, the drastic responses make it clear policy-makers will still choose to ignore them.
Draconian responses to social protest
Queensland premier Annastacia Palaszczuk last month used social media to denounce the "sinister" tactics of "stupid" protesters. She claims the current XR protests are "absolutely ridiculous" and are endangering people's lives.
Her government is now fast-tracking new legislation that would mean possessing a locking device could lead to a jail term of up to two years, or a fine of up to $6,000.
Pauline Hanson has said Queenslanders should use cattle prods on climate change activists, whom she labelled "unwashed idiots". And a few days ago, Studio 10 host Kerri-Anne Kennerley said motorists should run over XR protesters.
---


Read more:
Animal rights activists in Melbourne: green-collar criminals or civil 'disobedients'?


---
Peter Dutton and Michaelia Cash added fuel to the fire. The Home Affairs minister labelled the XR protesters "fringe-dwellers", and claimed they should face mandatory jail sentences and welfare cuts.
Senator Cash added: "taxpayers should not be expected to subsidise the protests of others", since protesting is not an exemption from a welfare recipient's obligation to look for a job.
What's more, NSW Police have imposed stringent bail conditions on protesters, traditionally used with members of bikie gangs. The bail conditions prevent them from "going near, or contacting or trying to go near or contact (except through a legal representative) any members of the group Extinction Rebellion". They're also not allowed to be within 2.5 kilometres of Sydney's CBD.
These conditions had the curious result of also preventing defendants from attending court in the Sydney CBD.
Ad hoc laws
Yesterday, former Greens Senator Scott Ludlam had his bail conditions revoked by deputy chief magistrate Jane Mottley, who said they were not necessary given the low seriousness of the offences. It's expected many more cases will be dismissed on the same ground.
Nevertheless, this use of bail conditions against XR activists raises serious concerns, as citizens are threatened with jail if they insist on partaking in political activism.
The conditions appear to violate basic democratic rights, namely, freedom of opinion, movement and assembly, according to the International Covenant on Civil and Political Rights.
---


Read more:
Why does international condemnation on human rights mean so little to Australia?


---
But it's not the first time we see these kinds of ad hoc responses to social protest. Earlier this year, the federal government introduced The Criminal Code Amendment (Agricultural Protection) Bill 2019, specifically targeting the growing animal rights movement in Australia.
Before then, the NSW government introduced the Inclosed Lands, Crimes and Law Enforcement Legislation Amendment (Interference) Bill 2016, targeting anti-mining protests.
And some have expressed concerns that Palaszczuk's efforts to crack down on civil disobedience are reminiscent of the authoritarian Bjelke-Petersen era, when the QLD government allowed extreme police violence against peaceful protesters.
---


Read more:
Issues that swung elections: the dramatic and inglorious fall of Joh Bjelke-Petersen


---
But it's worth remembering these XR protests have so far only caused traffic disruptions. While it constitutes a punishable offence, they are fine-only offences at most, as the judge noticed in Ludlam's case.
Laws already exist to sanction those who breach traffic regulation. With reference to Queensland's proposed anti-protest legislation, the Human Rights Law Centre noticed:
devices such as sleeping dragons, monopoles and tripods are commonly used in peaceful protest across Australia — our criminal laws already adequately cover their use when they cause major disruption.
The new laws may allow the police to search and arrest anyone who engages in a peaceful protest.
Communicative nature of protest
As I argue in my recent book on civil disobedience, this form of illegal protest has an inherent communicative nature. It seeks to elicit a reply from governments concerning the necessity of changing a law or policy.
From this standpoint, the tough, and seemingly unnecessary, responses to the XR movement are, paradoxically, encouraging. They reveal governments cannot continue to ignore the voices of environmental activists.
On the other hand, the way state and federal governments have chosen to respond show their unwillingness to entertain the activists' demands.
Besides the mere goal of deterring people from engaging in further protest, governments are also following a familiar strategy involving the use of patronising language, aiming to dismiss XR activists as not worthy of its attention. For instance, the millions of young people who took part in the School Strike for Climate were just "skipping school".
---


Read more:
'Lock-on devices' are a symbol of non-violent protest, but they might soon be banned in Queensland


---
These are all ways for governments to avoid having to answer for the legitimate questions about its controversial policies and careless attitude about scientists' warning about rising global temperatures.
As they strives to come up with more demeaning labels for the XR movement, we are left to hope they may eventually apply their creative skills towards finding ways to finally cut Australia's carbon emissions.

Piero Moraro, Lecturer in Criminal Justice, Charles Sturt University
This article is republished from The Conversation under a Creative Commons license. Read the original article.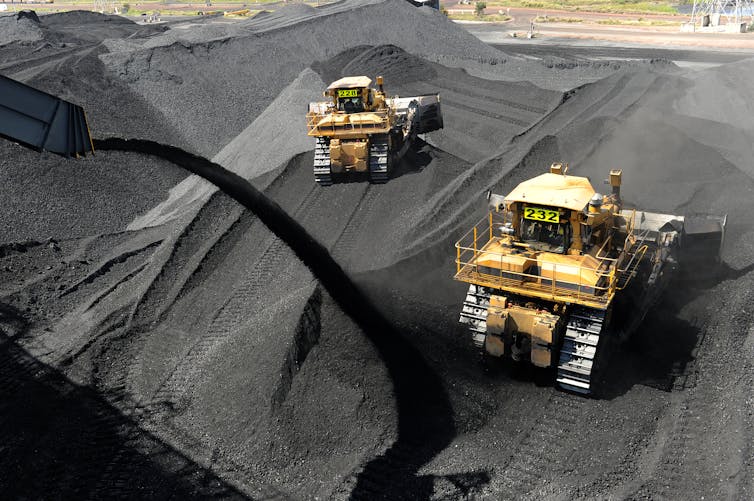 Fabio Mattioli, University of Melbourne and Kari Dahlgren, London School of Economics and Political Science
Months after Labor's shock election loss, it is still pondering how the Liberals metamorphosed from party of the bosses to party of the workers – one that stole an election win from under them.
At the May 18 federal election, several working class seats in Queensland did not fall into Labor's hands as expected, and the party narrowly retained others in New South Wales with large negative swings.
They include the coal seat of Hunter, north of Sydney, where Labor's resources spokesman Joel Fitzgibbon suffered a 10% swing against him. He this week claimed constituents were scared off by Labor's ambitious emissions reduction goal – which necessarily entails curbing the burning of fossil fuels such as coal.
Fitzgibbon called on Labor to adopt the government's weak emissions targets – a call that drew ire from some of his colleagues. But there is no doubt that since Labor's election loss, the party has set about proving itself as pro-coal.
---


Read more:
Labor's climate and resources spokesmen at odds over future policy


---
Days after the election, the controversial Adani mine received long-outstanding approvals from the Queensland Labor government, which also adopted a strong pro-coal message at its party conference. Federal Labor MPs were reportedly tripping over themselves to join the newly formed group Parliamentary Friends of Coal Exports.
But cosying up to coal is not the way forward for Labor. Instead, it must find the common ground that unites workers in the cities and the regions – job insecurity – and build a consensus for climate action on that basis.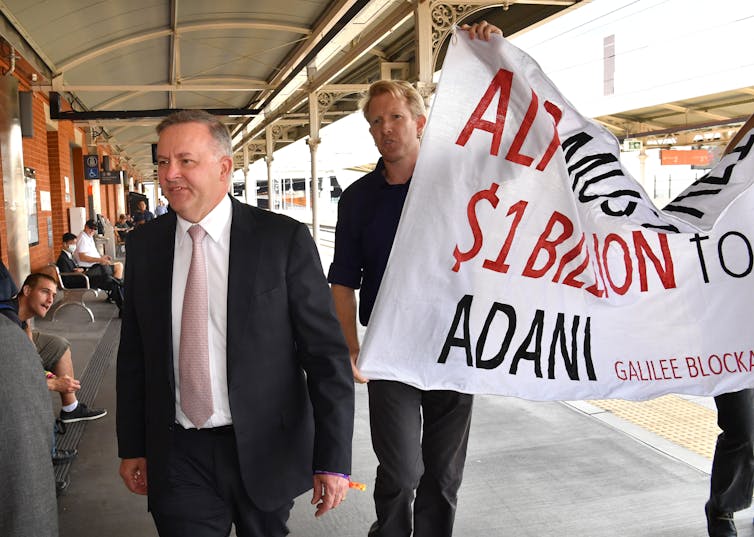 Neo-liberalism has gutted coal communities
The rise in populist votes in Australia is to an extent part of a larger global movement spanning the UK's Brexit vote, the election of US President Donald Trump, and the rise of far-right agitators across Europe. In Australia, as abroad, this process is the outcome of almost 50 years of neo-liberalism.
Large companies have departed from industrial heartlands, relocating abroad without implementing the same level of social protection and welfare. Blue-collar jobs have been supplanted by white- or pink-collar positions, offering careers in the immaterial world of finance and the service economy.
For some, this shift is not a bad thing, as it opens opportunities in less gruelling urban service jobs. But for working-class and coal communities, it means a loss of their way of life.
In their heyday, industrial factories were holistic experiences that synchronised workers' lives to the rhythms of production. In coal communities, intergenerational attachments grew to the towns that were constructed to house mining workforces. So pervasive are the emotional attachments to mining that the prospect of moving into a different industry is not appealing to most. Not everyone wants to be a consultant, a service worker or a financial trader.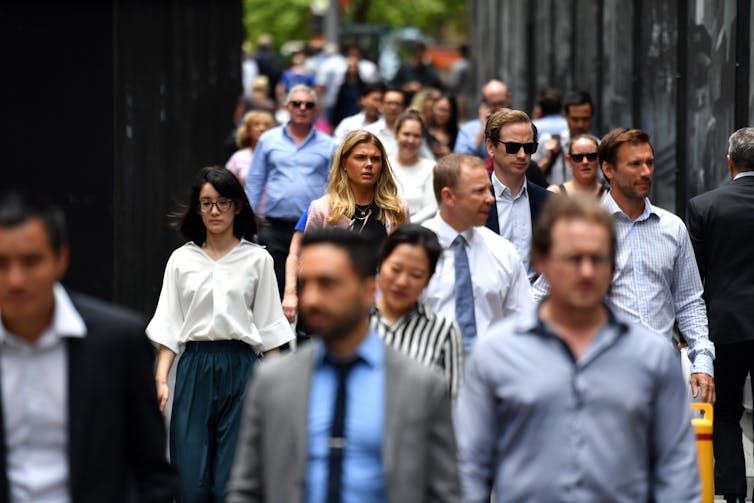 Labor is between a rock (of coal) and a hard place
This global trend pulls Labor in two directions. Urban workers in the services, finance or creative industries perceive climate change as the greatest threat to their futures and demand a transition from coal to renewables. Labor's traditional base, however, is mining communities who feel threatened by the policies environmentalists are calling for.
Is there a way to navigate these apparently conflicting voter needs? Yes. But not by embracing coal and hoping city voters won't notice. Instead, Labor must build a coalition across both coal communities and its urban base, recognising that the political issues around coal in Australia are about more than climate change.
The biggest threat to existing coal jobs is not climate policy, but the increased casualisation of the mining workforce. Coal miners are significant victims of what unions such as the the Construction, Forestry, Maritime, Mining and Energy Union has termed the "permanent-casual rort".
---


Read more:
How gig economy workers will be left short of super


---
Coal workers are increasingly employed on casual contracts through labour hire companies. They work the same shifts and do the same jobs for years, but are not entitled to paid holidays or sick leave and are liable to be sacked at any time.
Insecure jobs also mean casuals are less likely to raise safety concerns. In the past year there have been six Queensland mining fatalities, the highest rate in 20 years.
This shift is not confined to mining and industrial manufacturing. Fewer than half of working Australians have full-time permanent jobs. Employers such as rideshare service Uber and others in the gig economy offer flexibility in exchange for exploitation, insecurity, and a lack of workplace protections.
Like coal miners, people working in the immaterial economy – many of whom are concerned about climate change – also face increasingly insecure workplaces.
Yet few on the side of climate action see these commonalities, or think of coal communities as potential allies.
Labor should broker a new kind of coalition
For Labor, a pro-coal message designed to win back coal miners will only alienate its urban base. Instead of flipping scripts between electorates, the party should build a broad coalition on the common job insecurity faced by both coal miners and urban, post-industrial workers.
This would create spaces of solidarity between environmentalists and miners. It would refocus the discussion from how environmental policy puts jobs at risk to how it can address workforce insecurity across industries.
---


Read more:
Coal mines can be closed without destroying livelihoods – here's how


---
Labor's existing "Just Transition" policy goes part-way there. But it allocated just $15 million over four years to administer redundancies, and fund worker training and economic diversification. Judging by the election result, coal communities were not convinced by it.
Labor should look to the US, where the proposed Green New Deal promises to cut climate pollution while creating millions of safe, stable jobs, whether in weather-proofing homes, expanding railways or making wind turbines. It is underpinned by the notion that structural reform to address inequality is central to climate policy.
Coal miners are not ignorant of the changing economics of their industry. But Labor will gain ground only if it devises a climate policy that is environmentally sound and offers protection against precarious employment.

Fabio Mattioli, Lecturer in Social Anthropology, University of Melbourne and Kari Dahlgren, PhD in Anthropology, London School of Economics and Political Science
This article is republished from The Conversation under a Creative Commons license. Read the original article.