Daily Archives for
April 14, 2021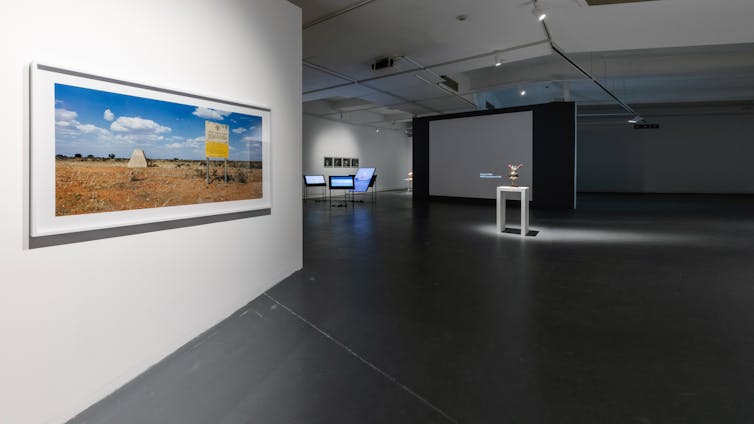 Katherine Aigner, Australian National UniversityOn Saturday the Adelaide Festival hosted a public showing of Australian Atomic Confessions, a documentary I co-directed about the tragic and long-lasting effects of the atomic weapons testing carried out by Britain in South Australia in the 1950s.
Amid works from 20 artists reflecting on nuclear trauma as experienced by Indigenous peoples, the discussion that followed brought up the ways in which attempts at nuclear colonisation have continued in South Australia, and are continuing right now.
For the fourth time in 23 years South Australia is being targeted for a nuclear waste dump — this time at Napandee, a property near Kimba on the Eyre Peninsula.
The plan is likely to require the use of a port, most probably Whyalla, to receive reprocessed nuclear fuel waste by sea from France, the United Kingdom and the Lucas Heights reactor in NSW via Port Kembla.
---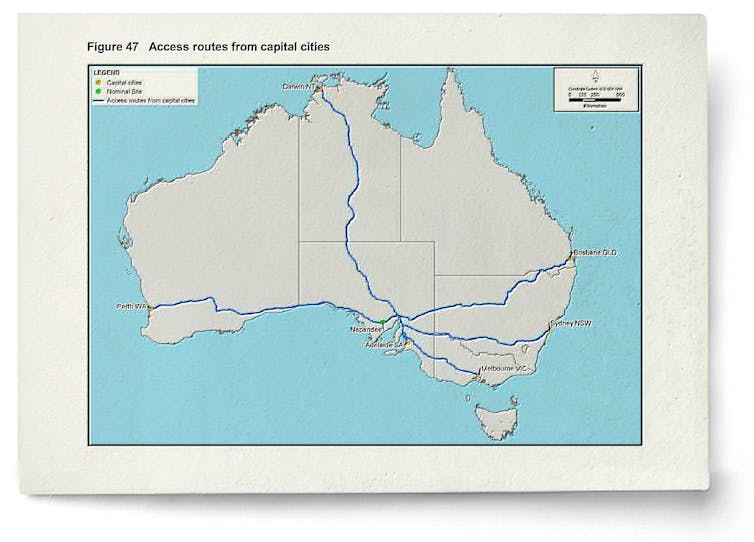 ---
The waste will be stored above ground in concrete vaults which will be filled for 100 years and monitored for a further 200-300 years.
Nuclear waste can remain hazardous for thousands of years.
The Barngarla people hold cultural rights and responsibilities for the region but were excluded from a government poll about the proposal because they were not deemed to be local residents.
The 734 locals who took part backed the proposal 61.6%
The Barngarla people are far from the first in South Australia to be excluded from a say about proposals to spread nuclear materials over their land.
It's not the first such proposal
Australian Atomic Confessions explores the legacy of the nine British atomic bombs dropped on Maralinga and Emu Field in the 1950s, and the "minor trials" that continued into the 1960s.
After failed clean-ups by the British in the 1960s followed by a Royal Commission in the 1980s, the Australian Radiation Protection and Nuclear Safety Agency conducted a cleanup between 1995 and 2000 it assures us was successful to the point where most of the contaminated areas at Maralinga fall well within the clean-up standards applied for unrestricted land use.
But experts remain sceptical, given the near-surface burial of plutonium and contamination remaining across a wide area.
The Tjarutja people are allowed to move through and hunt at the Maralinga site with their radiation levels monitored but are not permitted to camp there permanently.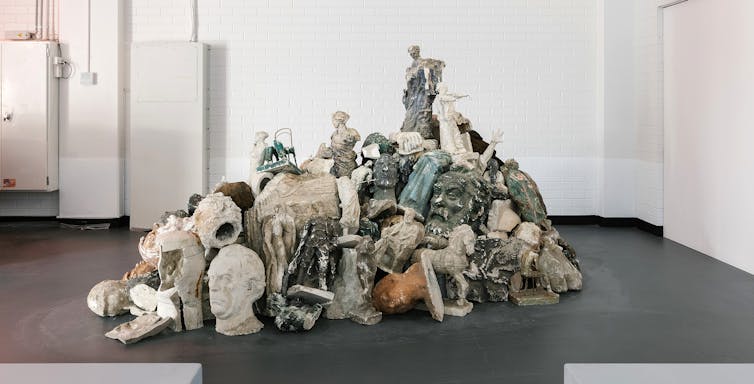 We are told that what happened in the 1950s wouldn't happen today, in relation to the proposed nuclear waste dump. But it wasn't our enemies who bombed us at Maralinga and Emu Field, it was an ally.
In exchange for allowing 12 British atomic bombs tests (including those at the Monte Bello Islands off the northern coast of Western Australia), the Australian government got access to nuclear technology which it used to build the Lucas Heights reactor.
It is primarily the nuclear waste produced from six decades of operations at Lucas Heights that would be dumped onto Barngarla country in South Australia, closing the links in this nuclear trauma chain.
---


Read more:
Sixty years on, Maralinga reminds us not to put security over safety


---
Nuclear bombs and nuclear waste disproportionately impact Indigenous peoples, yet Australia still has not signed up to the United Nations Declaration on the Rights of Indigenous Peoples. The declaration requires states to ensure there is no storage or disposal of hazardous materials on the lands of Indigenous peoples without their free, prior and informed consent.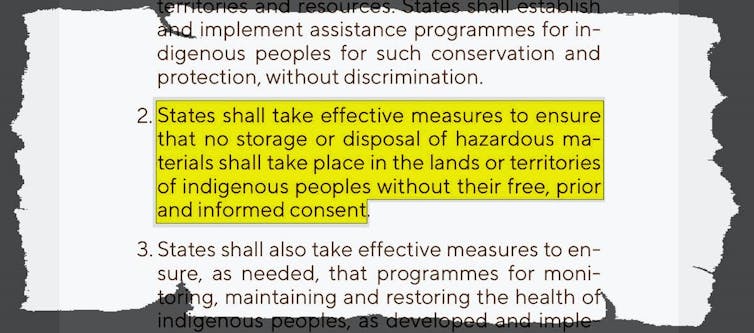 Nor has Australia shown any willingness to sign up to the Treaty on the Prohibition of Nuclear Weapons which came into force on January 22 this year after a lobbying campaign that began in Australia and was endorsed by Indigenous leaders worldwide.
Aboriginal people have long known the dangers of uranium on their country.
Water from the Great Artesian Basin has been extracted by the Olympic Dam copper-uranium mine for decades. Fragile mound springs of spiritual significance to the Arabunna People are disappearing, posing questions for the mining giant BHP to answer.
Australian uranium from BHP Olympic Dam and the now-closed Rio Tinto Ranger mine fuelled the 2011 Fukushima nuclear disaster.
Senior traditional custodian of the Mirrar people, Yvonne Margarula, wrote to the United Nations in 2013 saying her people feel responsible for what happened.
It is likely that the radiation problems at Fukushima are, at least in part, fuelled by uranium derived from our traditional lands. This makes us feel very sad.
The Irati Wanti (The Poison, Leave It!) campaign led by a council of senior Aboriginal women helped defeat earlier proposals for nuclear waste dumps between 1998 and 2004.
There remains strong Indigenous opposition to the current nuclear waste proposal.
Over the past five years, farmers have joined with the Barngarla People to protect their communities and the health of the land.
---


Read more:
Friday essay: the silence of Ediacara, the shadow of uranium


---
In 2020 the government introduced into the Senate a bill that would do away with traditional owners' and farmers' rights to judicial reviews and procedural fairness in regard to the use of land for the facility.
Resources Minister Keith Pitt is deciding how to proceed.

Katherine Aigner, PhD candidate Centre for Aboriginal Economic Policy, Australian National University
This article is republished from The Conversation under a Creative Commons license. Read the original article.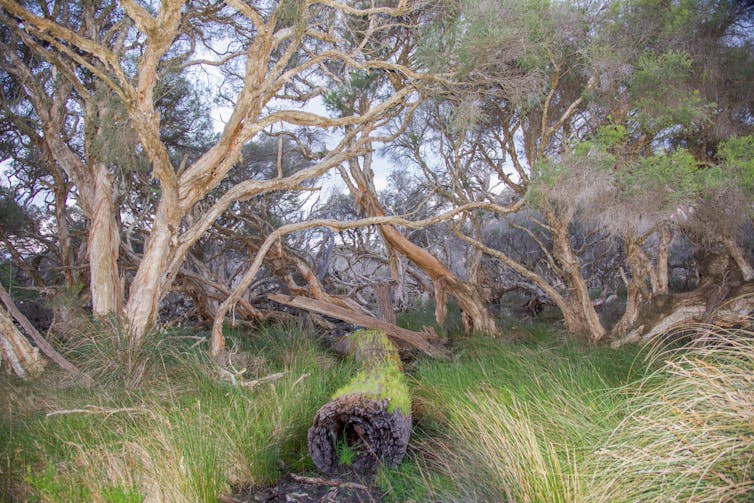 Luke Jeffrey, Southern Cross UniversityTrees are the Earth's lungs – it's well understood they drawdown and lock up vast amounts of carbon dioxide from the atmosphere. But emerging research is showing trees can also emit methane, and it's currently unknown just how much.
This could be a major problem, given methane is a greenhouse gas about 45 times more potent than carbon dioxide at warming our planet.
However, in a world-first discovery published in Nature Communications, we found unique methane-eating communities of bacteria living within the bark of a common Australian tree species: paperbark (Melaleuca quinquenervia). These microbial communities were abundant, thriving, and mitigated about one third of the substantial methane emissions from paperbark that would have otherwise ended up in the atmosphere.
Because research on tree methane ("treethane") is still in its relative infancy, there are many questions that need to be resolved. Our discovery helps fill these critical gaps, and will change the way we view the role of trees within the global methane cycle.
Wait, trees emit methane?
Yes, you read that right! Methane gas within cottonwood trees was first reported in 1907, but has been largely overlooked for almost a century.
Only in 2018 was a tree methane review published and then a research blueprint put forward, labelling this as "a new frontier of the global carbon cycle". It has since been gaining rapid momentum, with studies now spanning the forests of Japan, UK, Germany, Panama, Finland, China, Australia, US, Canada, France and Borneo just to name a few.
In some cases, treethane emissions are significant. For example, the tropical Amazon basin is the world largest natural source of methane. Trees account for around 50% of its methane emissions.
Likewise, research from 2020 found low-lying subtropical Melaleuca forests in Australia emit methane at similar rates to trees in the Amazon.
Dead trees can emit methane, too. At the site of a catastrophic climate-related mangrove forest dieback in the Gulf of Carpentaria, dead mangrove trees were discovered to emit eight times more methane than living ones. This poses new questions for how climate change may induce positive feedbacks, triggering potent greenhouse gas release from dead and dying trees.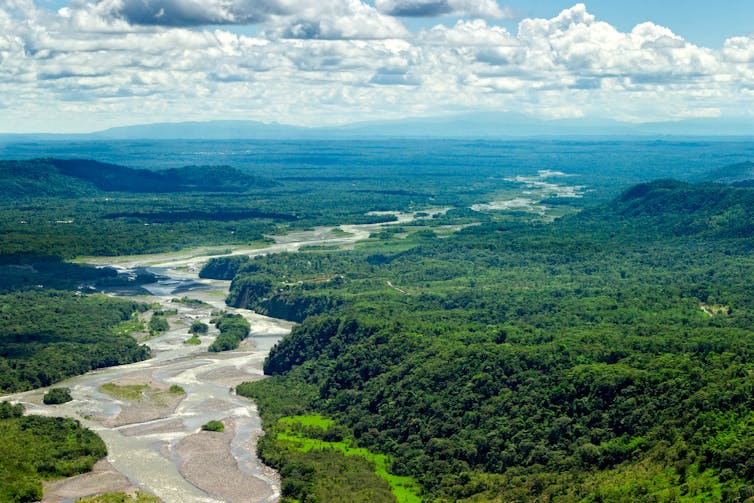 Treethane emissions most likely account for some of the large uncertainties within the most recent global methane budget, which tries to determine where all the methane in the atmosphere comes from. But we're still a long way from refining an answer to this question. Currently, trees are not yet included as a distinct emissions category.
So where exactly is the treethane coming from?
Within wetland forests, scientists assumed most treethane emissions originate from the underlying soils. The methane is transported upwards via the tree roots and stems, then through to the atmosphere via their bark.
We confirmed, in other recent research, that wetland soils were indeed the source of methane emissions in lowland forest trees. But this wasn't always the case.
Some lowland forest trees such as cottonwood can emit flammable methane directly from their stems, which is likely produced by microbes living within the moist trees themselves. Dry upland forest trees are also emerging as methane emitters too — albeit at much lower rates.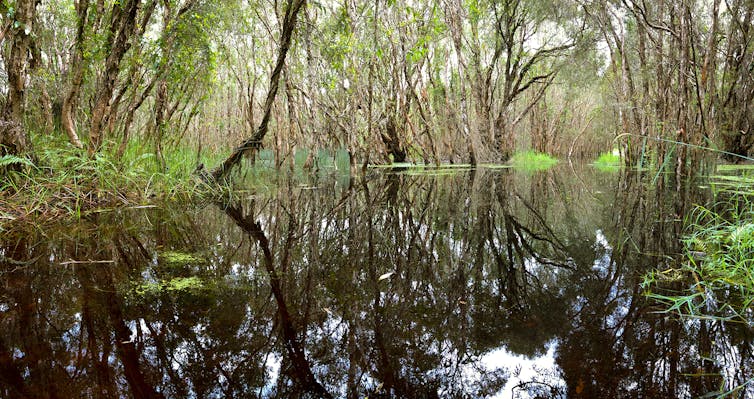 Discovering methane-eating bacteria
For our latest research, we used microbiological extraction techniques to sample the diverse microbial communities that live within trees.
We discovered the bark of paperbark trees provide a unique home for methane-oxidizing bacteria — bacteria that "consumes" methane and turns it into carbon dioxide, a far less potent greenhouse gas.
Remarkably, these bacteria made up to 25% of total microbial communities living in the bark, and were consuming around 36% of the tree's methane. It appears these microbes make an easy living in the dark, moist and methane-rich environments.
---


Read more:
Emissions of methane – a greenhouse gas far more potent than carbon dioxide – are rising dangerously


---
This discovery will revolutionise the way in which we view methane emitting trees and the novel microbes living within them.
Only through understanding why, how, which, when and where trees emit the most methane, may we more effectively plant forests that effectively draw down carbon dioxide while avoiding unwanted methane emissions.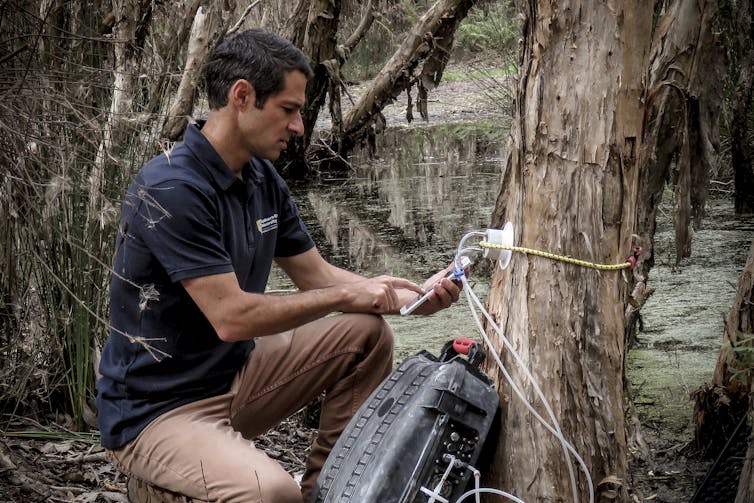 Our discovery that bark-dwelling microbes can mitigate substantial treethane emissions complicates this equation, but provides some reassurance that microbiomes have evolved within trees to consume methane as well.
Future work will undoubtedly look further afield, exploring the microbial communities of other methane-emitting forests.
A trillion trees to combat climate change
We must be clear: trees are in no way shape or form bad for our climate and provide a swath of other priceless ecosystem benefits. And the amount of methane emitted from trees is generally dwarfed by the amount of carbon dioxide they will take in over their lifetime.
However, there are currently 3.04 trillion trees on Earth. With both upland and lowland forests capable of emitting methane, mere trace amounts of methane on a global scale may amount to a substantial methane source.
As we now have a global movement aiming to reforest large swaths of the Earth with 1 trillion trees, knowledge surrounding methane emitting trees is critical.
---


Read more:
Half of global methane emissions come from aquatic ecosystems – much of this is human-made




---
Luke Jeffrey, Postdoctoral Research Fellow, Southern Cross University
This article is republished from The Conversation under a Creative Commons license. Read the original article.