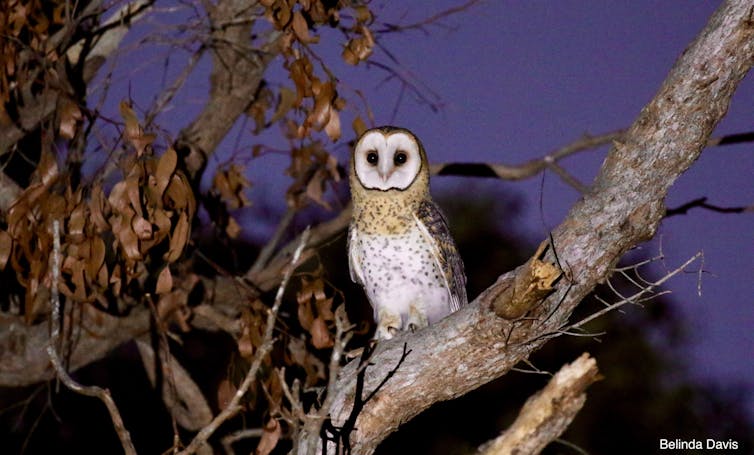 Robert Davis, Edith Cowan University; Bill Bateman, Curtin University; Damian Lettoof, Curtin University; Maggie J. Watson, Charles Sturt University, and Michael Lohr, Edith Cowan UniversityIt's the smell that hits you first. The scent of urine and decomposing bodies. Then you notice other signs: scuttles and squeaks, small dead bodies leaking blood, tails sticking out of hubcaps.
If you've lived through a mouse plague, you've seen this, and smelled the stench of mice dying of poison baits.
As a desperate measure to help combat the mouse plague devastating rural communities across New South Wales, the state government yesterday secured 5,000 litres of bromadiolone. This is a bait that's usually illegal to roll out at the proposed scale.
This is a bad idea. While bromadiolone effectively kills mice, it also travels up the food chain to poison predators who eat the mice, and other species. And these predators, from wedge-tailed eagles to goannas, are coming out in droves to feast on their abundant prey.
When your prey is everywhere
Animal plagues in Australia are fuelled by the "boom and bust" of rainfall.
We have natural, flood-driven population explosions of the native long-haired rat, with accompanying booms of letter-winged kites, their predator. We also have locust plagues when the conditions are right, leading to antechinus or mice plagues which eat the locusts.
Since at least the late 1800s, we've had terrible plagues of the introduced house mouse (Mus musculus). But rarely has it been this bad, with conditions currently seeming worse than the last plague in 2011, which caused over A$200 million in crop damage alone.
High numbers of birds of prey — nankeen kestrels, black-shouldered kites and barn owls — are often reported feasting on plague mice.
Snakes, goannas, native carnivores such as quolls, and feral cats and foxes, also take advantage of the abundant food. Pets, especially cats and some dogs, are highly likely to consume mice under these conditions, too.
Poisoning the food web
Laying out poison baits is one way people try to end mouse infestations and plagues. So-called "anticoagulant rodenticides" are divided into first and second generations, based on when they were first synthesised and the differences in potency.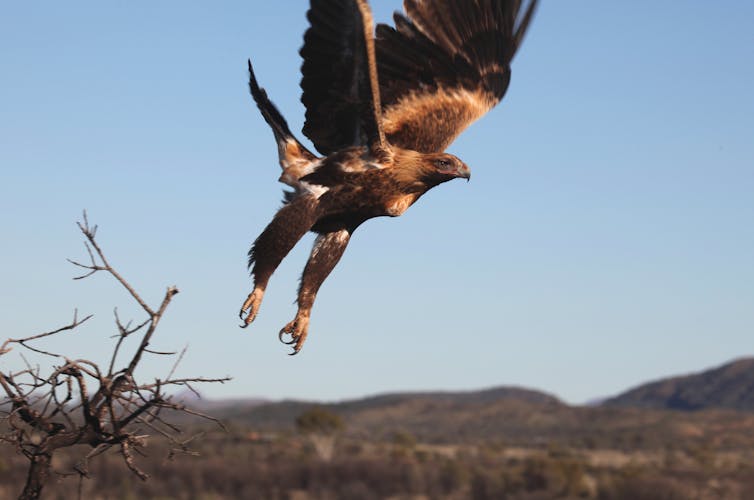 Second generation anticoagulant rodenticides have higher toxicities than first generation, and are lethal after a single feed. First generation rodenticides, on the other hand, require rodents to feed on them for consecutive days to be lethal.
But mouse-eating predators are highly exposed to second generation rodenticides. For most animal species, the lethal doses of rodenticide aren't yet known.
A scientific review from 2018 documented the poisoning of 31 bird, five mammal and one reptile species. Second generation aniticoaugulant rodenticides were implicated in the death of these animals.
Our research from 2020 found urban reptiles are highly exposed to second generation rodenticides, too. This includes mouse-eating snakes, called dugites, which had up to five different rodent poisons in them.
We also found poisons in frog-eating tiger snakes, and in omnivorous bobtail skinks which eat fruit, vegetation and snails. This is even more concerning because it shows how second generation rodenticides can saturate the entire foodweb, affecting everything from slugs to fish.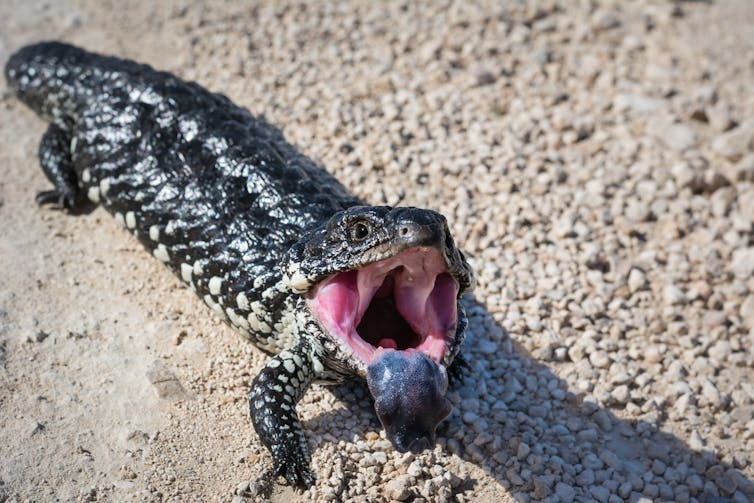 Bromadiolone is particularly dangerous, even to humans
The NSW government secured bromadiolone baits as part of its $50 million mouse plague support package for regional communities.
Five thousand litres of the poison can treat around 95 tonnes of grain, and the government will provide it for free to primary producers once federal authorities approve its use.
Bromadiolone is usually restricted to use in and around buildings. But given the widespread impacts on wildlife, using bromadiolone at the proposed scale will do more harm than good.
Past research on bromadiolone has shown residues persist for up to 135 days in the carcasses of voles (another rodent species). In international studies, bromadiolone has been found in the livers of a host of birds of prey, including a range of owl species, red kites, sparrowhawks and golden eagles.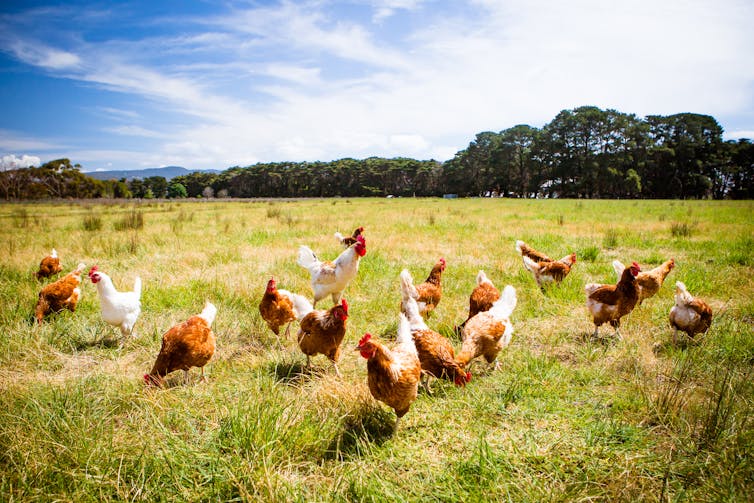 And it's not just a problem for wildlife, humans are also at risk of exposure. For example, we can get exposed from eating eggs from chickens that feed on poisoned mice, or more directly from eating other animals that may have ingested poisoned mice.
A 2013 study looked at chicken eggs for human consumption, and detected bromadiolone in eggs between five and 14 days after the chicken ingested the poison. It's not yet clear how many of these eggs we'd have to eat for us to get sick.
So what are the alternatives?
There are highly effective first generation rodenticides that provide viable solutions for managing mouse plagues. They may take a little longer to kill mice, but the upshot is they don't stick around in the environment. A 2020 study found house mice in Perth didn't have genetic resistance to first generation rodenticides, which suggests they're effectively lethal.
Another approach has been to use zinc phosphide, a poison which is unlikely to secondarily poison other animals that eat the poisoned mice. However, zinc phosphide is still extremely toxic and will kill sheep, cows, pets and even humans if directly eaten.
Rolling out double-strength zinc phosphide may be the lesser of the evils in causing secondary poisoning, but only if used very carefully.
And another way to help control the mouse plague is to limit food resources for mice on farms. Farmers can minimise grain on ground, and Australia should invest in research for grain storage facilities that are less permeable to mice.
Mouse plagues are a regular cycle in Australia. Natural predators not only help create healthy, natural ecosystems, but also they help with mouse control. Second generation rodenticides will only destroy and weaken the predator populations we need to help us combat the next plague.

Robert Davis, Senior Lecturer in Wildlife Ecology, Edith Cowan University; Bill Bateman, Associate professor, Curtin University; Damian Lettoof, PhD Candidate, Curtin University; Maggie J. Watson, Lecturer in Ornithology, Ecology, Conservation and Parasitology, Charles Sturt University, and Michael Lohr, Adjunct Lecturer, Edith Cowan University
This article is republished from The Conversation under a Creative Commons license. Read the original article.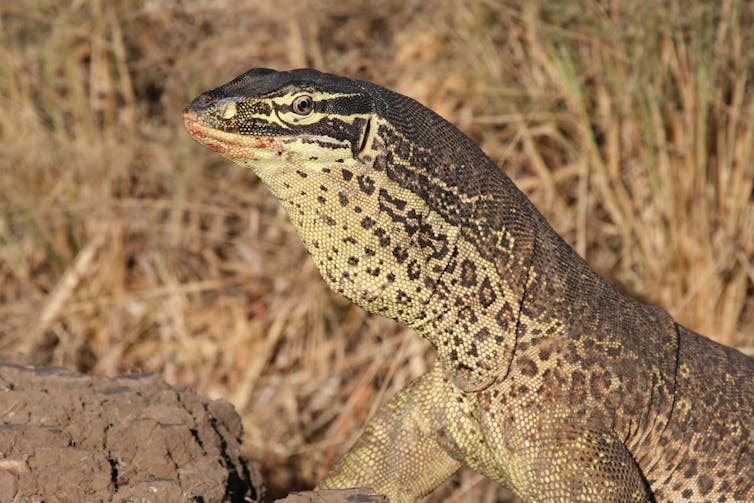 Michael Lohr, Edith Cowan University and Robert Davis, Edith Cowan University
Introduced rats and mice have probably troubled most of us at some time in our lives. These pesky invasive rodents are found around the world. We usually target them with toxic baits to stop them spreading disease and causing environmental or commercial damage.
In some instances rat baits are useful. They can protect crops, reduce the spread of disease, keep the contents of your pantry from disappearing, or even protect endangered wildlife on islands where rats have invaded.
These baits are freely available to homeowners and are used liberally by pest controllers. However, they have potentially deadly consequences for native predatory animals that eat poisoned rats and mice.
Our new research shows that this secondary poisoning may be worsened in Australia by reptiles, which are extremely effective at spreading these poisons up the food chain – a process that may even have consequences for human health.
---


Read more:
Hidden housemates: rats in the ranks


---
While little is known about how well reptiles tolerate rodent baits, several studies have suggested that at least some reptiles are extremely resistant. In a toxicity study using one lizard species, all of the test subjects survived an incredibly high dose of the strongest poison on the market – over 4,000 times the poison per body weight needed to kill most rats.
This is probably good news for the lizards, but eating poison-supercharged reptiles may be a serious concern for their predators – and for us.
Humans eat lizards too
During a rat eradication program in the Montebello Islands, one goanna species was seen eating poisoned rats – without apparent ill effect – to the point that the green dye used in the bait was visible in their droppings. Unfortunately, this species of goanna is an important traditional food in Indigenous communities throughout Australia. To make matters worse, these poisons usually build up in commonly eaten parts of the goannas, like fat and liver tissue.
The risks associated with sublethal human exposure to rodent baits are not well known. However, recent studies in some wildlife species show that even mild chronic exposure to the longer-lasting poisons can lead to dangerous changes in the immune system.
With so many unknowns in a potentially dangerous situation, more research is urgently needed. We need to know how often and how severely the reptiles that humans eat are exposed to poison. Otherwise, some Indigenous people may have to choose between losing traditional hunting practices and risking exposure to rat poison.
Poison in the food web
In our research, we reviewed all published examples of wildlife deaths from exposure to rat bait. We found that rat poison has killed members of at least 32 native wildlife species in Australia. There are probably many more; only a few studies have looked at this problem in Australia, compared with other parts of the world.
We found that a small species of owl called the Southern Boobook is exposed to rat poison frequently, and sometimes lethally, in developed areas of Western Australia. Scavengers and prolific predators of rodents are likely to be even worse off – and these predators include a variety of threatened or endangered species such as Masked Owls, Tasmanian Devils and various species of quolls.
Most deaths will occur far from the original bait, as the poison travels through other species in the food web to reach its final destination. Without a better understanding of how baits affect Australian predators, we are unlikely to appreciate the scale of this invisible threat.
---


Read more:
Killing cats, rats and foxes is no silver bullet for saving wildlife


---
At present, powerful rat poisons are available at most supermarkets and hardware stores. The Australian Pesticides and Veterinary Medicines Authority is now reviewing how these are regulated because of concerns about human health and impacts on wildlife populations.
Other countries like the United States and Canada have already restricted the stronger poisons to licensed pest controllers. They have banned outdoor use and require lockable bait boxes to keep children and pets away from baits.

These steps might not be enough to overcome Australia's unique risks, but allowing the current situation to continue is guaranteed to result in more poisonings of wildlife – and possibly unseen and unstudied effects on humans too.
Michael Lohr, PhD Student – Wildlife Ecology, Edith Cowan University and Robert Davis, Senior Lecturer in Vertebrate Biology, Edith Cowan University
This article was originally published on The Conversation. Read the original article.