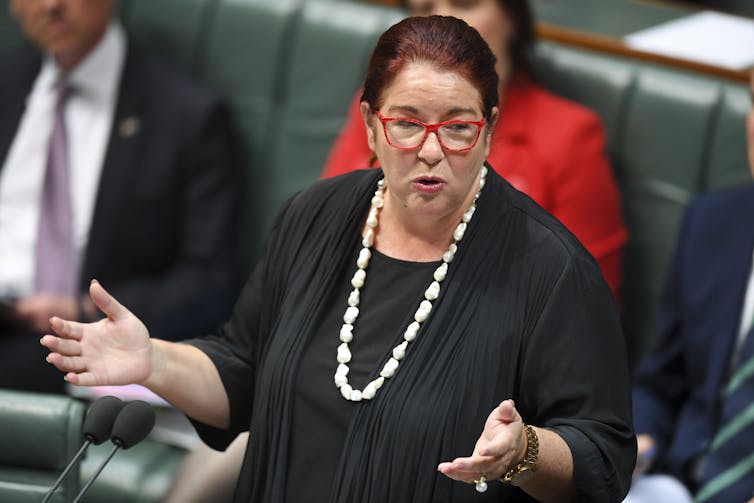 Katerina Teaiwa, Australian National University
Environment Minister Melissa Price has been trending on Twitter this week – and not for any good environmental reasons.
Price was introduced to the former president of Kiribati, Anote Tong, during a dinner at a Canberra restaurant hosted by Labor Senator Pat Dodson. Tong has brought global attention to his country because of the existential challenges it faces from climate change and rising sea levels.
According to Dodson, Price made what many have deemed an insulting comment to Tong:
I know why you're here. It's for the cash. For the Pacific it's always about the cash. I have my chequebook here. How much do you want?
Others at the restaurant verified Dodson's version of the incident. For his part, Tong said he has some hearing problems and others closer to Price could better hear what she said.
My response on Twitter was that in Kiribati, it's rude to call out bad behaviour in public.
Maybe Price thought she was making a good Aussie joke. Or maybe she'd observed other members of her party laughing at the expense of the Pacific and wanted to crack one like the rest of the boys.
---


Read more:
For Pacific Island nations, rising sea levels are a bigger security concern than rising Chinese influence


---
Peter Dutton's foray into comedy in 2015 springs to mind. In response to a quip by then-Prime Minister Tony Abbott about how islanders are not good at being on time, Dutton said:
Time doesn't mean anything when you're about to have water lapping at your door.
Water lapping at the door apparently doesn't translate into concern over climate change and global warming – a matter of urgency for the low-lying island nations in the Pacific.
Rather than share the concerns of Pacific leaders on this issue, some Australian politicians have chosen to trivialise them and accuse Pacific nations of only being interested in a cash grab.
Just last month, Liberal Senator Ian Macdonald also accused Pacific nations of swindling money from Australia to address the effects of rising sea levels. The Sydney Morning Herald reported him saying:
They might be Pacific islanders, but there's no doubting their wisdom and their ability to extract a dollar where they see it.
If Macdonald had been listening to the Canberra speech last month by Dame Meg Taylor, the secretary-general of the Pacific Islands Forum, he would have heard a very different message:
It is absolutely essential that we work together to move the discussion with Australia to develop a pathway that will minimise the impacts of climate change for the future of all … including Australia.
So far this call has fallen on deaf ears.
Australia's history of phosphate extraction
Australians know well how polite and friendly Pacific people are. Flights to Fiji during school holidays are packed with families seeking sun, sand and true island hospitality. But both the shallow view of the Pacific as a paradise, and political slurs of cash-hungry islanders, reveal a deep Australian ignorance of Pacific histories, environments, peoples and cultural values, and of Australia's projects of colonial extraction in the region.
For over a century, Australia has had an intense social and cultural relationship with Oceania, paralleling its economic and geo-strategic interests, and not just with Papua New Guinea or Melanesian states.
From the start of the 20th century, Australian mining companies began extracting phosphate as fast as they could from Nauru and Banaba island (in what is now Kiribati) in order to grow the country's agricultural industry.
And grow it did, exponentially, while consuming the landscapes of much smaller Pacific islands. Pacific phosphate – and the superphosphate fertiliser it produced – was the magic dust of Australian agriculture. Little could have been grown here without it, as Australia has always been "a continent of soils with a low plant nutrient supply".
But decades of phosphate mining on Banaba stripped away about 90% of the island's surface. By the late 1970s, when the mining operations ended, 22 million tons of land had been removed. The island wasn't rehabilitated and all the mining infrastructure was left to rust and decay.
---


Read more:
Pacific pariah: how Australia's love of coal has left it out in the diplomatic cold


---
Many Banabans were relocated to Rabi Island in Fiji over the years, including my grandfather. It was a migration that foreshadows future relocations that many Pacific islanders face due to climate change.
It's hypocritical for Australian leaders to accuse the Pacific of being solely after money, when Australia exploited Banaba and other Pacific islands in this way. At a time, when the future of many Pacific nations is under threat, a little compassion, responsibility and real action on climate change is in order, not jokes or barbs at islanders' expense.

Katerina Teaiwa, Associate Professor, Australian National University
This article is republished from The Conversation under a Creative Commons license. Read the original article.